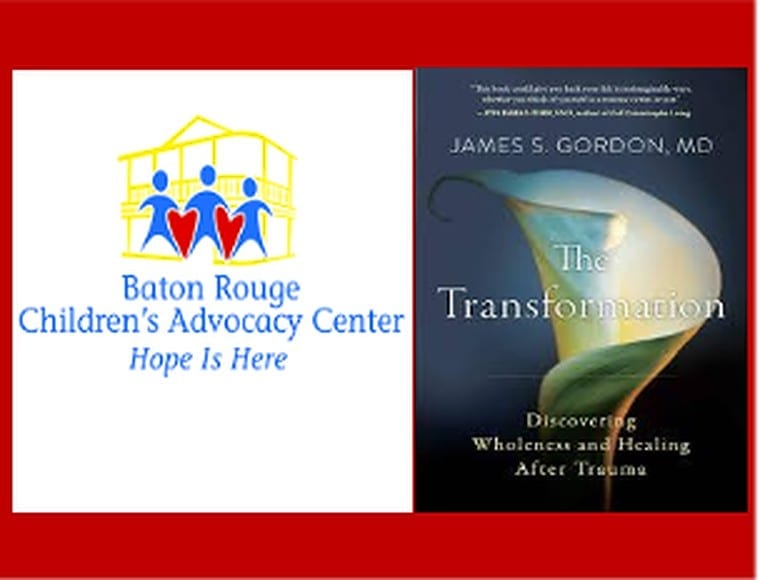 October 22, 2019 By Human Trafficking Search
Bringing "The Transformation" to Trafficked Girls in LA; An Interview with Toni Bankston, LCSW [Part 2]
About the Author
James S. Gordon (Interviewer, author of this blog, and author of The Transformation: Discovering Wholeness and Healing After Trauma) is the Founder and Executive Director of The Center for Mind-Body Medicine. He is a Harvard-educated psychiatrist, a former researcher at the National Institute of Mental Health and Chair of the White House Commission on Complementary and Alternative Medicine Policy, and a clinical professor of Psychiatry and Family Medicine at Georgetown Medical School.

Introduction 
Toni Bankston is a clinical social worker. She is Executive Director of the Baton Rouge Children's Advocacy Center (CAC) and this year's "Louisiana Social Worker of the Year." Toni is a long-time Center for Mind-Body Medicine faculty member who has, over the last seven years, developed a groundbreaking program for trafficked girls in Baton Rouge, Louisiana. I did this interview with Toni in Culebra, Puerto Rico, where CMBM was training Puerto Rican clinicians, educators, and community leaders who are meeting the challenges of population-wide trauma in the aftermath of hurricanes and this year's political upheaval.
Part 2 of 3 of this interview transcript:
For part 1, click here. For part 3, click here.
Jim: What other skills have you found to be particularly useful for the girls who come through?
Toni: Well they really like 'Shaking and Dancing.' Teens in general love music and moving their bodies. They feel less tense after the Shaking and then can really dance, and they love the freedom they feel.
They also like guided imagery, particularly the 'Safe Place' image. We have them imagine a 'Safe Place', sometimes we call it a 'Special Place.' We help them get quiet with Soft Belly breathing, and then imagine the place and draw it. We encourage them to put it in their bedroom so, if something scary comes up, they can go to that place and feel calm and peaceful.
Jim: What about some of the other techniques that I describe in The Transformation and that we use in our Mind-Body Skills Groups? .
Toni: Well, one of the ones that they really like is 'Dialogue With a Symptom' – except, for many of them, it becomes 'Dialogue With a Perpetrator.' Usually we do this one after a while, after the girls have learned to better regulate themselves, have gotten calmer, know how to go to a "Safe Place" and they've begun to trust the other girls, as well as the group leader. As they do the Dialogue, different things come up. They begin to become aware that "this really isn't my boyfriend," that it "isn't appropriate for a 50-year old man to use my body to make money." And in the Dialogue they'll ask, "Why did you do this to me, why did you go for me?'
Jim: And what kind of answers do they get that are helpful?
Toni: The answers are really deep and emotional. Something like, "I knew you needed love, and I gave you love. I gave you a cell phone. No one ever gave you things or gave you the kind of love that I gave you."
Jim: What happens when the girl has done the dialogue and  reads it out loud?
Toni: Sometimes the girls aren't ready to – and that's ok. We emphasize to the girls that this dialogue represents their inner wisdom, that it's their inner wisdom speaking. And they  begin to ask themselves, " so what do you think this inner part of you is trying to say?" And, often, they are then able to say – for the first time – that what happened was wrong, that "what he did was wrong… I didn't deserve that." And sometimes, "Now I understand, I see why I fell into your trap."
Many times these girls have run away from home, but some have been victims of "familial trafficking" – the mom's only way of surviving was pimping out her daughter to people she wanted drugs from or who could pay her rent for her.
Jim: What do you see at the end of these groups? What kinds of changes have happened?
Toni: Well, you see smiles. You see evidence of transformation. It's not always a big dramatic change, but you can definitely see it in the drawings, when we compare the first set of drawings to the last one, when we ask them in the first drawing about their biggest problem, it's usually "I don't have a place to live" and what you see on their face in the drawing is sadness, tears coming down. In the final drawings, the girls are dancing. You see some of them holding up a diploma. There's a sense of accomplishment – "Maybe I have a future": that's the overriding theme.
Jim: That's really beautiful for the girls who are living in the home. But what about the girls and boys who are on the street and not in a home.
Toni: Well, we're doing groups there – in a shelter – and the kids come and go. The groups aren't as large, maybe 4, 5, or 6 instead of 8 or 10 kids, and the attendance isn't so regular. But we still do the sessions. And the kids still get a lot out of them. We give them a chance to talk, teach them some of the skills, empower the older kids who've been around longer to help us out and become peer-counselors. And the kids who come begin to feel a little more trust: They realize "these people don't want anything from me, they're not going to hurt me." And they recognize that the things they are learning can be helpful. It's a beginning.
Come back soon to read the final part of this interview transcript.