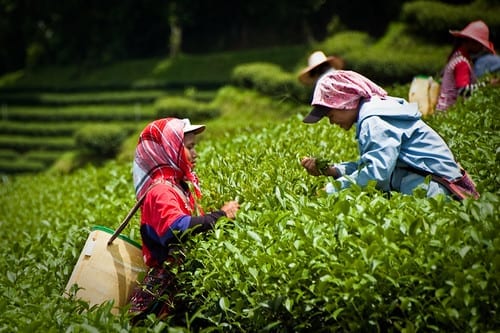 What's Behind Your Cup of Tea?
"Mae Salong" by M+M Photographers is licensed under CC BY-NC-ND 2.0
Most of us go through life unaware of how many items passing through our hands are tainted by modern slavery. Something as seemingly innocuous as buying a cup of tea likely supports growers or suppliers that employ unfair labor practices. These practices are widespread; the U.S. Department of State and the International Labor Rights Forum have identified the use of forced and/or child labor in the tea industries of Kenya, Malawi, Rwanda, Tanzania, Uganda, Bangladesh, India, Cameroon, Eritrea, Sri Lanka, and penal camps in China. Further, the tea industry is far larger than commonly known. With 70,000 cups of tea consumed worldwide every second, tea is second only to water in global consumption. While organizations like Ethical Tea Partnership, Rainforest Alliance and even the Indian Government are taking actions to aid these vulnerable populations more consumers and legislators need to understand the human cost of a cup of tea as global consumption continues to rise.
Tea plantations, as both source and destination for trafficking, are critical locations in the fight to combat human trafficking. In a source location for human trafficking, recruiters prey on a vulnerable population, often promising them lucrative jobs in big cities, only to send victims into a life of forced labor. In trafficking destinations, bonded and otherwise exploited laborers are forced to work. To understand how a victim is lured from a source location, CNN followed a young woman,  Manju Gaur, who grew up in Assam (a northern Indian state that produces more black tea than anywhere in the world).
At 14, Manju was approached by a local agent with a job offer. She accepted the offer to work for a rich family in Delhi in hope of raising school fees for her sister and supporting her parents financially. Gaur was desperate to escape the living conditions on the tea plantation and the man who recruited her was well known in the community, so she trusted him.


Upon arrival in Delhi, Gaur was taken to a house full of other young victims where they were often beaten for disobedience or drugged then sexually assaulted. Once she was placed with a family as a domestic servant, she began working around the clock without receiving her pay (which purportedly went to the employment agency). With nowhere to go, no one she trusted, and no money, escape seemed impossible.

After a year, Gaur took a chance and told a friendly neighbor about her plight. He paid for her train ticket home and she escaped without notice. Upon her return home, Gaur found that her sister (like so many girls in Assam) had been lured to Delhi by the same scheme. With the help of an organization named Bachao Bachpan Andolan (the BBA) and local police, Gaur was able to arrange rescue for her sister and several other girls from Assam. The girls were located in a holding house just like the one Gaur had found herself in when she was first taken to Delhi.



Watch a video on the Police Raid that reunited Manju with her sister HERE
Poor living conditions and wages are primary reasons for tea workers/their children's particular vulnerability to trafficking. Adult workers on these tea plantations are promised the equivalent of one to two U.S dollars per day plus around $2 per day of in-kind services (including housing, primary education, and medical services); none of which is regularly provided as promised. Workers live in broken down shacks, commonly featuring damaged roofs and lacking electricity. Multiple families are often forced to share a single working toilet while other septic tanks overflow into workers' living quarters (although Indian law states plantation owners must provide adequate living conditions and sanitary toilets for workers). Further, Assam Medical College's Medical Director reports nine out of ten patients living on tea plantations suffer from malnutrition. Potentially fatal diseases of poverty (such as diarrhea, respiratory tract infections, tuberculosis, or meningitis) are also wide-spread. Many victims interviewed in Assam were descendants of chattel slaves, still living under inhumane conditions reminiscent of those endured by their ancestors over a century ago. Thus, recruiting agents' offers for lucrative jobs in a more modern city are enticing to young people looking to break the poverty and illness cycle found on these plantations.
Tea plantations' especially labor-intensive work requirements lead to labor shortages and a reliance on forced and child labor to fill out the workforce, making tea plantations a common destination location for trafficking victims. Employers use debt to trap current workers on the plantations and impose absurdly high quotas on workers, forcing them to bring children to the fields to help. Still, during certain productive seasons, employers often cannot find enough willing laborers. Thus, employers turn to the same recruiters who traffic people out of the plantations to bring laborers in from other localities. Many of these seasonal workers are employed, but not legally registered by plantation owners, leaving them even more vulnerable to illegal and unethical exploitation.
The first step toward combating this exploitation is using your dollars to support ethically- sourced tea products. Brands that produce slavery-free tea products include:  Teavanna, Honest, Equal Exchange, and certified fair trade companies like Rainforest Alliance and UTZ Certified. For more ethically-sourced tea (and other products), including brands often stocked by major stores, click here to download End Slavery Now's ethical shopping guide.  
You can also support legislative action like the California Transparency in Supply Chains Act that mandates corporations provide supply-chain and labor condition transparency. Alternatively, support organizations such as the Ethical Tea Partnership and the Rainforest Alliance that are enacting change through educating girls to be skeptical of recruiters and holding tea plantation owners accountable for inhumane labor conditions. The biggest recent win in the fight against trafficking in the tea industry is that the Indian government itself is addressing the problem and is working on writing tea workers into government welfare programs until it can create policies that better enforce minimum living standards on the plantations.  
Learn more…