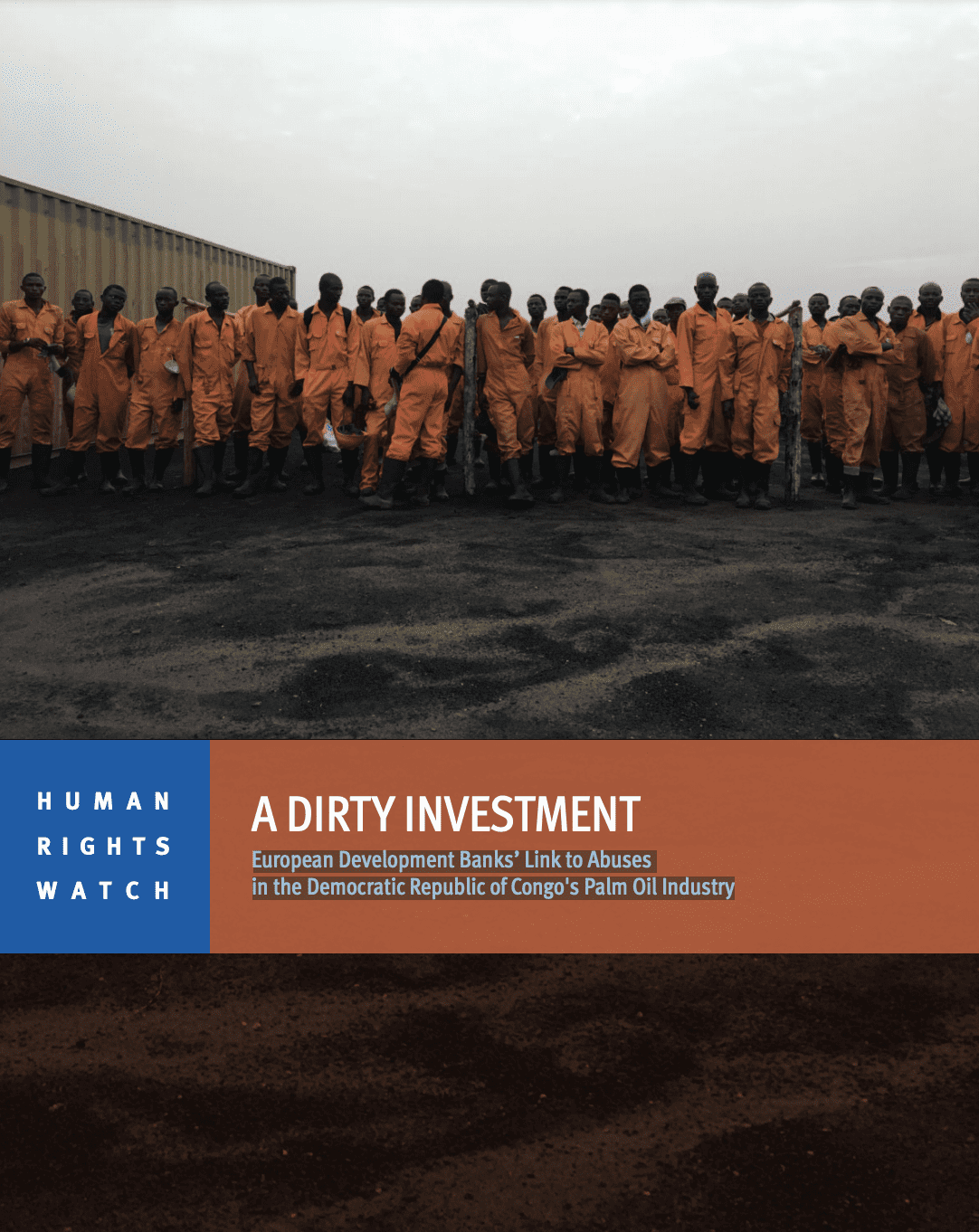 A Dirty Investment: European Development Banks' Link to Abuses in the Democratic Republic of Congo's Palm Oil Industry
This report examines the responsibility of four European development banks for abusive practices on oil palm plantations in the Democratic Republic of Congo. These banks – BIO, from Belgium; CDC Group, from the United Kingdom; DEG, from Germany; and FMO, from the Netherlands – are among the ten largest bilateral development financial institutions in the world, controlling billions of dollars in investments across more than 2,000 projects in developing countries. Human Rights Watch found that the banks have failed to ensure that the palm oil companies they finance in Congo are respecting the basic rights of the people who work and live on or near their plantations.
Since 2013, the four banks have invested a total of nearly US$100 million in the palm oil company Feronia and its subsidiary Plantations et Huileries du Congo S.A. (PHC) (together "the company"), which operates three oil palm plantations spanning over 100,000 hectares in northern Congo: "Boteka," "Lokutu," and "Yaligimba." In addition to being an investor, CDC Group is also a shareholder in Feronia: it currently owns 38 percent of the company. The three plantations employ a total of nearly 10,000 workers. Approximately 100,000 people live on or within five kilometers of their property.
During field research in Congo between November 2018 and May 2019, Human Rights Watch visited the company's three plantations and interviewed more than 200 people, including 102 PHC employees residing on or near the plantations, 20 Feronia and PHC executives and company managers, and 25 government officials, among others.
Human Rights Watch also reviewed extensive documentary evidence, including socialenvironmental impact reports the company submitted to Congolese authorities. Human Rights Watch found that lack of proper oversight by the banks has enabled Feronia and its subsidiary PHC to commit abuses and environmental harm that infringed upon health and labor rights. These abuses include exposing more than 200 employees to toxic pesticides without adequate protection; not providing employees exposed to hazardous materials with the results of medical examinations; and engaging in abusive employment practices that place many workers under the extreme poverty line. The plantations' palm oil mills also routinely dump untreated industrial waste and may have already contaminated the only drinking water source of local communities.
Congolese authorities have failed to ensure PHC's compliance with domestic laws regulating labor and environment conditions and to protect the rights of plantation workers and local residents.
While the Congolese government has primary responsibility for protecting the rights of PHC workers, the development banks are also obligated to ensure that the companies they finance are not engaging in abusive practices, an obligation they have failed to meet. This is partly the result of structural failures in the way the banks operate: most of the banks do not assess the potential human rights impacts of the projects they invest in and all do little to disclose relevant information to communities that might be impacted. The banks also do not ensure that affected communities have access to effective remedies when the companies they finance engage in abusive practices.
Development banks could play an important role in promoting economic opportunities in Congo, a country where two-thirds of the 84 million residents live in poverty, 7.7 million are severely food insecure, and 4.5 million have been internally displaced due to armed conflict. As one the five largest private employers in the country – and the largest in the agricultural sector, which employs most of the working population – PHC's palm oil plantations are an important source of economic opportunity. However, by failing to ensure that PHC is complying with international standards and domestic law regulating employment and environmental practices, the banks are not fulfilling their obligation to protect rights, thereby compromising their stated mission to advance sustainable development.
Read more here.