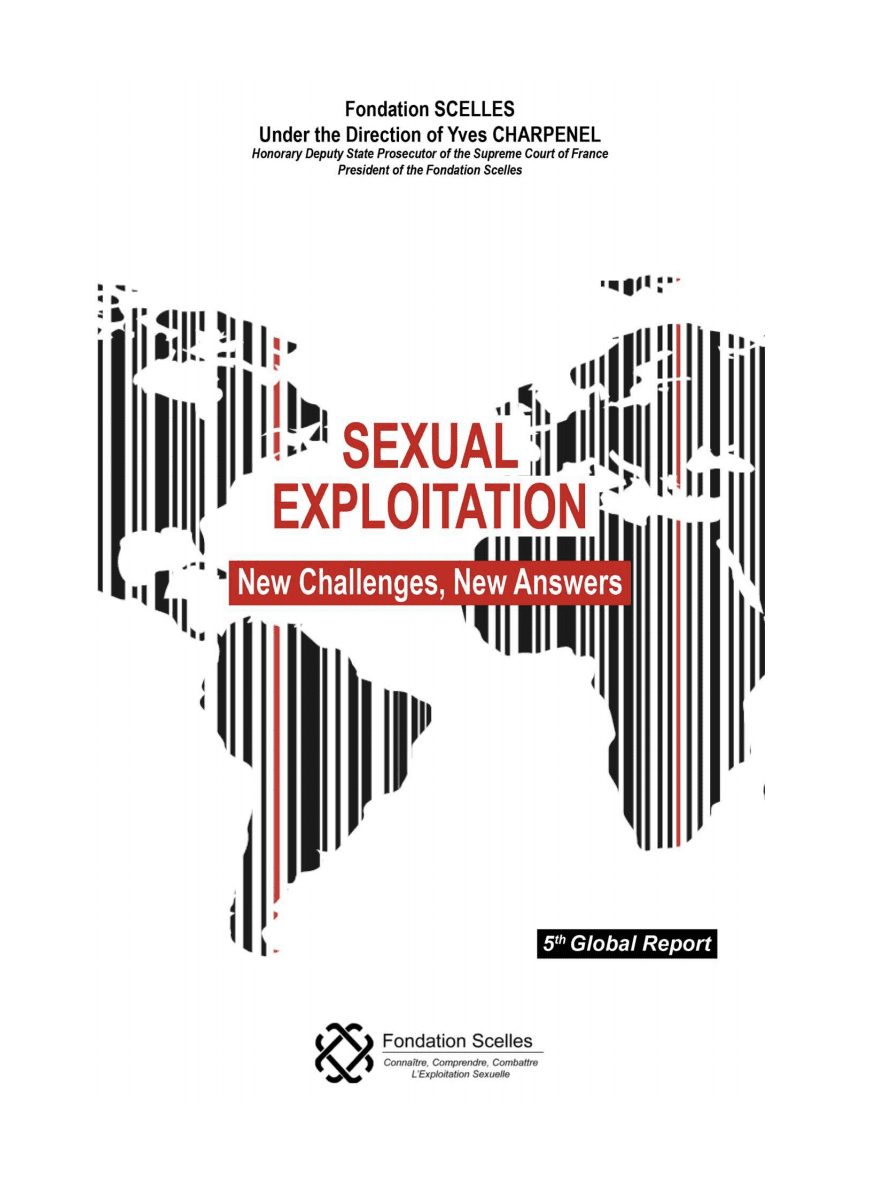 5th Global Report on Sexual Exploitation: New Challenges, New Answers
Prostitution, human trafficking, sexual exploitation…
What's new in 2018?
The Fondation Scelles is publishing its 5th Global Report. Since 2012, year after year, this "world tour" of sexual exploitation aims to detect and anticipate its evolutions. What can we see today? Never have the factors of vulnerability been so numerous and human beings exploitation so intense, even as gender relations are at the centre of many debates. In the context of the migration crisis and the liberation of speech generated by the #MeToo movement in different parts of the world, what can we say about sexual exploitation today? What are the new emerging trends? What answers have our societies offered? What can we learn about sexual exploitation in 2018 from this Global Report?
New challenges….
A cycle of violence
The first lesson of each edition of the Global Report is to recall that, everywhere, prostitution is a system of violence and exploitation: violence from sex buyers, traffickers, and procurers, but also violence from society and governments… Some countries still consider prostitution as a social plague which needs to be eradicated, or as an expression of disorder and immorality. As such, depending on geographical location, prostituted persons can be criminalized, rejected or imprisoned, convicted and publically humiliated…
Minors and young adults ever more exposed
Amongst these victims, we find an increasing number are minors and young adults. Canadian sugar babies or street children from Brazil or South Africa, Parisian "michetonnes" or victims of sex tourism in Thailand…, the prostitution of minors and young adults takes vastly varying forms that remain difficult to grasp. Although the phenomenon is not new, it is renewed and intensified today under modern forms, which have adapted to new technologies. Nevertheless, young people are not solely victims of this exploitation, some have become procurers or sex buyers. Manipulative boyfriends or "loverboys" who seduce young girls (often minors) and force them into prostitution operate in Germany, the Netherlands, France, Canada, and the Balkans. Moreover, young persons who visit brothels, alone or in groups, to assert their virility are growing in numbers.
Victims of migration
Our world is currently going through the largest migratory crisis since the Second World War. Caught up in political or military conflicts, persecution, poverty, climate change, or natural disasters, etc., local populations are victims of extraordinary abuse: torture and sexual exploitation, forced marriage and prostitution, rape as prize or weapon of war. Persons looking to flee expose themselves to increased risks of exploitation as smugglers, soldiers, and criminal networks benefit from their vulnerability during their travels, in refugee camps or in "host" countries. For example, Nigerian criminal networks have considerably increased their activities and benefit from the migratory flow to Europe: more than 36,000 Nigerians (predominantly women) reached Italy in 2016; in France, 28% of the dismantled prostitution networks in 2016 were Nigerian.
Technological progress in the service of exploitation
The Internet and, more generally, the most recent technological advances, play a central role in the development of these forms of exploitation. Online prostitution is a soaring industry: escorting agencies, "adult" or "massage" sections on advertisement websites, more or less explicit advances on dating websites, etc. Social community platforms are diverted from their original purposes for prostitution means: WhatsApp is used by procurers to manage their operations, Facebook and Tinder are used to identify potential victims … Furthermore, the latest innovation in the field is the explosion of the sex dolls and sex robots market, which, behind its picturesque image, has opened the door for all kinds of abuse: sex dolls representing children, half bodies in silicone designed for sexual acts, brothels offering both prostituted persons and sex robots… Thus, technological advances have been used for exploitation, to reinforce the masculine behaviours of domination and to trivialize the purchase of sexual acts!
New answers…
Year after year, these realities are further disrupting our societies. Public opinion is stirred and authorities are addressing the issue: governments are commissioning studies, parliaments are setting up thinking committees, media are debating, etc. Beyond these observations, appropriate legislative and judicial responses are emerging and lines of action have been identified.
Initiate the governance of Internet
The past few months have reinforced the growing awareness of the online sexual exploitation phenomenon. Online platforms, which can facilitate the perpetration of these abuses, are now being held liable. In the United States of America, the adoption of the FOSTA/SESTA law allowed the authorities to seize Backpage, a website specialized in dating offers and paid sexual acts. In France, an online advertising platform prosecuted for aggravated procuring offences closed its "Encounters" section. These are the first significant milestones towards an authentic governance of the Internet.
Act together through international cooperation
Multilateral or bilateral judicial assistance treaties have been finalized between countries to facilitate police and judicial cooperation, and implement information exchange, in order to dismantle networks and provide better protection to victims. Successful achievements have convinced governments that international cooperation is a form of action to develop to combat human trafficking, a transnational criminal phenomenon.
Abolish borders with extraterritorial legislation
In the fight against sex tourism, extraterritorial criminal laws have been introduced in the home countries of sex buyers to target citizens of these countries (and sometimes their residents and visitors). They offer an appropriate response to the inadequacy of repressive laws in some destination countries, which constitute an implicit incentive for the development of this phenomenon. Admittedly, prosecutions are difficult to initiate due to the geographical distance. Yet, the first convictions have demonstrated the efficiency of these measures.
Train and raise awareness
By informing communities that have been confronted with victims, we advance the fight against the system of prostitution and further the collective awareness. Initiatives in this direction are numerous and have a positive impact. The training of judges and procurers allows for a better application of the laws and for an allocation of sanctions meeting the level of crimes committed. Raising awareness among law enforcement agents and social workers improves the identification and the care given to victims. Educating tourism professionals, hotel staff, taxi companies, and others helps to fight against the development of sex tourism. Last but not least, the raising awareness of the general public works against the normalization of prostitution, and more largely, sexual violence, broadcasted by the media.
Reverse the criminal liability and criminalize the purchase of sexual acts
The legislation model, often referred to as the Nordic Model, created in Sweden in 1999, introduced the decriminalization and the support of prostituted persons, the incrimination of the purchase of sexual acts, the penalization of sex buyers and procurers, raising awareness among the population, and prevention. The main objective, by inverting the criminal liability and by recognizing prostituted persons as victims, is to denounce prostitution as a violence perpetrated against women, as well as a breeding ground for the development of criminality. While regulationist countries, such as Germany and the Netherlands, are overwhelmed by violence and crime, Sweden has the lowest rates of human trafficking and prostitution in Europe. Today, Norway, Iceland, Canada, Northern Ireland, France, Ireland, and most recently Israel have adopted this model.
To bring an end to prostitution…
The Nations' efforts to deal with exploitation phenomena are evident. However, this does not mean that coherent and effective policies are always achieved. When the will to change laws is present, projects remain stagnant from year to year. When laws exist, their application is difficult and their results rarely evaluated. What are the obstacles to be removed?
A blatant lack of resources
Universally, the insufficiency of resources allocated to combating sexual exploitation, prostitution, and human trafficking, as well as the protection of victims, is evident. Several countries possess a legal arsenal suitable for efficiently combating human trafficking, yet the main obstacle to its implementation remains the lack of funds allocated. Although various programs are dedicated to the protection of victims, their reintegration, and the provision of exit paths from prostitution, they function sparsely or poorly due to a lack of financial means allocated or a decrease in funds over the years. The various NGOs active in the field lack the resources to carry out their missions optimally and support these programs.
A debate in the process of radicalization
67% of identified human trafficking victims are victims of sexual exploitation, at both European and global levels. Yet, human trafficking for sexual exploitation purposes, the main and singular issue in the fight against human trafficking, is not subject to specific attention proportionate to its scale. Instead, the media are increasingly influenced by the discourse of a powerful pro-prostitution current that seeks to mask the reality of sexual exploitation under an illusion of normality, even modernity by saying that prostitution is 'sex work' considered emancipatory for women and an alternative form of consensual sexuality! Thus, by surfing on the liberal thinking and populist rhetoric, this movement has managed to spread falsehoods as unassailable facts and therefore shut off the debate. In the face of such threats, realities and priorities must be restored: the 5th global report on sexual exploitation works towards doing so.
Prostitution is neither work, nor sex.
It is the commodification of human beings. It is the outrageous exploitation of the bodies of women, children, and an increasing amount of men. The fight against all forms of sexual exploitation must be a clearly defined priority by governments, equipped with the means to meet the challenges. The phenomenon continues to develop and evolve dangerously. Nevertheless, progress has been made in recent months. It must be continued, invariably in the direction of the abolition of prostitution.
Read more here.