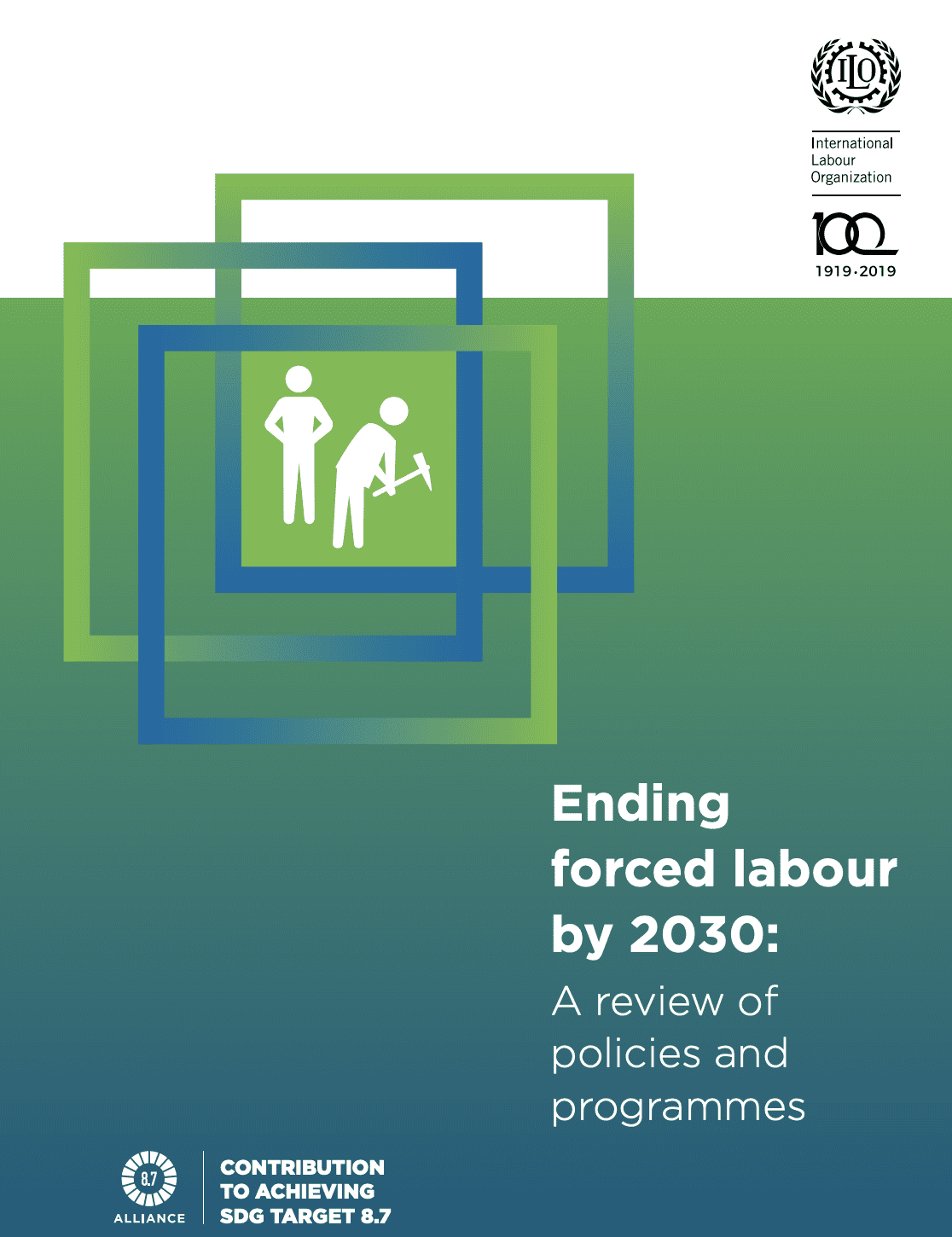 Ending forced labour by 2030: A review of policies and programmes
Our ultimate aim is clear — a world in which no human being is ever subjected to forced labour in any of its various forms. However, on any given day in 2016, 25 million people were caught in the grip of forced labour, 4.3 million of them children below the age of 18 years. This moral and legal scandal is an indictment of the failure of global and national governance to ensure social justice and full respect for human rights in the global economy. And with a greater prevalence today of forced labour in the Europe and Central Asia region than in Africa, it is evident that forced labour is a product not just of the poverty of nations but of enduring social injustice and inadequate political will.
The international community clearly faces an immense challenge in honouring the global commitment made in Target 8.7 of the Sustainable Development Goals to end all forms of forced labour by 2030 and to end the forced labour of children, along with all other forms of child labour, by 2025. This report reflects on this challenge and the way forward. It is aimed at helping to guide efforts in the lead up to the Target 8.7 end dates by bringing together and highlighting instructive practices in national law and policy to address forced labour.
Two international instruments — the 2014 Protocol to ILO Convention No. 29 on Forced Labour, 1930 and its accompanying Recommendation No. 203 (henceforth, the Forced Labour Protocol and Forced Labour Recommendation) — are the principal points of reference for the report.
A Key Additional Impetus and Strategic Framework for the Global Fight Against Forced Labour
The Forced Labour Protocol and Recommendation, adopted by the International Labour Conference at its 103rd Session in June 2014, bring ILO standards against forced labour into the modern era and provide an important additional impetus and strategic framework for the global effort to eradicate it.
Without altering the basic definition of forced labour, the Forced Labour Protocol and Recommendation complement and update — but do not replace — the fundamental ILO standards of 1930 and 1957 by accounting for changes in the contexts and forms of forced labour in the contemporary global economy. The instruments explicitly recognize modern forms of trafficking for forced labour, including for forced sexual commercial exploitation, as the subject of growing international concern requiring urgent action. The instruments also recognize the increased number of workers who are in forced labour in the private economy, and that certain groups of workers have a higher risk of becoming victims of forced labour, especially people on the move.
The Forced Labour Protocol and Recommendation also constitute a watershed in strategic terms by placing a new emphasis on addressing causes of forced labour and on ensuring the full respect of all offended persons, irrespective of their legal status in the national territory.
Specifically, the Protocol establishes the obligations to prevent forced labour, to protect those subjected to forced labour, and to provide them with access to remedies, and it emphasizes the link between forced labour and trafficking in persons. In line with Forced Labour Convention No. 29 of 1930, the Forced Labour Protocol also reaffirms the importance of enforcement and of ending the impunity of perpetrators. The Forced Labour Recommendation provides guidelines for implementing these obligations and underscores the importance of international cooperation and social dialogue in this regard.
These four elements — PREVENTION, PROTECTION, REMEDIES, and ENFORCEMENT — underpinned by strengthened international cooperation and social dialogue, form the key pillars of comprehensive strategy for addressing forced labour and for reaching the ambitious SDG targets of ending the forced labour of children by 2025 and universally by 2030.
Prevention: addressing the factors that push and pull people into forced labour
It is self-evident that achieving the goal of eradicating forced labour rests, first and foremost, on prevention. We must address the wide assortment of factors — socio-cultural, economic, legal, and political — that push and pull people into forced labour if it is to be relegated definitively to history. Remedial measures will never be enough if the flow of people into forced labour is not first stemmed.
Article 2 of the Forced Labour Protocol, reflecting research and experience, sets forth an overall strategy for the prevention of forced labour and outlines measures that member States must put in place in several specific areas. Prominent among these are awarenessraising, ensuring fair recruitment, supporting "due diligence by both the public and private sectors", and addressing root causes and risk factors. In context of the last, the Forced Labour Recommendation stresses the importance, among other things, of ensuring freedom of association, of providing of basic social security guarantees, and of skills training for at-risk populations. Forced labour occurs overwhelmingly in the informal economy, and these measures to address root causes are therefore of particular relevance in this setting.
Awareness-Raising
The Forced Labour Protocol and Recommendation call for measures to educate the public, vulnerable groups, and employers, in recognition of the importance of heightened awareness to changing behaviour and practices that can lead to forced labour and related abuses. A review undertaken for this report indicates that most countries have undertaken measures in this area (see graph at right)
Country-level awareness-raising efforts utilize a broad spectrum of traditional and nontraditional communication channels. Public service announcements, local radio and television spots, documentary films, theatre productions, lectures and film discussions, social media campaigns, video testimonials by victims, school curricular materials, mobile phone applications, and printed information in local languages are some examples identified in the review undertaken for this report. Religious leaders are targeted in awareness-raising efforts in several countries in light of their important role as change agents. Mass media professionals are another common focus given their key role in shaping the public debate on forced labour. Transport corridors, and points of arrival and departure, are used in a number of contexts for reaching migrants with information on the risks of forced labour.
Communication contents, however, are typically narrower in scope. Most focus on human trafficking for forced labour; awareness-raising activities targeting forms of forced labour that do not involve trafficking are much less common. Few awareness-raising initiatives to date have generated evidence of their impact on knowledge, attitudes, and practices relating to forced labour, which is in turn critical for fine-tuning communication strategies and for identifying those with the most potential for broad-scale replication moving forward.
Fair Recruitment
With increasing frequency, the recruitment of migrant workers is carried out by private employment agencies. These private agencies can play an important role — complementing public employment services — in helping to match labour supply with labour demand and thereby improve the operation of the labour market. However, the growth of the private recruitment industry has also been accompanied by a disturbing number of reports about the exploitation and abuse of workers, especially migrant workers, by unscrupulous labour recruiters and fraudulent and abusive employment agencies. In recognition of recruitment as a risk factor in forced labour, the Forced Labour Protocol reinforces other international legal instruments in requiring the protection of workers, and particularly migrant workers, from abusive and fraudulent practices during the recruitment and placement process.
Addressing gaps in the governance of labour recruitment
Although laws governing recruitment agencies and recruitment fees have been passed in more than 90 countries, a recent ILO review suggests that few deal with these issues in a comprehensive fashion. Important governance gaps persist, leaving room for abuse. Regulatory reform aimed at closing these and other governance gaps is therefore vital. There are a number of instructive measures undertaken by countries of relevance in this regard.
Joint liability schemes that make both labour recruiters and employers liable for fraudulent or abusive recruitment or labour practices;
bilateral agreements between origin and destination countries that formalize their shared responsibility in dealing with labour recruitment issues;
joint liability schemes within bilateral agreements, in order to ensure that the concept of joint liability is applied across borders;
stipulations in bilateral agreements between source and destination countries requiring that recruitment information is provided to migrant workers; and
government-to-government recruitment mechanisms that effectively bypass private employment agencies and instead rely on government entities in both the origin and destination countries to handle the selection and placement of workers.
Preparing and empowering migrant workers
Unprepared and ill-informed migrants are at significantly greater risk of forced labour and other labour abuses. In recognition of this basic reality, the Forced Labour Recommendation also calls for orientation and information for migrants. Current practice also offers a number of models for preparing and informing prospective and actual migrant workers:
pre-departure orientation seminars and briefings for prospective migrant workers;
migrant support centres, providing free information and counsel to prospective migrants prior to departure;
public awareness-raising programmes aimed at promoting "migration by choice", including door-to-door visits, referral services, pre-decision counselling sessions, life skill training, and other outreach efforts;
migrant workers' centres in destination countries, providing migrant workers with accurate information, advice, and other support concerning safe migration and rights at work; and
the Migrant Recruitment Advisor, a crowdsourced global web platform enabling prospective migrant workers to quickly identify fair recruiters and avoid abusive ones, and, more broadly, to benefit from the knowledge and experiences of their peers.
Read more here.