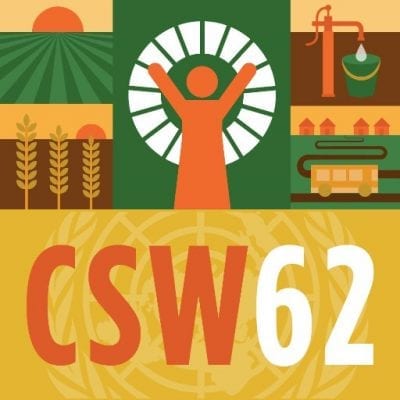 Human Trafficking Events at CSW62
The 62nd session of the Commission on the Status of Women (CSW62) began yesterday, March 12, and will run through March 23. CSW brings together nations, UN entities, and civil society to advocate for gender equality, investments in girls and women, and women's empowerment. This year's theme is the challenges and opportunities in achieving gender equality and the empowerment of rural women and girls.
Human trafficking disproportionately impacts women and girls, and thus its elimination is crucial to the fight to end gender-based violence and achieve gender equality. In support of these efforts, a number of CSW62 side-events address the challenges of human trafficking, sexual exploitation, and modern-day slavery. Many of the events are open to the public; reach out to the specified contact person if you'd like to attend.
March 8 1:00pm – 2:00pm: Remember Slavery "Say it Loud" Exhibit
Hosted by the UN Department of Public Education
Visitors Lobby, UN Headquarters
March 13 11:30am – 12:45pm: Harmful and Deadly – Child Marriage and Maternal Mortality in Rural Settings
Hosted by New Zealand, Canada, Zambia, & International Women's Health Coalition
Contact: nzpmunrsvp@gmail.com
March 13 1:15pm – 2:30pm: Preventing Human Trafficking Among Rural Women and Girls – Integrating Inherent Dignity into a Human Rights Model
Hosted by Holy See, Mercy International Association, Mercy Global Action, Arise Foundation, Congregation of Our Lade of Charity of the Good Shepherd, Institute of the Blessed Virgin Mary, Society of the Sacred Heart, UNANIMA, & women@thewell
Conference Room 1 – Conference Building
Contact: rlandry@holyseemission.org
March 14 11:30am – 12:45pm: Modern Slavery and Its Impact on Women & Girls
Hosted by Liechtenstein & United Kingdom of Great Britain and Northern Ireland
Contact: mz@nyc.llv.li
March 15 8:15am – 9:30am: "#MeToo" Say Survivors: Human Rights, Gender and Trafficking in Human Beings
Hosted by the Organization for Security and Cooperation in Europe, Office for Democratic Institutions and Human Rights, UNODC, UN Women, Coalition Against Trafficking in Women, Equality Now
Conference Room 1 – Conference Building
Contact: csw62@odihr.pl
March 16 3:00pm – 4:15pm: Presenting Challenges and Considering Solutions to Combat Sex Trafficking and Other Forms of Commercial Sexual Exploitation of Women and Girls
Hosted by Ireland, in collaboration with The Council of Europe (TBC), Ruhama and CAP International
Conference Room 11 – GA Building
Contact: n/a
March 16 4:30pm: Ending Labour Exploitation and Trafficking in Sex Work
Hosted by Global Alliance Against Traffic in Women (GAATW)
Church Center for the UN, 10th Floor
Contact: n/a
To view the complete side-event calendar, visit UN Women. For more information about CSW62 visit the Commission on the Status of Women website.