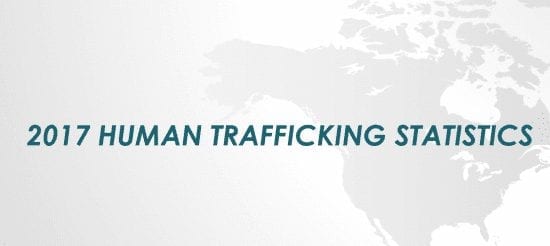 2017 Human Trafficking Statistics
Last week Polaris released the 2017 human trafficking statistics as reported by the National Human Trafficking Hotline (NHTH). The hotline is a 24-hour confidential toll-free number that serves victims and survivors of human trafficking in the United States. The hotline operates in more than 200 languages and provides a platform for victims, survivors, and community members to report incidents – or suspected incidents – of human trafficking around the country. Cases are validated against indicators of human trafficking. The NHTH was established in 2007 and is funded by the Department of Health and Human Services as well as private donors, and operated by Polaris, a leading anti-trafficking organization.
In 2017, 8,759 cases of human trafficking were reported to the NHTH, representing over 10,000 individual victims, almost 5,000 potential traffickers, and more than 1,500 businesses involved in human trafficking. This was a 13 percent increase in cases compared to 2016. Women and girls were disproportionately victimized, comprising approximately 80 percent of the identified survivors. While only 35 percent of survivors reported race/ethnicity, Latino (1,230) was the most represented, followed by Asian (979), White (699), African/African-American/Black (592), and multi-ethnic/multi-racial (136).
The 2017 statistics categorize human trafficking in three groups: (1) sex trafficking; (2) sex and labor trafficking; and, (3) labor trafficking. Sex trafficking is the most common among these groups, followed by sex and labor trafficking, and labor trafficking.
Sex Trafficking
Within the sex trafficking category, Polaris reports that most reported trafficking cases concerned escort services (1,572), followed by residential (508), and outdoor solicitation (329). The average age that trafficking began was identified as 19. Crucially, the statistics include the recruitment tactics of traffickers. While not all victims reported on their recruitment, intimate partner/marriage proposition (711) was the most common among those who did. This was accompanied by familial relations (525), posing as a benefactor (397), job offers (209), and false promises and/or fraud (195).
Sex & Labor Trafficking
Sex and labor trafficking refers to a situation in which the victim is forced or coerced to engage in both labor and sexual exploitation. In this category, illicit massage businesses (774) had the greatest number of reports to the NHTH, followed by bars/strip clubs/cantinas (194), and "illicit activities" (104).
Labor Trafficking
Though sex trafficking receives the bulk of the attention, labor trafficking is also present throughout the United States. In 2017, domestic work (242) was most commonly reported, followed by agriculture (134), and peddling and begging (109). Contrary to sex trafficking, the top reported recruitment tactic for labor trafficking is a job offer (704). Other tactics include false promises/fraud (471), "smuggling related" (200), familial relations (162), and posing as a benefactor (110). In 2017, the average age for entry into labor trafficking was 23.
Top States for Human Trafficking
Human trafficking occurs in every state. California (1,305), Texas (792), and Florida (604) received the highest number of reported cases. This is due, in part, to their large populations, high immigrant populations, and status as border/entry states. Though these states are the top three states for human trafficking according to the NHTH, they use all of the tools at their disposal to address the issue and each received Polaris' highest rating for confronting trafficking in 2014, the last year the state ratings were published.
For more information on the 2017 National Human Trafficking Hotline Statistics, read the Polaris Fact Sheet.
For more information on the reporting categories and types of human trafficking, read Polaris' Typology of Modern Slavery report.
If you need help or suspect that you've observed human trafficking call (1-888-373-7888), text (233733), or TTY (711) the National Human Trafficking Hotline. If you are in immediate danger, call 911.