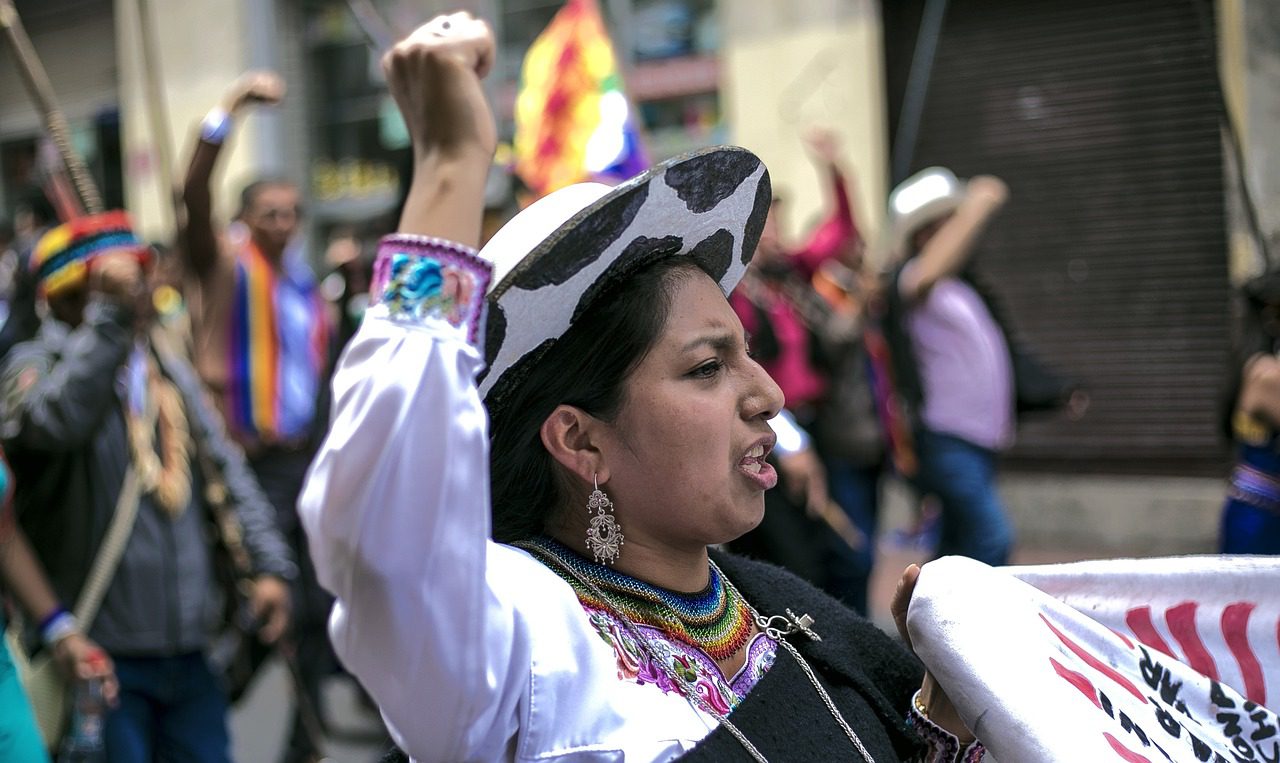 The anti-trafficking sector's blind spot: Indigenous peoples
There are an estimated 370 million indigenous people around the world. Today,  indigenous peoples are counted among the populations made most vulnerable to human trafficking.
Indigenous communities are usually overlooked when it comes to institutional reporting and data collection on forced labor and trafficking due to problematic definitions of trafficking coupled with the usually remote living arrangements of indigenous communities and their relationships with state authorities. 
However, in some cases, inflation of incidence is misattributed to indigenous communities, particularly women and girls, due to the legal status and criminalization of sex work and the equating of sex work with trafficking. The overall result is that hard figures capturing an accurate scale of the issue as well as appropriate prevention measures tailored to these indigenous populations are scarce.
Some common factors which contribute to the vulnerability of these populations to trafficking are:
Lack of access to educational institutions

 

Cultural barriers to education, employment and support services

Political marginalization/lack of decision-making opportunities

 

Poverty

 

Access to housing

 

Neo-colonial 

practices that contribute to environmental degradation and forced dispersal from 

traditional territories

 

Statelessness and denial of citizenship

 

Denial of rights to traditional lands/land dispossession

 

Racism

 
Indigenous women and girls experience structural violence, including trafficking and exploitation, in a systemic way that is perpetuated due to their gender and status as indigenous women. When their gender identity intersects with other characteristics including age, race, disability, and sexual orientation amongst others, vulnerability to trafficking and violence increases. This violence, including trafficking and forced labor, is committed by state and non-state actors "largely driven by the desire to occupy and control indigenous territories and resources and by the militarization that accompanies those efforts."
In a June 2022 report on violence against indigenous women and girls, the Special Rapporteur on on violence against women, its causes and consequences, writes: "lack of recognition of indigenous peoples' overarching rights to self-determination and land rights can facilitate the perpetration of gender-based acts of violence against indigenous women and girls."
Historical background
The enslavement of indigenous peoples and the indigenous slave trade are a part of world history usually forgotten, but some estimate that around 2.5 to 5 million indigenous peoples were enslaved throughout the Americas – and distributed internationally – between the 15th and 19th centuries.
 In Spain, the enslavement of indigenous peoples was outlawed in the 16th century, both at home and in its territories – with notable exceptions that essentially allowed for the continued flourishing indigenous slave trade in Latin America. In Australia, forced labor of indigenous peoples occurred even after the abolition of chattel slavery by the U.K. in their colonies, and United States, with trading in indigenous children becoming a common practice. 
Unfortunately, indigenous peoples continue to be subjected to trafficking and forced labor to this day. To make matters worse, these communities are often overlooked by global anti-trafficking efforts.
Below, we break down how some of the world's indigenous communities are impacted by trafficking. 
Asia
Nepal was the first country in Asia to ratify the Indigenous and Tribal Peoples Convention (C169) of the International Labour Organization (ILO). Over 35% of the Nepalese population is indigenous. Despite this, indigenous persons are routinely marginalized, disenfranchised and left out of the decision-making processes that affect their quality of life.
Data gathered in 2019 by Nepal's National Human Rights Commission found that around 49% of women trafficking survivors were indigenous peoples or Adivasi Janajati, as they are known in Nepal. They reported that indigenous communities were particularly vulnerable due to a lack of access to education and crippling poverty.
The Commission estimates that the more than 17,000 women and girls trafficked every year to India alone are usually forced into sex work, circus work, domestic servitude and are targeted for organ harvesting. Most are promised well-paying jobs and opportunities by traffickers.  
Plan International corroborates the approximate figure for trafficked indigenous girls and women and also attributes "entrenched discriminatory practices", such as the caste system, as a major contributing factor to vulnerability to trafficking. Further, according to a joint report by the National Coalition Against Racial Discrimination and Cultural Survival, 65% of indigenous ancestral land has been seized by the state, forcing them to relocate.
In Jharkhand state in India, more than 25% of the population belongs to an indigenous group, known as "Adivasi, literally meaning 'indigenous people' or 'original inhabitants'". These indigenous communities are overwhelmingly economically dependent on mining mica, a natural mineral that gives make-up and electronics their glittery shine.
But many people whose livelihoods depend on small-scale mica mining in Jharkhand state – one of the world's top mica producers – are trapped in cycles of poverty and bonded labor.
Learn more by watching the video and sign the pledge to join the fight against debt bondage of indigenous communities in mica mining.
The Caribbean
Indigenous peoples make up just over 9% of Guyana's overall population but are perceived to be the majority of the country's trafficked population. In fact, many have seen trafficking as an indigenous problem with little state intervention to prevent sex trafficking and domestic servitude of numerous women and girls.
Guyana's indigenous population has settled mostly in the hinterland regions of the country, where many companies have set up mining operations and are the main sites of reported trafficking. Advocates have reported forced labor of mainly women and girls in brothels near mining sites in addition to being trafficked to nearby countries such as Barbados, Suriname and Venezuela.
Due to their remote location, there is a lack of access to equivalent services enjoyed on the coast, including education and law enforcement. Many traditional lands that were taken over by first the colonial authorities and then the independent state have been sold to gold mining companies as concessions, and employment opportunities are scarce.
Some advocates argue that many indigenous women go into sex work willingly as options are lacking and that the state, influenced by poor rankings over the years in the US TIP report, is conflating sex work and trafficking. This, it is argued, puts them in danger of being trafficked as sex work is illegal in Guyana and so they cannot seek protection if their employers become abusive.
Latin America
Trafficking statistics for Colombia aren't disaggregated into ethnic groups, indicating a need for greater research into the impacts of trafficking on indigenous communities. In addition to broad trends globally on the unique systemic inequalities faced by indigenous groups, isolated indigenous communities in Colombia are also at risk of being forcibly recruited by armed groups.
Alarmingly, according to the United Nations Development Programme "of the 102 indigenous groups in Colombia, 62.7% are in a critical humanitarian situation as a result of the abuse of their human rights and land rights […] 35 indigenous groups are at risk of physical and cultural extinction as a result of economic interests, extraction of natural resources and/or armed conflict in the country's indigenous territories."
Indigenous peoples make up 6.5% of the country's population of 120 million and there are at least 68 indigenous groups spread across Mexico's territory. The geographical dispersal and isolation of these groups coupled with cultural and linguistic diversity has contributed to historical and current marginalization and exploitation of these communities.
Interlinking systemic discrimination constructs vulnerability to trafficking for indigenous communities in Mexico. Furthermore, the oversight from local and federal authorities further marginalizes these groups and impedes accurate assessments of the true scale and impact of trafficking within these communities. A recent report by El Pacto por Los Derechos Humanos outlines how trafficking data on separate indigenous groups isn't sufficiently recorded or recognized "creating a blindspot for authorities".
North America
Indigenous peoples in Canada and the United States continue to be disproportionately represented in recorded numbers of trafficking survivors. The long-term impacts of colonization, displacement, racism, discrimination and barriers to education that have led to higher instances of poverty and homelessness are some of the contributing factors to increased instances of abuse and violence facing indigenous communities.
At the intersection of these vulnerabilities, the risk of trafficking increases. A 2018 report by the Native Women's Association of Canada found that indigenous women are overrepresented in national trafficking cases in Canada making up a staggering 50% of identified trafficking victims, but only 4% of the population.
This overrepresentation of indigenous women and girls in trafficking statistics, within North America and elsewhere, is situated within a historical context of systemic violence, family separation and land dispossession at the hands of the state. Trafficking does not occur in a vacuum. In fact, the systemic exploitation that laid the foundation for the conditions that allow this crime to thrive today can be traced back hundreds of years.
In the context of the U.S., a 2019 investigation from Searchlight New Mexico uncovered the extent to which indigenous women and girls in the state of New Mexico are overlooked by authorities as trafficking survivors in need of support – they are "the least recognized and least protected population."
The climate crisis & the indispensable role of indigenous peoples
The era of global warming is over and "the era of global boiling has arrived". This was the UN secretary general, António Guterres', chilling announcement in July 2023 during what is set to be the hottest month ever recorded. People across the world are suffering the calamitous effects of the climate crisis, from wildfires in Europe and North America to deadly flash floods in South Asia.
In the same month, the UN Special Rapporteur on trafficking in persons, Siobhán Mullally, warned that climate justice and urgent action to address the climate crisis are essential to meaningfully addressing trafficking.
Climate change and environmental degradation is making it increasingly difficult for indigenous communities to live off traditional lands, placing them at greater risk of accepting exploitative work as their livelihoods are affected and the risk of forced displacement increases.
Indigenous peoples are already at higher risk to trafficking due to a myriad of factors perpetuated by the legacy of colonization and neo-colonial practices, including extractivism in their territories whereby natural resources are dangerously depleted by transnational companies.
Indigenous communities are playing a key role in resisting environmental destruction occurring on their doorstep and protecting vital local ecosystems, fighting for a better world for all of us. In doing so, indigenous communities have risked their lives, with 331 indigenous activists murdered in 2020 alone. A further 200 people were murdered in 2021 for protecting their lands, and a total of 1,700 people have been killed in the last decade for their environmental activism.
Yet, indigenous peoples are yet to be meaningfully included in intergovernmental discussions on how to build resilience to the climate crisis and its knock-on effects, including the heightened risk of trafficking and exploitation facing displaced communities. Ketty Nivyabandi, Secretary General of Amnesty International Canada's English-speaking section said:
"Indigenous Peoples are on the front lines of the struggle against human-caused climate change," she said. "The future of our planet depends on their voices being heard."
Writing in the Guardian, Minnie Degawan a Kakaney/Igorot activist from the Cordillera region of the Philippines and a member of the International Indigenous Forum on Biodiversity, explains:
All too often, states simply do not recognise the right to ownership over lands and territories of Indigenous peoples – and this has a huge impact on the conservation of natural resources. Worse, if communities are not part of the design of conservation projects, they have no input on the what, when and how of things such as reforestation efforts. And there's ample evidence that Indigenous peoples are, in fact, the best custodians of biodiversity.
As indigenous communities fight for their rights, governments are barrelling ahead with destructive projects such as the Trans Mountain Pipeline Expansion Project in Canada. Councillor Charlene Aleck of the Tsleil-Waututh Nation said "our Tsleil-Waututh members have been harassed and criminalized for opposing the project, which is a major threat to our ongoing work to steward the Burrard Inlet – the birthplace of our ancestors."
The legacy of colonization continues to harm indigenous communities around the world and drives structural inequalities that construct vulnerability to trafficking. Indigenous communities must be empowered to lead the charge in developing policies and processes that hold structural change and holistic systems of trauma-informed healing at their center in order to build sustainable resilience of these communities to modern slavery and trafficking.
This blog has been republished with permission from Freedom United.