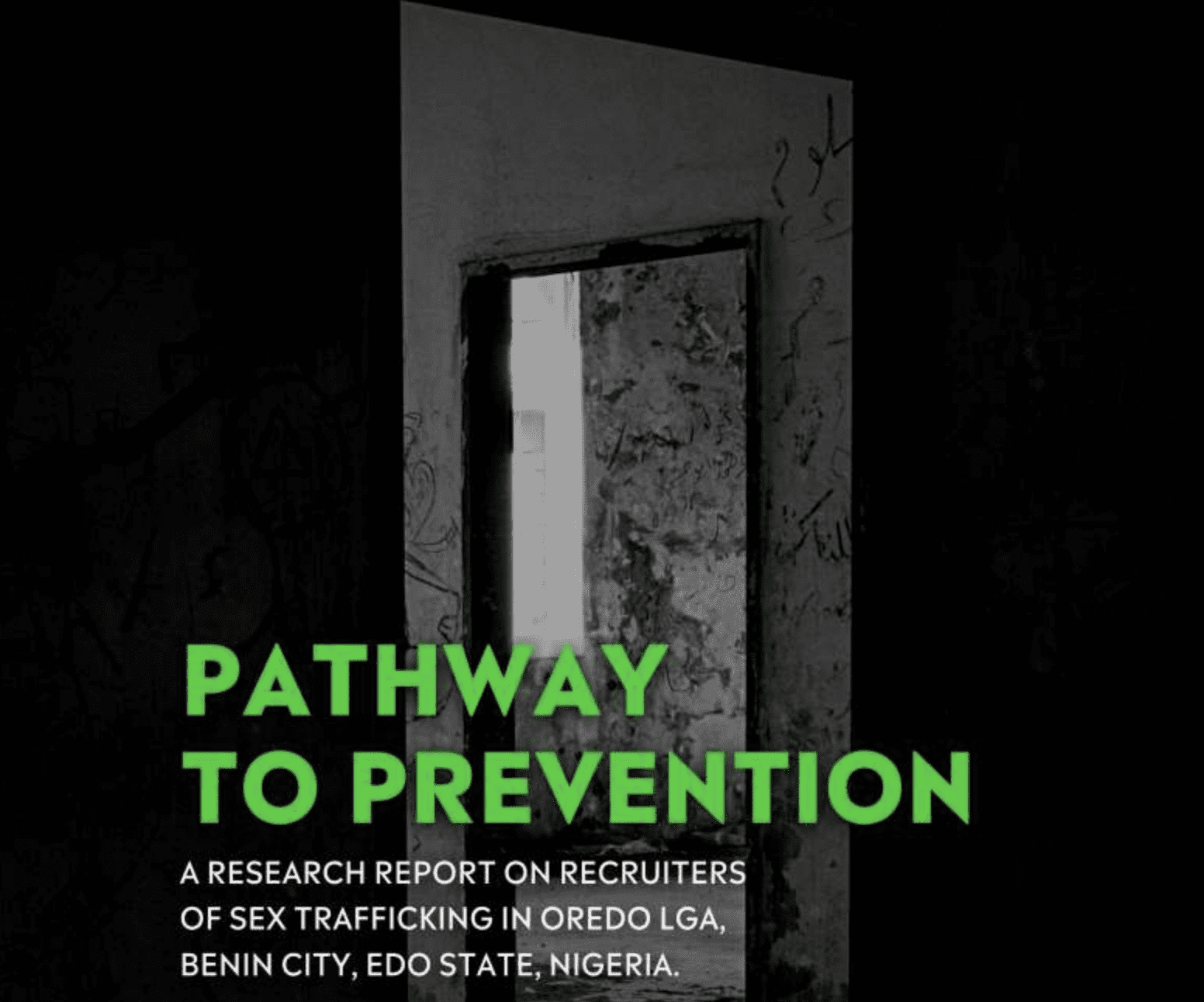 Pathway to Prevention: A Research Report on Recruiters of Sex Trafficking in Oredo LGA, Benin City, Edo State, Nigeria
Background and Observations
The subject of cross-border sex trafficking from Edo State, Nigeria has long served as a pain point for many in the global community. With only a population of about 5 million in a country where population estimates approach 200 million, Edo State's astounding history as a cultural centre of excellence has been, almost singlehandedly, overshadowed by its reputation as the most trafficked through destination in Africa. Significantly, however, most of the research on the subject has focused either on the trafficking victim, her trafficker and/or the root causes of trafficking in the region. Not until this 'Pathway to Prevention' research Project has a study focused exclusively on the role of the local recruiter, the 'Enabler'- that trusted community member(s) who profits from each new recruit successfully referred up the trafficking chain. These entrenched actors serve as the critical link between demand and supply for traffickers and fuel the global human trafficking market. The researchers hypothesized that breaking their link to potential victims could potentially lead to an overall reduction in trafficking from Oredo Local Government Area in Benin City, an endemic hot-spot for recruiting and trafficking in the state.
Our objectives were three-fold: (i) empower and slave-proof local communities by deterring the recruitment of potential victims for sex trafficking by Enablers; (ii) inform prevention strategies and programs through effective community informed interventions; and (iii) contribute to the growing evidence base of data driven research that will inform policies and programs which support and scale replication of interventions that target Enablers and empower local communities against them.
Findings.
Overall, the research supported our hypothesis, having established that recruiters are critical, initiating actors with local ties to the Oredo LGA community where sex trafficking is prevalent. General awareness about sex trafficking is high and community members who had either been recruited or know someone who had been, were extremely knowledgeable about the modus operandi, tactics and schemes of Enablers (whether paid-Professional Recruiters or unpaid-Helper Recruiters) within their community. It was this knowledge that informed our resulting profile of recruiters in Oredo LGA: primarily women in their late 30's to early 40's who prey on the poor and ignorant, inspire with financial aspirations and intentionally target mothers, many of whom were already pressuring their daughters to travel overseas, particularly to Italy. Enablers, who are also now recruiting online (Digital Enablers), are primarily driven by a "need for money" and generate multiple streams of income, including a kickback from the trafficker for every successful recruit.
The Oredo LGA community identified multiple gaps within their lived experience, including government failures, as well as the community's complicity in tolerating trafficking, the remittances of which fuel its functioning economy. Successful interventions were applauded, while those that are failing were identified. Community members, as credible messengers, also provided tailored recommendations to stakeholders, urging them to prioritize economic empowerment, abandon the failing, elementary alarmist campaigns ("trafficking is bad- don't travel!") and increase arrests/ prosecutions of recruiters. Overall, the research evidenced the reality that community based and community informed interventions stood the highest chances of success in a community where many remain uninformed of available resources that may have altered their fate. In other words, breaking the link between recruiters and potential victims in Oredo LGA is both crucial and possible.
Recommendations
The community was clear- if it's for us, it should be designed by us. Community members want their voices included in the design of effective programs that reflect a nuanced understanding of the interlocking and interrelatedness of recruiting in Oredo LGA. In addition, a coordinated effort by stakeholders must be prioritized, while social justice reforms are addressed. Clearly, legislation alone cannot mitigate vulnerability to trafficking. Addressing those vulnerabilities (particularly gender disparities) does. In addition, stakeholders must increase trainings (particularly for law enforcement that is not well trusted in the community), educate community members (in Bini language and in pidgin as well) about the criminal nature of recruiting and address the mindset of many in the community that deem prostitution a viable alternative to poverty. The latter can only be successful when cognitive restructuring, a psychotherapeutic process that helps identify and change thinking patterns that are potentially harmful, is employed prior to behavioral modification efforts. Finally, anonymous, toll-free reporting mechanisms, which simultaneously link potential victims to CSO resources must be developed to encourage whistleblowing. Formal witness protection programs will also serve the needs of the community and increase prosecutions.
Additional Research.
Areas for additional research are further outlined in the body of the Report. However, a few worth mentioning here include a comparison of recruiting prevalence in Oredo LGA to other areas in Edo State where recruiting is not endemic to determine what community postures/responses and or cultures prevent the proliferation of trafficking in those areas and whether same can be adopted in Oredo LGA; the impact of the Oba of Benin's March 2018 pronouncement on recruiting; online recruiting and its impact on the landscape of in-person recruiting in Oredo LGA; the impact of COVID-19 on recruiting from Oredo LGA.
Read more here.