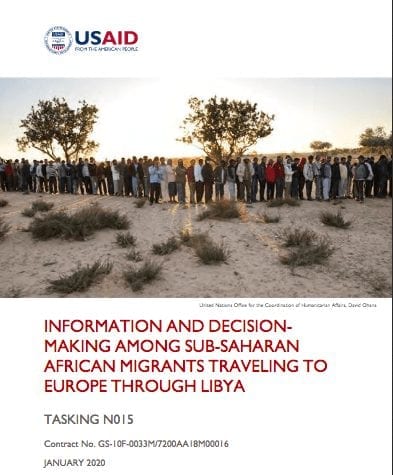 Information And Decision-Making Among Sub-Saharan African Migrants Traveling To Europe Through Libya
Arrivals to Europe from Africa, especially across the central Mediterranean route from Libya and Tunisia to Italy, have fallen since mid-2017. Most observers believe that European Union (EU) migration policies, particularly EU and Libyan interdiction measures as well as agreements between the EU and various governments, are responsible for the falling numbers of arrivals. Yet EU officials and many experts also believe that the underlying drivers of migration, including migrants' hopes for better lives in Europe and/or migrants' desires to flee oppressive regimes and conflict zones, are still firmly in place.
Even amid the EU's crackdown, many aspiring migrants from sub-Saharan Africa continue to journey across the Sahara to Libya. Conditions remain grim for these migrants. To take just one figure, an estimated 5,000-6,000 aspiring or returned migrants were being held in detention centers in Libya as of July 2019,1 when humanitarian organizations called for the centers' closure in protest at the brutal conditions there.
Understanding the drivers of migration is crucial for creating and implementing effective long-term policies that look beyond interdiction. As part of USAID's Countering Trafficking in Persons (C-TIP) effort, this paper surveys literature on the drivers of irregular migration from sub-Saharan Africa through Libya to Europe. The paper further examines what the literature says the role of information is in shaping migrant decision-making. The paper also assesses the extent to which information campaigns shape migrants' decisions. Such information campaigns typically involve efforts to provide migrants and aspiring migrants with new or newly contextualized information about the dangers of land and sea journeys, as well as about the situations they may face in Europe in terms of obtaining residency and work permits. The literature reviewed for this paper primarily includes reports from governmental and nongovernmental bodies, as well as published and ongoing scholarly research.
Read full report here.