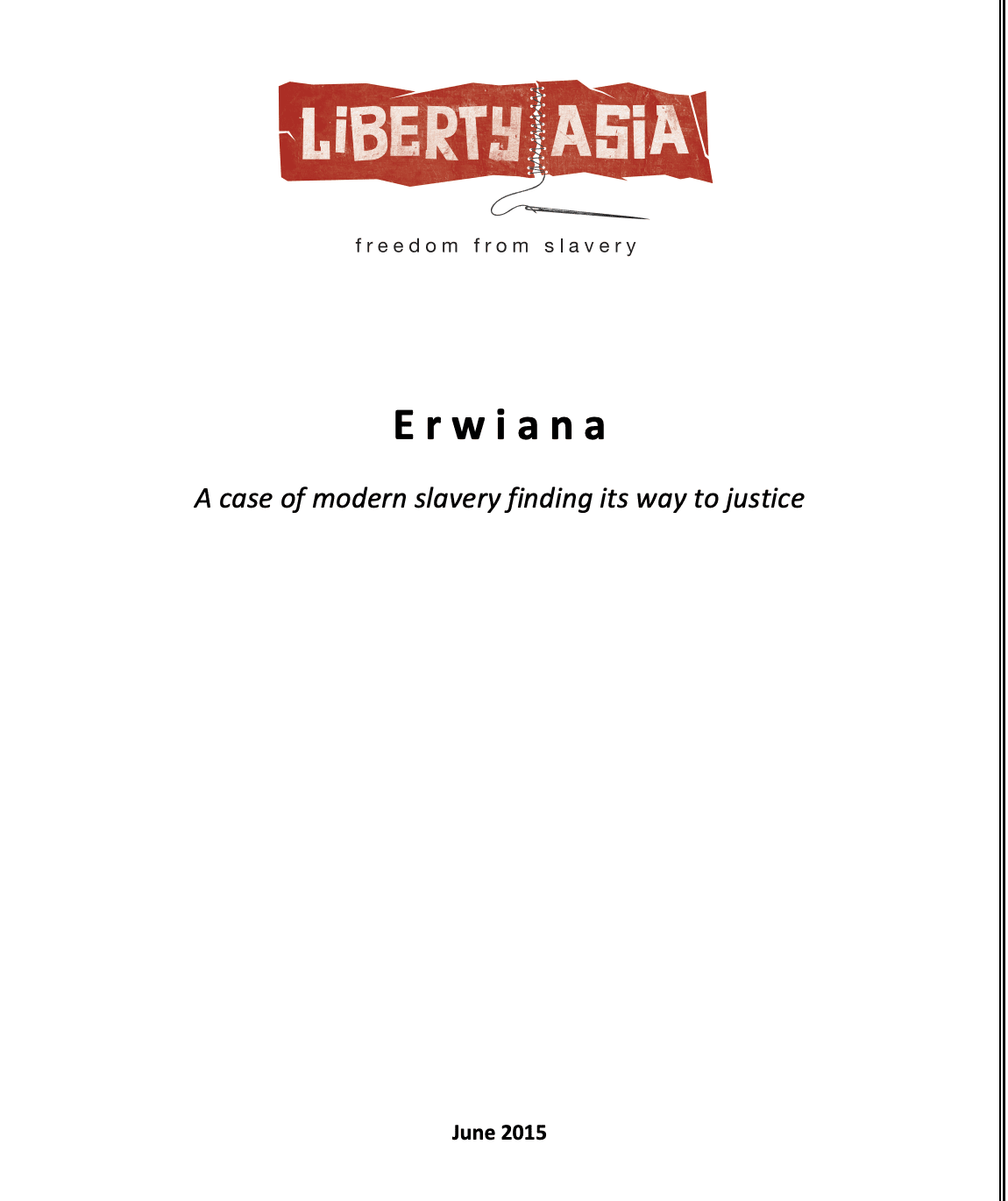 Erwiana: A case of modern slavery finding its way to justice
Introduction
With over eight different states sending in excess of 300,000 domestic workers to Hong Kong, we are a society that is heavily dependent upon this relatively inexpensive source of labour. These women (and men) work in our homes with our families and are often privy to the myriad of happy and sad moments that make up each of our lives.
Despite being a society that is heavily dependent on domestic workers, we are surprisingly reluctant to acknowledge the economic contribution of these women to our society and are often unaware of, or wilfully blind to, many of the harsh realities that are a common feature of these women's lives. These realities often include the retention of their identity documents by their agency or employer, extortionate placement fees paid to recruiters, high interest debts incurred to pay such fees, physical and/or mental abuse or coercion and contractual terms that are often not respected particularly when it comes to rest days and working hours, amongst other things. These realities are exacerbated by restrictive policies such as the "live in" and "two week" rules that both contribute to creating a restrictive living and working environment, one where it is difficult for a domestic worker to terminate her existing working arrangements to move on to a better opportunity.
Perhaps unsurprisingly, in recent years, we are seeing an increasing number of reported cases in which domestic workers have allegedly been abused or even tortured by their employers. In Hong Kong, we have recently witnessed one such case – HKSAR v Law Wan Tung (DCCC 421 & 651 of 2014), often referred to as the "Erwiana case" – which has brought these issues to the forefront of public attention.
Overview of the Erwiana case
The Erwiana case involved a total of three victims, including Erwiana Sulistyaningsih, all domestic helpers from Indonesia who worked for the defendant at different times since April 2010. The charges brought against the defendant fell into two categories. The first category of charges included crimes of assault and intimidation under various sections of the Offences Against the Persons Ordinance (Cap. 212) and the Crimes Ordinance (Cap. 200). The second category of charges included employment related breaches under the Employment Ordinance (Cap. 57 and the Employees' Compensation Ordinance (Cap.282).
Of the 21 charges brought against the defendant, 17 were in relation to offences1 committed against Erwiana, who worked for the defendant from 30 May 2013 until 9 January 2014.
Like the other two victims, Erwiana was made to clean the defendant's home for 20 hours a day with only 3 to 4 hours' sleep each day. Erwiana was constantly and consistently assaulted by the defendant, resulting in fractures of teeth and cutting of lips, amongst other injuries. She was hit so hard on one occasion that she lost consciousness and was made, in another incident, to stand naked in the shower with a fan turned on against her for several hours. On another occasion, Erwiana had a vacuum tube of the vacuum cleaner pushed into, and twisted inside, her mouth.
Threats were also made against the well-being and safety of Erwiana's family in Indonesia in order to keep her subservient and silent. Erwiana worked every single day, including rest days and statutory holidays, but received no salary during the entire period of her employment. She was told by the defendant that her wages were applied to pay the fees which she owed to the recruitment agency, and that her wages were also deducted by the amount she had to pay for repair of the various items she allegedly broke while working, as well as her toiletries and clothes that the defendant bought on her behalf.
On 10 February 2015, a verdict was handed down in the District Court by HH Judge A J Woodcock against the defendant Law Wan Tung, the ex-employer of Erwiana Sulistyaningsih. The defendant was convicted of 19 of the 21 charges brought forward by the prosecution, attracting a total sentence of 6 years' imprisonment and a fine of HK$15,000.
Read more here.