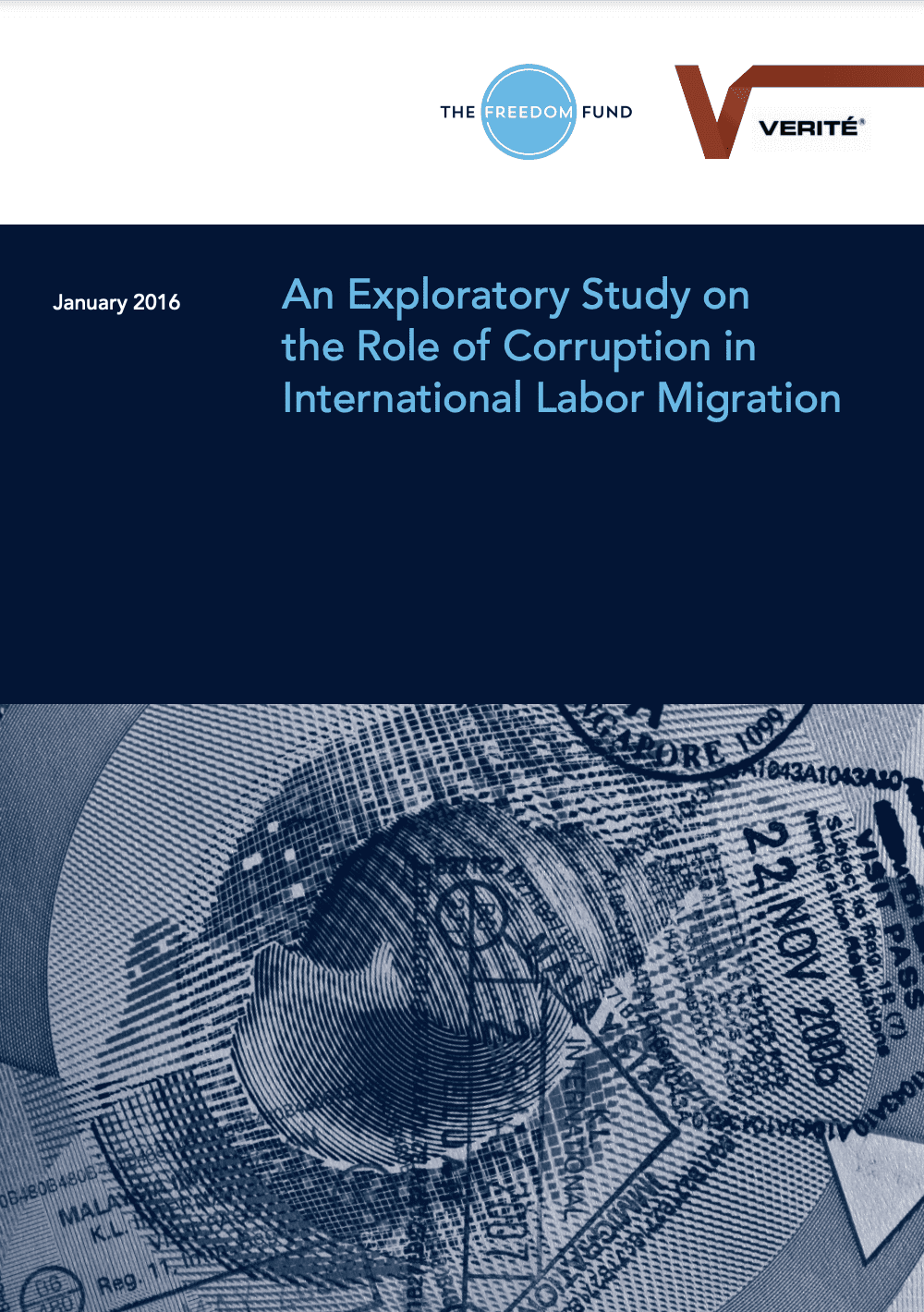 An Exploratory Study on the Role of Corruption in International Labor Migration
Background
In the 2013 white paper, "Corruption and Labor Trafficking in Global Supply Chains," Verité detailed how fraud, corruption, bribery, and other illegal practices are common features of the international recruitment of migrant workers. The myriad official approvals, documents, and associated fees – foreign worker quotas, job order attestations, exit and guest worker visas, medical certifications, police clearances, work permits etc. – required to deploy a migrant worker from one country to another mean the opportunities and incentives for employers and their recruitment agents to bribe civil servants have become a structural feature of the international labor migration process. Since recruitment agents and employers ultimately transfer most, if not all, of the upfront costs of employment to foreign migrant workers, both of these forms of recruitment-related corruption directly contribute to the excessive and illegal fee burdens frequently faced by migrant workers. In this way corruption is a significant contributing element to migrant worker vulnerability to debt bondage, human trafficking, and forced labor.
Further, Verité and others have pointed out that the corrupt activities all too common in migrant worker recruitment also create potential legal risk for companies under origin and destination country laws as well as extraterritorial anti-corruption statutes such as the US Foreign Corrupt Practices Act (FCPA) and the UK Bribery Act (UKBA). Because multinationals can be liable for the acts of their foreign subsidiaries, franchisees, joint venture entities, and even suppliers that use third party employment agencies under a number of legal theories including traditional agency principles, the risk arises where corrupt payments result in a direct or indirect benefit to an employer – an improper advantage – through cheap migrant labor or the avoidance of the upfront costs of employment.
Ironically, these many procedures and requirements that are so vulnerable to corruption were often put in place to protect workers and ensure regular process in the highly complex governance of international migration. The governments' responsibilities to protect the labor and human rights for migrants and to regulate a growing, dynamic private recruitment sector are not in question. Nor is the fact that legitimate private labor recruiters can play an important role in connecting workers with much-needed jobs; indeed, good recruiters are seeking to reform and reinvent the system. There is a flurry of efforts underway by governments, unions, civil society organizations, recruiters, employers, and international institutions like the ILO and IOM to reform the systems in place.
Yet, even as reform efforts proceed apace, as this report outlines, "pay-to-play" kickback commissions and other corruption payments are all too common in the migration process; understanding the nature and extent of those payments is vital to reforming the process. Indeed, the lack of deep knowledge of the role of corruption in the process is a very real threat to the success of reform efforts. With new policies and procedures being proposed or enacted every month in countries around the world, it is vital that deeper understanding is achieved of the nature and extent of corruption. Corruption occurs for many reasons and eliminating controls and processes because corruption is attached to them is by no means the proper approach. Reform efforts themselves will generate unintended consequences in terms of corruption risk and new costs and threats to migrants. Hence, much humility and patience are called for as a wide range of institutions globally promote new models to protect workers.
Read more here.