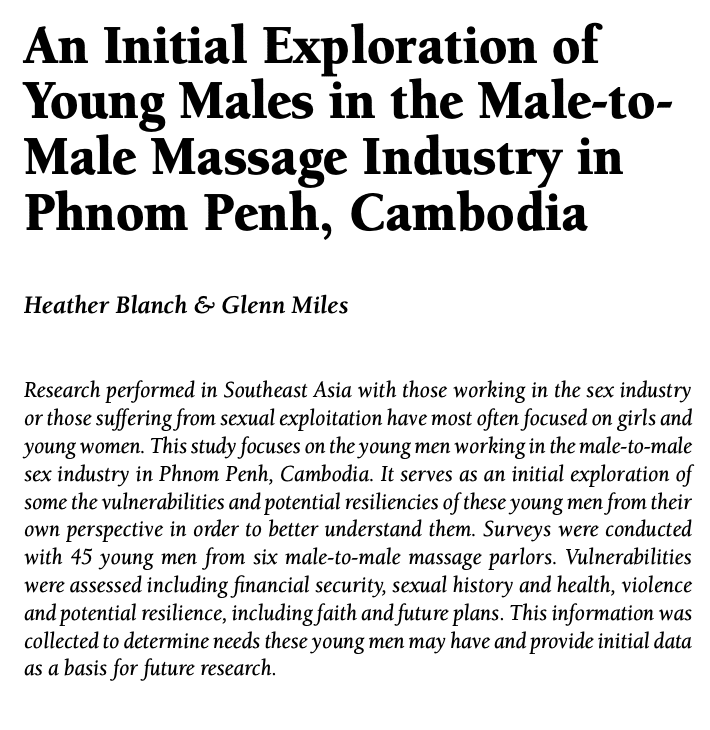 An Initial Exploration of Young Males in the Male-to-Male Massage Industry in Phnom Penh, Cambodia
Research performed in Southeast Asia with those working in the sex industry or those suffering from sexual exploitation have most often focused on girls and young women. This study focuses on the young men working in the male-to-male sex industry in Phnom Penh, Cambodia. It serves as an initial exploration of some the vulnerabilities and potential resiliencies of these young men from their own perspective in order to better understand them. Surveys were conducted with 45 young men from six male-to-male massage parlors. Vulnerabilities were assessed including financial security, sexual history and health, violence and potential resilience, including faith and future plans. This information was collected to determine needs these young men may have and provide initial data as a basis for future research.
This study is one of the few attempts of any research to try to understand the situation for young males in the sex industry in Cambodia. Massage parlors for men are the most visible places that young men are involved in commercial sexual exploitation and most accessible to research, but a recent surge in night-clubs, gay bars and internet chat rooms where young Cambodian men can be "picked up" for paid sex indicate that massage places may be only the "tip of the iceberg." Many Christian organizations have been actively working with sexually exploited girls (50 faith-based abolitionist partners are part of the Chab Dai network (www.chabdai.org)) and many describe their work as working with 'children' suggesting both genders, but only four partners are doing anything to specifically address the issue of young males involved in the sexual exploitation trade. Some organizations that are working with street children have become aware that some boys are sexually exploited but have not considered how to address it.
Prior to this study, no Christian organizations appeared to acknowledge that male-to-male "massage" existed in Cambodia, despite open advertising to tourists. Programming of secular organizations appears to see sexually exploited males only as vectors of HIV. As Christians we have a responsibility to provide holistic care to this population in a Hindu-Buddhist context where they are looked down on by many who believe them to have no value or hope.
NGOs are dependent on funding by donors. Thus, we believe that the lack of programming addressing the needs of sexually exploited males may be attributed partly to a Western world-view held by donors where the female is vulnerable and needs rescuing (cf. Sleeping beauty), while the male is resilient and does not (cf. Aladdin). In addition there may be reluctance to engage with a population that are considered to be "gay," too closely linked to the controversial debates in Christian circles, even though many of the young men do not self identify as gay and the concern is more about commercial sexual exploitation. Thirdly, working with males has very different challenges than working with females and some organizations may not feel adequately prepared/trained or not yet ready to take up these challenges.
However, in the past two years there has been a move principally by Christians towards assisting boys and young men. The Hard Places Community is a Christian organization that works in two communities with young boys who have been sexually exploited and provides a daycare center for them. This study was conducted by staff from this organization, with technical support from Love146, a Christian non-government organization working to combat sexual exploitation of children.
The young males who participated in this survey said that they were all over the age of 18 years. However, it is possible that some of the respondents were told by their employers not to provide their actual age, knowing the concerns of some regarding prostituted people under 18 years of age and how this might lead to "interference" by NGOs. There is an implicit belief among some clients that once a person becomes an adult that they are no longer victims or vulnerable but able to make their own choices. However, in a context where "choices" are so limited this may not be as clear-cut as imagined. Even where young men say they have chosen to do this, they may have been attracted to the initial excitement or rewards but then have little understanding of the long-term consequences of being involved. Others may say they are "choosing" to do it to support their family because they do not have other choices of work. In addition, boys have been observed in massage parlors in SiemRiep, Cambodia, and Chiang Mai, Thailand. Children, having not reached the age of majority and having not reached mental maturity, cannot give meaningful consent to participation in the commercial sex industry. Their involvement in prostitution activities in actuality is child sexual abuse in a commercial sex context.
This research is intended to provide an initial understanding of prostituted male youths in the male-to-male massage industry and their sexual exploitation so that organizations can acknowledge their existence, consider their needs and vulnerabilities, and take appropriate action.
Read more here.