Beyond Boko Haram: Human Trafficking in Nigeria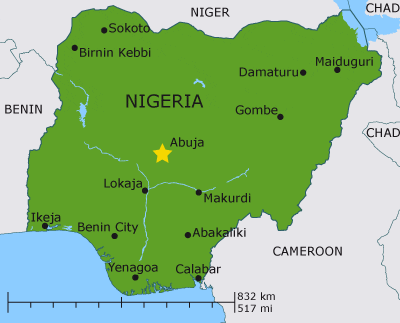 The radical Islamic group Boko Haram, whose name loosely translates to Western Education is Forbidden, is most well known for its abduction of 200 teenage girls with the goal to sell them into slavery. The impact of Boko Haram in Nigeria is much greater than the kidnapped girls. The radical Islamist group has been taking over villages in the northeast, killing and terrorizing civilians and political leaders as they make a comeback from a year-long military offensive. Since the violence began in 2009, hundreds of thousands of Nigerians have been displaced from their homes. The number of internal refugees coupled with the poverty and violence in Nigeria make it a breeding ground for human trafficking.
According to the State Department's 2013 Trafficking in Person's Report, Nigeria is a source, transit and destination country for human trafficking. As a source country, women and girls are trafficked into the sex trade from Nigeria into West Europe. Nigerian girls and women make up an estimated 60 percent of the prostitutes in Italy and Belgium. Most of the women and girls agree to be smuggled into Europe expecting to find work in stores and restaurants but instead are forced into prostitution to pay inflated smuggling fees. The trafficking of women and girls into Italy has become so common in the past forty years that Nigerian gangsters have taken up residence outside Naples to run the lucrative trafficking ring from Nigeria to Italy.
As a transit country, Nigeria is the conduit for trafficked persons coming through the porous borders of neighboring Cameroon and Niger. The Nigeria – Niger border is a 910-mile stretch of land inadequately patrolled by either country allowing traffickers to slip through unhindered. With Boko Haram increasing its violent attacks in the northeast, 50,000 Nigerian refugees have crossed into Niger. In 2002, Nigeria and Cameroon finally reached a border agreement after almost going to war in 1981 and again in the early 1990s. The contentious border between Nigeria and Cameroon was recently closed due to fears that Boko Haram would be able to slip between the countries and cause more violence.
Nigeria is the destination for trafficking victims from smaller African countries like Benin, Togo and Ghana. Child trafficking is an enormous problem in West Africa. Traffickers convince impoverished parents to sell their children and in return the traffickers will find them a safe place to live and go to school. The children are then labor trafficked into Nigeria to work in domestic households or stone quarries. Young boys are used in the stone quarries because their small bodies enable them to slip through the dangerous mine shafts, but this hazardous work often ends tragically in injury or death. Trafficking foreign children into Nigeria to work in the mines and trafficking women out of Nigeria to work in Italian brothels is not a new phenomenon but with the escalating violence from insurgent group Boko Haram, human trafficking has become a much wider problem.