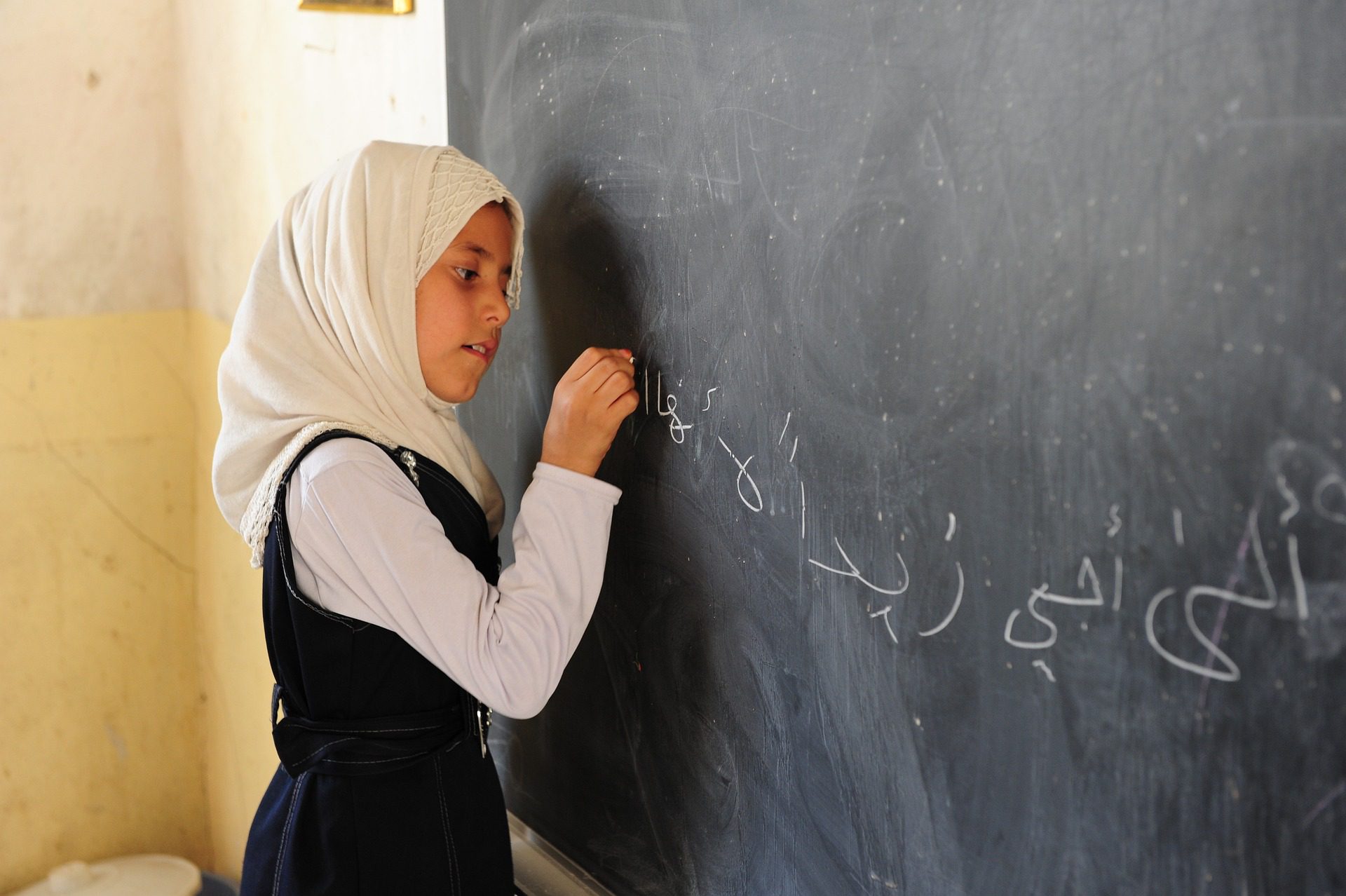 100 Women and 100 Dreams Project: Leilah and Kulthoom's Stories
This is the second installment in the series, read the first installment, Khorshid and Madinah's Stories here.
*Leilah remembers the day her life changed forever. As a 15 year old girl growing up in Iraq she spent her time like most other 15 year olds, going to school and playing with friends. But the family was in debt and on this day her father had been visited by a wealthy man asking to have her as his second wife. Her father struck a deal with the wealthy visitor and when Leilah refused to marry him, her father locked her in the family cellar for days. Trapped in this dark, moist dungeon Leilah finally agreed to the marriage, marking the end of her childhood. The Global Campaign for the Prevention of Child Marriage (GCPCM) is an ongoing awareness raising campaign that aims to help stop child marriage through education and storytelling. 100 women from around the world who married under the age of 18 were interviewed by the two founders of the campaign, Shahin Gavanji and his brother Jahangir. Leaders on the issue of child marriage in their community, Shahin and Jahangir stated 'Child marriage is a big problem in the world, in addition to child labor. This physical and sexual abuse of children [is] totally ignored.' GCPCM wants to help change that by sharing the experiences of survivors." This is *Leilah's story.
My child marriage story returns to a day when I was 15 years old, dancing and playing in our kitchen with my youngest sister. It was near midday when my father came to our house and talked loudly with my mother. I remember that day they argued and fought, because they were not agreeing on something. I remember the sudden loud cry of my mother, which was not a new thing. I had repeatedly seen them use hostile strategies against each other. But this argument was different, I could tell they were arguing about me as they kept saying my name during their argument. Our family was living in abject poverty, and unfortunately my father was in debt and had to repay this debt over a period of time. We were a very poor family and life was arduous for my father and all of us. That day my father shouted loudly to my mother "Talk with Leilah!" and he let out an angry oath. My mother came and took my hand, and guided me to the other room and said "I was the same age you are now when I got married to your father. I want to see you prosper and a rich man came to our house to ask to marry you. He can help us to repay our debt". When I understood that it was their wish that I should marry, I felt I was in a very bad situation, that I could not abide with this life. I cried and said to my mother "No mother, I don't want to get married!". But my mother insisted that I should marry him, she said "He is a rich man and your prosperity will be assured for a long time.". After a few days, the wealthy man came to our house with a box of sweets. It was evening when he came to our house and I saw my future husband for the first time. He was 48 years old, the same age as my grandfather. I ran out of the room and started to cry saying "I don't want to marry him!" and persisted saying I will never marry him. Unfortunately, one of the worst conditions of our marriage was that I had to become a second wife to him as his first wife was unable to get pregnant. The only reason he sought to marry me was to give him a child. I refused to marry him and made a decision to run away, but my father incarcerated me and locked me in our cellar, a dark, moist dungeon. They confined me there until I gave my acceptance and through this type of force, they finally got my approval. This deal between my father and my husband for my marriage stole my childhood. 
After we got married, the first day in his home he told me "Forget your previous life, you need to conform to all of my rules, you are now a woman and it's incumbent upon you to respect me and do your wifely duties well." During this time I was a really desperate person. He was an abusive husband and beat me for even small things. He beat me especially as he thought of me as an insolent person. After 1 year I got pregnant and my first child was born. Thankfully he then changed his behavior towards me, and was very kind to me. He allowed me to see my parents and I was able to restore my confidence in him. However, I always think about my childhood and I cannot not forget the dreams I had when I was a child. I wanted to grow up and become a nurse. In my opinion, children should pursue their dreams under the aegis of their parents. I believe that girls should have free will about their future. No one can understand the deleterious effects of child marriage. I believe that it is highly imperative to implement programs and campaigns to end child marriage. I can't stress enough how important this is, by doing this you can rescue a child's life.     
*Kulthoom was a 9-year-old girl living in Pakistan when she was forced to marry. Her marriage was a result of cultural norms and gender inequality. In traditional Pakistani culture, it is usual for girls to get married early due to the belief that marriage at a young age has many benefits for girls and can protect them from harm as well as provide for them, which is important for families living in poverty. Due to this belief, Kulthoom's family made a decision about her future without consulting her and forced her to marry a 17-year-old boy. This is Kulthoom's story.
When I was a child, I wanted to go to school and continue my education. I wanted to learn to write and to read stories and books. The decision my family made prevented me from pursuing my dreams and cut short my childhood. Now when I look back at my dream of learning to read, I see my dream of being literate is a very small dream. But I couldn't achieve any of my dreams, no matter how small. Every child has dreams that he or she should be allowed to achieve. No one can truly understand my situation when as a 9-year-old girl my parents forced me to get married and become a child bride. A 9-year-old girl doesn't understand anything about marriage, so why did my family make such a wrong decision? It's a big question for me!!! 
It began when I was very young, we went to a family wedding. It was winter and all of our family members were at this wedding. My (future) mother-in-law was looking at the wedding for a suitable partner for her son. My (future) mother-in-law talked with my mother about her son and she proposed to me. I was 9 years old and I didn't know the meaning of marriage, I only knew about the beautiful wedding dresses and dancing during the wedding ceremony. When my mother told me "you will become a bride", I was happy! I played in the yard and sang, since I was child I didn't know anything about what that really meant. But later I learned that I would have to leave my family and go to another rural area far away from them. I cried and said "I want to stay here with you and I don't want to marry!", but I was 9 years old and unable to defend myself from the constant pressure my family put on me. I went through a very hard time. My future husband was a farmer and he was a nice man and treated me well. After a year, when I was 10 years old, I was dressed in my wedding dress and taken to my husband's house. After getting married we faced many problems and it took a long time to arrange our life happily. 
This experience has left me with several important questions to ask my parents. I was a small girl of 9 years old, why did I need to marry so young? What were their rational reasons in support of this marriage? I know cultural factors played a crucial role in my family's decision to accept this marriage for me, but why? Unfortunately, child marriage limited me in reaching my full potential. I couldn't continue my education, I had a dream to go to school, to read books and stories, but child marriage stopped me from learning and forced me to remain an illiterate person. I think that your campaign can help to change the culture and rescue the life of girls.
According to Plan International, 12 million girls marry before the age of 18 each year. The reasons for this are complicated and range from gender inequalities and failure to enforce existing marriage laws to parents seeing marriage as a form of protection from violence for their daughters or a way to mitigate/alleviate grinding poverty. But contrary to ideas of protection, studies show that due to power imbalances, like Leilah's marriage at 15 to a man the age of her grandfather, girls who marry young are more likely to experience violence, abuse and forced sexual relations. 
Allowing girls to go to school gives them more choices and opportunities, providing tools for them to not only play an active role in their communities but help break the cycle of poverty. The United Nations views child marriage as a human rights violation, removing a girl's agency to make decisions about her own life and often robbing her of a life free of violence due to spousal abuse and frequent pregnancy and childbirth, resulting in higher than average maternal morbidity and mortality rates. GPCMC aims to raise awareness and illuminate people's minds about the issue of child marriage by sharing the stories of women who experienced this trauma from around the world. GPCMC believes sharing the lived experiences of these survivors will act as a powerful tool to empower girls globally and help prevent child marriage in future.
To learn more or help with this campaign follow GCPCH on twitter: https://twitter.com/GCPCM2