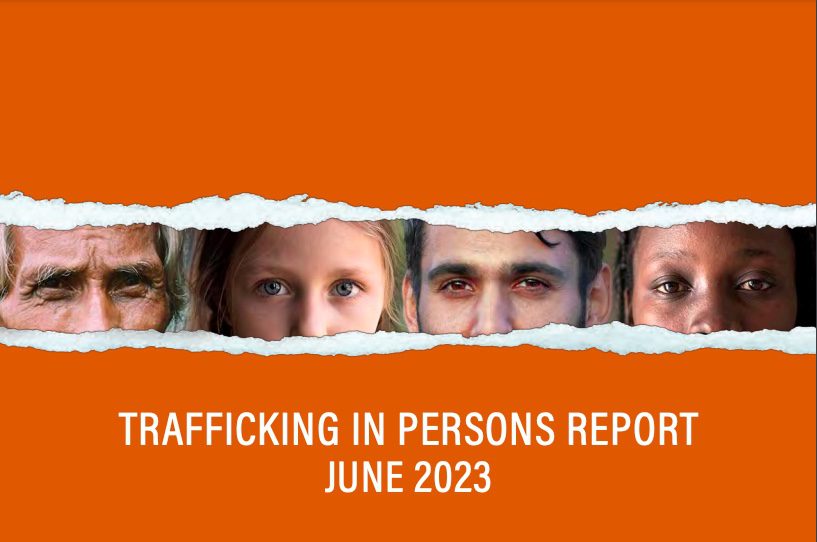 Partnerships & Survivor Leadership Highlighted in Trafficking in Persons Report: Freedom United's Reaction
The below article represents the views of Freedom United and originally appeared on Freedom United's website here. It is reposted with permission from Freedom United.
On the recent release of the U.S. Trafficking in Persons (TIP) Report, some advocates are filling in the perceived gaps found in the American government's findings. The TIP report is a tool that ranks countries into four tiers while providing a snapshot of countries' efforts on prosecution, protection, and prevention of trafficking.
However, the ranking system – from Tier 1, Tier 2, Tier 2 watchlist, and Tier 3 – also functions as a political tool with ramifications for the poorest performing tier 3 countries.
How accurate is the TIP report?
Every year, there are advocates and governments alike that disagree with the U.S. State Department's take and 2023 is no different. Immediately following the publishing of the report, the Global Labor Justice – International Labor Rights Forum (GLJ-ILRF) and Greenpeace USA, on behalf of the Seafood Working Group (SWG), released a statement questioning Taiwan's ranking.
The SWG has been pushing for greater regulation of Taiwan's fishing industry to combat trafficking and forced labor for years. They believe that Taiwan should have been downgraded from a Tier 1 to a Tier 2 ranking.
"We are disappointed by the Biden administration's decision to rank Taiwan as Tier 1, despite concerns from workers about the Taiwanese government's failure to make appreciable progress in protecting them from human trafficking and in prosecuting such occurrences," said Greenpeace Senior Human Rights Advisor Sari Heidenreich in a release.
Partnerships
The report rightly places a lot of emphasis on partnerships towards prevention, between governments, service providers, law enforcement, advocacy organizations and grassroots organizers. But effective partnerships require the political will to leverage the power of that partnership.
A recent example of a failed partnership is the Qatar World Cup 2022. FIFA had a unique opportunity to work together with labor protection organizations, human rights organizations, and the ILO to ensure workers were treated fairly by employers and to hold the Qatari government accountable for abuses. But they failed to do so. 
Leading up to, during and after the World Cup workers reported widespread abuses including debt bondage, wage theft, abusive hours and having their documents withheld. Qatar's government made promises and reforms in order to prevent these types of abuses.
However they failed to live up to the protections promised and have been accused of bribery and backsliding on even the nominal reforms they did put in place. Although six months have passed, there has been no resolution for the workers, no prevention, no protection and no prosecutions.
If prevention and protection had the backing of real political will, the situation for migrant workers in Qatar could look very different.
"Human trafficking: the more you spend, the worse it gets."
Some advocates, while finding the report useful, wish it would focus as much on prevention and protection as much as prosecution.
Writing for CNN, Martina Vandenberg from Human Trafficking Legal Center and Kehinde Togun from Humanity United note,
For decades, international anti-trafficking funding has poured in to support criminal justice efforts.  And still, the estimated number of trafficking victims grows. As David Feingold, an anthropologist based in Thailand has said (only half in jest), "Human trafficking: the more you spend, the worse it gets."

A focus on prosecution alone is insufficient. A growing body of evidence shows that it is essential that – in addition to prosecution – we also focus on the most neglected P, Prevention. Survivor leaders in the sector have long called on governments to focus on root causes of human trafficking: poverty, discrimination, xenophobia, the failure to enforce labor laws, homelessness, and racism. Few have listened. That must change.

We have also neglected Protection. Trafficking survivors remain unhoused and impoverished, even years after escaping captivity. Funding is needed for the most basic protections: shelter, food, health care, and case management. These investments work.
Freedom United welcomes the TIP report, particularly its note of 'a continued lack of progress to comprehensively address labor trafficking in the United States, such as in efforts to identify victims, including those who participate in U.S. visa programs; provide labor trafficking survivors with specialized services; and hold labor traffickers, including contractors and recruiters, accountable.'