Our awareness raising page provides information to help you learn about human trafficking and share that knowledge with your community.  In addition to awareness-raising, advocating for concrete change is crucial in the fight against human trafficking and modern-day slavery.
Civil society organizations working to end trafficking sometimes ask for the public to sign petitions or call your representatives to express support for their advocacy efforts.  Subscribing to newsletters of organizations you support is a good way to learn about these opportunities.  Additionally, some organizations have running campaigns, for example:
Freedom United runs anti-trafficking campaigns on a wide range of issues. They recently created an interactive map to help supporters identify regional trafficking issues and connect with campaigns to help address them. Click on the link below to explore the map, their website and sign a petition on a topic you are passionate about.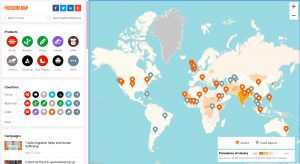 Polaris is a leading U.S. based anti-trafficking NGO. They have several opportunities for you to lend your voice to their campaigns.
Below is information on advocacy around specific human trafficking issues: