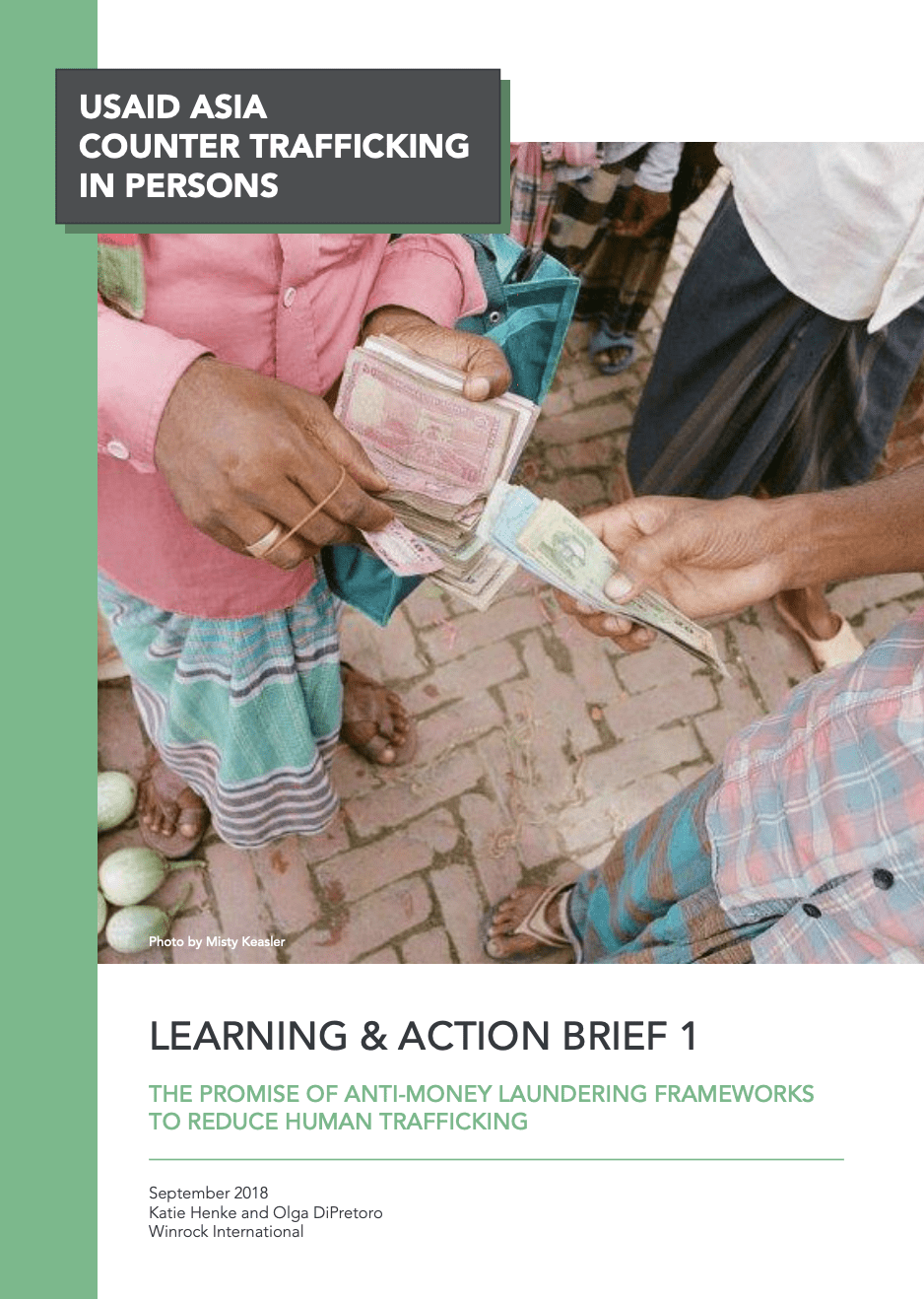 The Promise of Anti-Money Laundering Frameworks to Reduce Human Trafficking
Summary
Human trafficking remains one of the three most profitable criminal activities in the world, generating $150 billion a year.1 These profits find their way into the formal financial system, opening opportunities for anti-money laundering actions. Yet significant gaps exist in understanding the links between trafficking in persons (TIP) and money laundering and how to leverage those links to effectively attack the criminal enterprise of trafficking.
Three typologies produced under USAID Asia CTIP documented an estimated $386 million in generated revenue and over 2,000 identified victims of human trafficking. This brief presents two of these typologies, focusing on the seafood sector in Asia. It also highlights typologies as one tool used by financial institutions and discusses how other actors, including private sector, civil society, government and law enforcement, can use this type of research to strengthen their countertrafficking approaches.
Context
Anti-trafficking enforcement efforts have historically seen a slow progression of cases coupled with poor remedies for victims, few successful prosecutions, and challenges in reaching high enough levels in criminal rings to effectively disrupt operations. Cases largely rely on victims' testimonies and often fall apart when victims withdraw or are not able to provide sufficient evidence of abuse. This leads to low conviction rates with little deterrence or disruption of trafficking networks. Until recently, efforts to combat TIP have not focused on addressing financial flows associated with the crime.
Because the offense of money laundering is based on concealing the profits of other crimes, the profits associated with human trafficking fall under the global anti-money laundering enforcement framework. Until recently, counter-trafficking-inpersons (CTIP) and anti-money laundering (AML) stakeholders have worked in isolation and failed to take advantage of the connection between the two crimes to effectively disrupt both. With the goal of better understanding the links between TIP and money laundering, in 2017 USAID Asia Counter Trafficking in Persons (USAID Asia CTIP) undertook a series of actions that documented the financial flows of trafficking operations and presented them to financial and multinational companies in the form of typologies that indicate the various types of entities that benefit from TIP proceeds. Financial institutions are required to monitor for proceeds associated with criminal activities, including TIP, but lack understanding of the different ways TIP manifests itself across sectors and economic activities. Multinational corporations are obliged by a growing number of transparency regulations—such as the U.S. Tariff Act, UK Modern Slavery Act, France's "Duty of Vigilance" law, California Transparency in Supply Chains Act, U.S. Foreign Corrupt Practices Act, and others—to monitor and address issues in supply chains and could apply the "typology" approach in their due diligence processes to identify and address trafficking risks. The governments and civil society working with affected communities are not aware of how their expertise and the information they collect can contribute to the AML efforts and how they can leverage AML frameworks in their prosecution and restitution work.
This LAB aims to illuminate how intelligence used for AML actions can support broader CTIP efforts, including supply chain due diligence and government and civil society interventions, and how the information from CTIP stakeholders can reinforce the AML efforts to disrupt financial flows of proceeds associated with TIP.
Read more here.