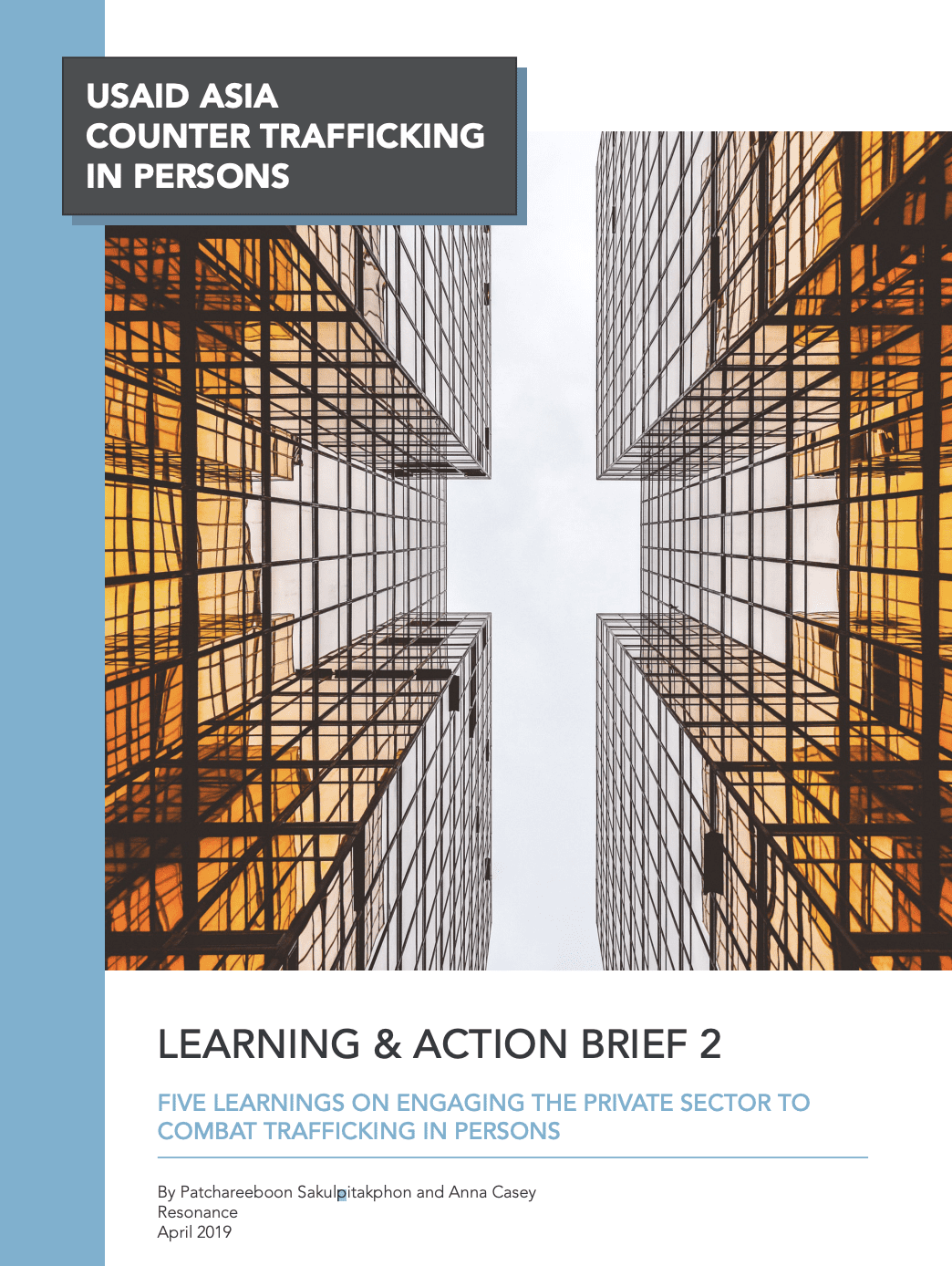 Five Learnings on Engaging the Private Sector to Combat Trafficking in Persons
Over the last decade, increasing focus has been placed on the role of the business community in countering trafficking in persons (CTIP). Since trafficking in persons (TIP) is occurring within the workplace and supply chains, the private sector is a critical stakeholder that cannot be ignored in efforts to protect workers and prevent TIP. Collaboration between public and private sector actors is being catalyzed from the global level (e.g. the UN Global Initiative to Fight Human Trafficking) all the way down to the grassroots level among local public and private organizations within communities. In parallel, steady progress has been made at the policy level to improve and encourage corporate accountability pertaining to human rights and CTIP, including the introduction of the UN Guiding Principles on Business and Human Rights1 in 2011; development of various national action plans on business and human rights2 ; and the continuous development of legislation that increases transparency of global supply chains in recent years, such as the California Transparency in Supply Chain Act3 (2012), the United Kingdom's Modern Slavery Act4 (2015), and France's Duty of Vigilance Law (2017)5 and recently Australia's Modern Slavery Bill6 (2018). Given the intricate nature of TIP, no one sector, or industry can successfully tackle the crime. It is essential that multinational and local companies, national and sub-national governments, non-governmental organizations (NGOs), civil society organizations (CSOs), industry associations, and other stakeholders collaborate to leverage knowledge, resources, experience and skills to effectively eradicate TIP.
Funded by the United States Agency for International Development's (USAID) Regional Development Mission for Asia (RDMA) and implemented by Winrock International, USAID Asia Counter Trafficking in Persons (USAID Asia CTIP) is a five-year program with the following objectives to combat human trafficking for labor exploitation:
Strengthen learning around trafficking in persons
Improve coordination and cooperation between countries in the region; and
Develop private sector partnerships or engagements to reduce incentives for TIP
The USAID Asia CTIP program organized a Learning Forum7 in June 2018 which convened USAID CTIP program implementers to review respective programmatic activities to date and analyze learnings that may improve future CTIP programming. At the Learning Forum, it was recognized that there is a gap in terms of learnings and information related to private sector engagement (PSE) for CTIP purposes and ongoing discussions on the ethical considerations of working with companies8 . Implementers underscored the importance of partnership with the private sector and expressed interest in further understanding different approaches and methodologies for conducting PSE, as well as assessments of the effectiveness of past PSE initiatives undertaken by CSOs working on CTIP. Moreover, it was recognized that many NGOs and CSOs working on CTIP lack experience and capacity to effectively engage the private sector in support of their program objectives
While engaging private sector companies in development and human rights work is critical, this has been a notable gap for public-sector stakeholders. This LAB was developed to share experiential learnings9 stemming from USAID Asia CTIP's PSE and partnership activities in the first two years of the program, which focused on the identification and development of shared value partnerships with potential companies and/ or industry groups from three prioritized sectors: agriculture/fisheries, construction and domestic work. It is intended to serve as a resource to support the PSE and partnership efforts of other USAID CTIP projects and organizations working on TIP issues.
Read more here.