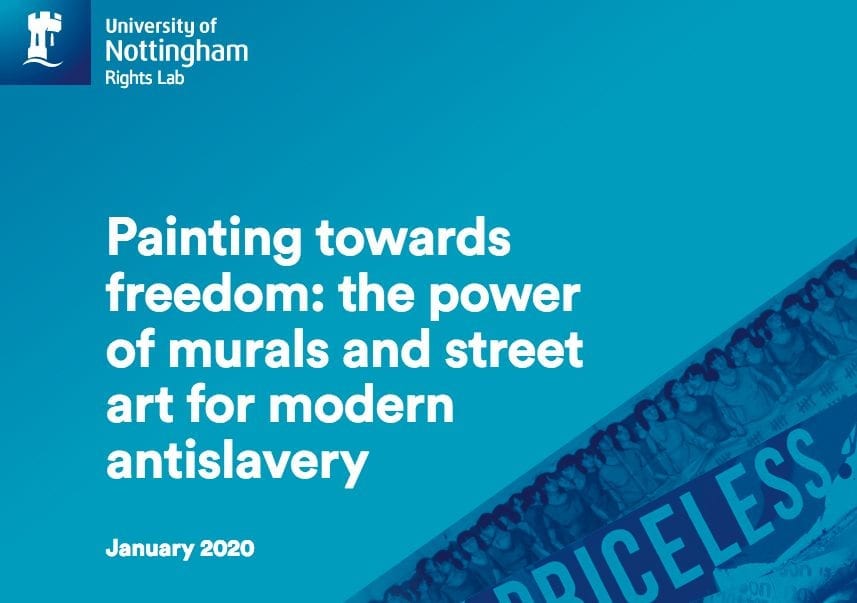 Painting Towards Freedom: The Power of Murals and Street Art for Modern Antislavery
Murals are powerful protest tools. Since the 1960s, they have been visual sponsors for major peace and activist movements across the globe. They have lined the streets of cities and communities to inform, educate, protest and beautify. Today, they function as sites of activism by catalyzing community action at their physical sites, creating a sense of a global antislavery culture that extends into streets and communities and helps to create a narrative of empowerment over one of victimization within modern antislavery visual culture.
In 2004, in Freetown, Sierra Leone, a new mural by World Hope International (WHI), as part of Faith Alliance Against Slavery and Trafficking (FAAST), signaled the emergence of a new strain of activist murals around the world: murals of the modern antislavery and anti-trafficking movement. "Do Not Be Fooled…Modern-Day SLAVERY Exists. Stop Human Trafficking," the Freetown mural reads along an ornamenting border across the top of the artwork above four painted vignettes of modern slavery. Three young children escorted by a man wave goodbye to their mother; a young man toils in a village; a woman wraps herself with bedsheets while a shirtless man gets dressed; and one of the children from the first vignettes stands before a man wielding a stick. The mural was part of a campaign to raise awareness during FAAST's work with the government to train members of the judiciary. It was intended to highlight the vulnerability of migrant workers to enslavement. It was the first modern antislavery / anti-trafficking mural in the world, with many more emerging in every continent in the years that followed.
This report uncovers the spread, purpose, and functions of antislavery murals across the globe. We analyze modern slavery murals for their themes and functions, then use four case studies from the United Kingdom, the United States, India, and Africa to assess the potential role of murals in community-based antislavery work.
Read the full report here.