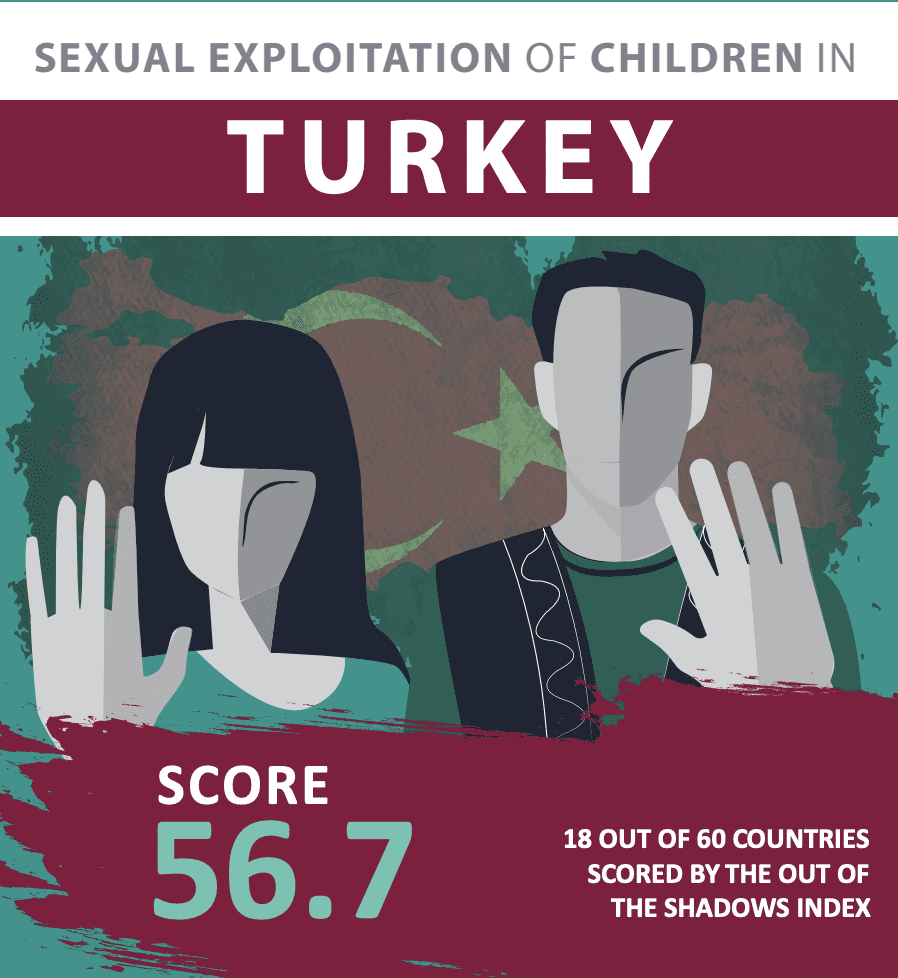 Briefing Paper on Sexual Exploitation of Children in Turkey
Turkey ranked 18th out of 60 countries scored in the Out of the Shadows Index on the country's response to child sexual exploitation and abuse, with a score of 56.7. This score is the same as the Philippines and just below Uganda (57.3).
Turkey's position on the Index is explained by a robust legal framework for tackling the sexual exploitation of children,3 and some particularly good practices by civil society organisations in combatting specific manifestations of child sexual exploitation such as child, early and forced marriage.
However, much remains to be done to ensure that children in Turkey live free from sexual exploitation and abuse. For example, Turkey needs to continue to take urgent measures addressing the environment and conditions facing child refugees, as well as make data publicly available on all manifestations of child sexual exploitation so tailored and effective responses can be formulated.
What is the Out of the Shadows Index?
The Out of the Shadows Index, developed by the Economist Intelligence Unit, measures how nations are addressing child sexual exploitation and abuse. Data released for the first 60 countries demonstrate that governments, the private sector and civil society need to do more to protect children from sexual violence and meet the commitments they made to Target 16.2 of the UN's Sustainable Development Goals.
The Index was calculated by assessing legislation, policies and responses by national governments. It covers critical issues that underpin child sexual exploitation and abuse, including education, reproductive health, victim support, law enforcement and risks from the online world.
The Index also addresses environmental factors such as the safety and stability, social protections, and whether gender and other norms suppress open discussion about sex and sexual abuse. It also measures engagement of tech and travel businesses in fighting child sexual exploitation and abuse. There is an overall country score, as well as numerous sub-category scores using data from as many as 34 indicators and 132 sub-indicators.
What are the ECPAT Country Overviews?
ECPAT Country Overviews comprehensively present all the existing, publicly available information, and a detailed analysis of the legal framework for sexual exploitation of children (SEC) in a country. They provide an assessment of achievements and challenges in implementation, counteractions to eliminate SEC and they suggest concrete priority actions to advance the national fight against SEC.
Read more here.