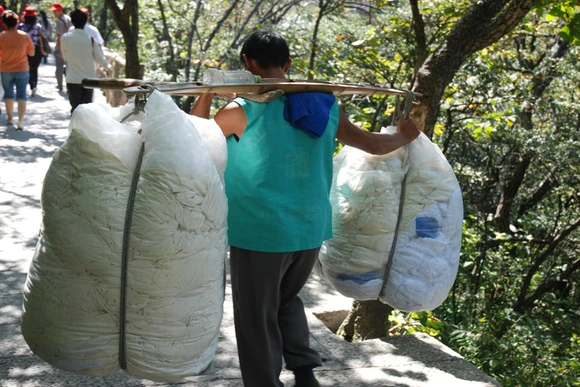 The complicated path to avoiding cotton from Xinjiang
With its slogan "We Care", the mountaineering and trekking company Mammut casts itself as a pioneer of sustainability. None of its products is manufactured in the Chinese province of Xinjiang, and none of the cotton it processes comes from this region, the Swiss company wroteExternal link in May 2022.
It has become increasingly difficult for businesses to turn a blind eye to the plight of cotton pickers in Xinjiang. The United Nations suspectsExternal link crimes against humanity. The United States has introduced an import banExternal link; and the European Commission is seeking to adopt a similar instrumentExternal link. In Switzerland, the federal parliament is considering whether to extend a newly adopted law to cover forced labour.
Customers too are increasingly concerned about supply chains. China is the largest cotton producer in the world and almost all of its cotton fields are located in the province that the UN says is home to internment campsExternal link. There is also evidenceExternal link that ethnic minority Uyghurs are being forced to work in the country's textile industryExternal link.
Avoiding products from suppliers that trample on human rights, however, is complicated. Trade routes are long and convoluted, and the origin of the fibres opaque.
"Separating out Xinjiang cotton is extremely difficult," says Dorothée Baumann-Pauly, director of the Geneva Centre for Business and Human Rights. "It is surprising how complex the cotton supply chain is. Important manufacturing sites like Bangladesh have no cotton production in-country, so they import everything. Raw cotton is traded by the bale in Dubai. There are multiple mixing points along the way."
As far back as 2019, researchers in Washington describedExternal link how cotton fibre from Xinjiang can find its way into the supply chains of Western companies – even those that have no direct links to factories in the region. The fibre is processed into yarn, textiles and finished garments and then shipped from other provinces in China. In 2020, the Australian Strategic Policy InstituteExternal link linked dozens of foreign companies to possible Uyghur forced labour, prompting a lawsuitExternal link against four fashion retailers in France. And last year, a studyExternal link by Britain's Sheffield Hallam University found that factories in Vietnam and other countries were using Chinese cotton to make intermediate products that supplied more than 100 international brands.
Just this May, researchers from Germany said they had discoveredExternal link traces of Xinjiang cotton in garments made by Adidas, Puma and Hugo Boss. Yet these companies had regularly assured customers External linkthat they had no links with China's Xinjiang.
So how can Mammut be so certain that its own supply chain is clean? Andreas Buchberger, head of buying at Mammut Sports Group, was in Vietnam on business when our question reached him. "The cotton's origin is guaranteed by certification," he wrote in reply. "We can therefore rule out that the cotton we use comes from the Xinjiang region."
Certifying cotton
For this, Mammut relies on the Global Organic Textiles Standard (GOTS)External link. This label certifiesExternal link that all steps in the supply chain have been verified independently and on site. A routing slip accompanies the cotton from the first processing step to the finished product.
The Swiss company Remei, from which Mammut also purchases cotton products, goes even further: the textiles can be traced back to small farmers in India and Tanzania by means of a QR code. The end buyers are in contact with the plantations, provide seeds and guarantee the purchase of the harvest.
According to Mammut, some 80% of the cotton it uses today is certified.
However, the company's Chinese suppliers do not appear on the list of factories checked by GOTS inspectors. "If a manufacturer does not use GOTS-certified cotton, we verify its provenance based on the certificate of origin," Buchberger explained. In this case, his company determines where its suppliers should buy. "Mammut decides in which regions and from which suppliers raw materials are to be sourced."
In 2020, Mammut purchased nearly 50 tonnes of cotton. According to the company, none of it came from China. Even its baseball caps, which are sewn in China, are made with cotton from Australia. Moreover, says Mammut, cotton is a marginal raw material for the company, accounting for a mere 6% of all textiles purchased.
Most of the company's production, however, does take place in Asia. The Mammut Sports Group publishes a list of its direct suppliers on its websiteExternal link. This includes the names of suppliers from China, which provides the second-largest quantity of textiles to Mammut, after Vietnam.
None of the Chinese suppliers are located in the Xinjiang region. But that's where another challenge arises for companies wanting to avoid cotton produced by forced labour.
Monitoring working conditions
In August, the UN finally published its overdue report on the human rights situation in Xinjiang, despite fierce opposition from China. The chapter on labour issues highlights two major risks: the placement of people in "training centres" – the notorious camps – and "post-training" work assignments in other regions of China. These programmes seek to transfer "surplus" workers from poor, rural areas to places where they are needed. There is evidence, according to the UN, of the use of various coercive methods for this.
Baumann-Pauly of the Geneva Centre for Business and Human Rights points to a major difficulty here: "Even if a company can exclude that cotton or a garment comes from Xinjiang, there is still a possibility that forced Uyghur labour was involved in the production." The UN recommends that businesses examine their risks even more carefully.
For this due diligence, Mammut relies on the Fair Wear Foundation, an organisation made up of companies, textile associations, trade unions and NGOs that has gotten the thumbs upExternal link from players critical of globalisation, such as Public Eye. Fair Wear wants to ensure that working conditions in factories are monitored and workers can lodge complaints. The content of any grievances and the company's reaction can be viewed publicly.
Over half of the complaints addressed to Mammut to date have come from China. The main issue is overtime. Although Mammut has already significantly extended order lead times and involves the factories early on in the planning process, excessive overtime remains a problem. This is one reason the company decided to gradually shift production to Vietnam, according to a September report by the Fair Wear FoundationExternal link.
As for forced labour, Mammut found risks not in China, but in Lithuania and Taiwan. There, migrant workers must reportedly pay high fees to placement agencies, which amounts to a violation of international rules but is "unfortunately legal in many countries", the company wroteExternal link.
The company appears helpless in the face of its own global supply chains. "In many cases, the path from raw material fibres to a finished garment now passes through countless production sites and several continents," Mammut wrote. "The result: an enormous amount of work is required to monitor the conditions under which a product is produced." Some of the costs associated with this work are borne by customers, in return for the promise of sustainability thanks to specially labelled products.
Compared with other outdoor and sports companiesExternal link audited by the Fair Wear Foundation, Mammut does not shine. The group is rated as "good" but does not achieve "leader" status. The staff are known to keep their eyes and ears open in the factoriesExternal link and keep track of where production is taking place. Nevertheless, an export inspection in 2021 found that a company unknown to Mammut had been involved in its production process.
Research for this article was supported by a grant from Reporter:innen-Forum SchweizExternal link.