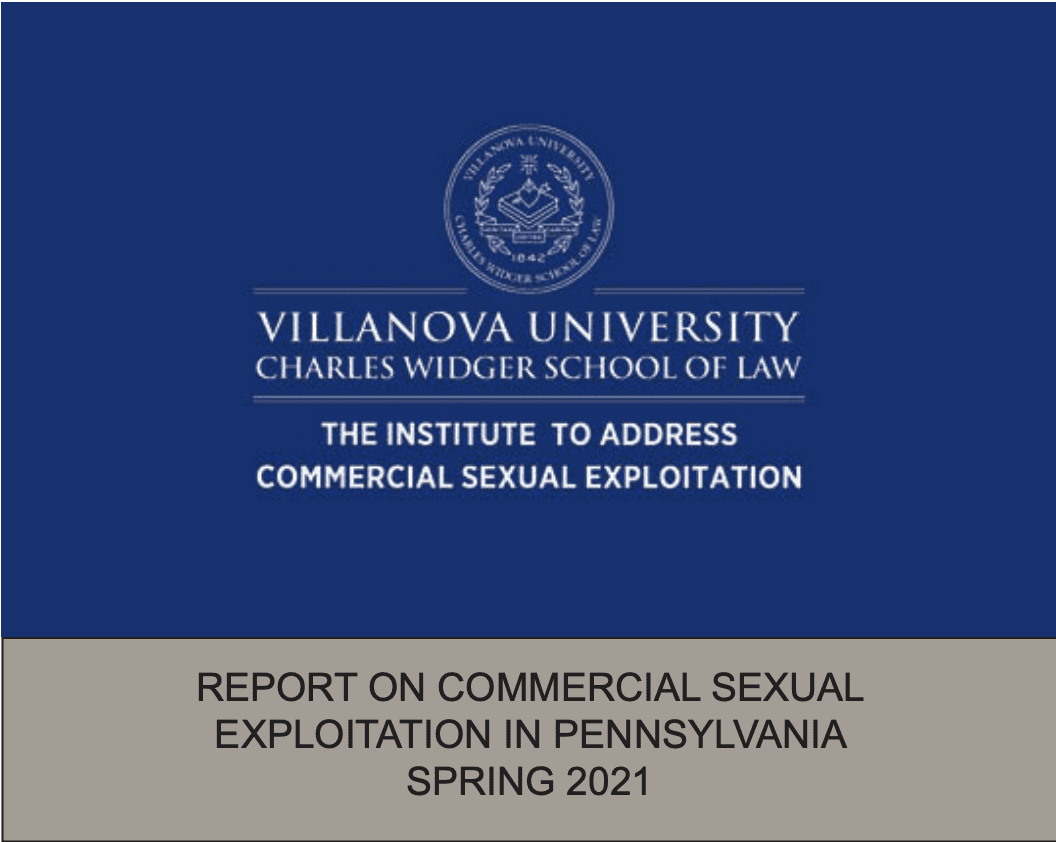 Report on Commercial Sexual Exploitation in Pennsylvania Spring 2021
Introduction and Overview
This year, the focus of our annual Report is Truth and Justice. Fourteen months ago, the realization was just setting in that the global pandemic was drastically changing our day to day lives. We accurately predicted that commercial sexual exploitation (CSE) would not decrease and, in fact, remains ever present. In providing this Report to our stakeholders, we reaffirm our commitment to being the best resource in Pennsylvania on issues related to human trafficking and commercial sexual exploitation. We have confronted many new challenges in our work and are fighting harder than ever before. The national anti-exploitation community united during quarantine and spent an extraordinary amount of time seeing and defeating division on two fronts. First, QAnon used the pandemic to fuel social media campaigns that spread myths and misinformation about sex trafficking and exploitation. Second, many organizations continue to work to decriminalize the full sex trade, without consideration for the inherent harms to those in prostitution. At the CSE Institute we know all too well that word choice and rhetoric are critical to advocating legal and policy positions. We have faced false narratives head on and continue to challenge any notion that sex is work and that victims and survivors should be rescued by those with a savior complex. Truth matters. This year saw unprecedented efforts to achieve racial justice, as protestors, lawmakers and advocates took to the streets following George Floyd's death. Commercial sexual exploitation is fueled by systemic racism and racial inequality; we know that women and girls of color are disproportionately represented amongst victims and survivors of sex trafficking. Anti-exploitation advocates must center racial justice in their efforts to combat trafficking. Justice matters. In this year's Report we also cover the current Pennsylvania laws, policies and prosecution practices related to sex trafficking and CSE. We have made several recommendations for legislative reforms centered around adopting the Equality Model and enacting trauma-informed practices. We also note continued problematic charging practices. Persons in prostitution continue to be criminalized, meanwhile, those who purchase sex, the force driving the market, continue to be rehabilitated. Persons who buy and sell children for sex are still not charged with Trafficking in Minors, instead they plea to minor changes, minimizing the harm suffered by their victims. Again: Justice matters. The most important piece of the CSE Institute's mission is to center the lived experiences of survivors in developing policies and best practices. I am excited for you to learn from the triumph of Jennifer Glatthorn in Finding Beauty After Trauma. Above all else, the movement to end sex trafficking and sexual exploitation must demand survivors' voices are at the forefront of every effort to end the sex trade. Since our inception we have consistently engaged the survivor community, their guidance shapes everything that we do and we will continue to partner with agencies and organizations that share our vision and values. On behalf of the CSE Institute, I want to thank all of our stakeholders who have worked tirelessly on the front lines during COVID-19 to ensure the safety and health of those impacted by commercial sexual exploitation. The vulnerabilities that lead to falling prey to CSE have only been exacerbated during the pandemic and we must remain vigilant in this fight to end all forms of exploitation. I invite you to reach out and engage with our work, and I express my appreciation to you for reading our Report, and for giving your time and attention to combatting sexual exploitation here in Pennsylvania and beyond. Truth and justice matter – we still have so much work to do.
…
3.1 Current Law
In September 2014, Pennsylvania enacted a comprehensive anti-trafficking statute codified primarily in Chapter 30 of the Commonwealth's Crimes Code. The law focuses on three key components: prosecution of perpetrators, prevention of the crime altogether, and protection for victims and survivors.
Prosecuting Human Trafficking
To prosecute the crime of Trafficking in Individuals, title 18, section 3011 of the Pennsylvania Criminal Code, a prosecutor for the Commonwealth must establish that a defendant committed an act, accomplished by a means, for the purpose of subjecting a victim to involuntary servitude – either labor or sexual servitude. If the victim is a minor, however, prosecutors do not need to prove any means defined in section 3012(b).
Section 3011(a) criminalizes trafficking in individuals and enumerates the acts which violate this statute. The acts are recruiting, enticing, advertising, soliciting, harboring, transporting, providing, obtaining, maintaining an individual if the person knows or recklessly disregards that the individual will be subjected to involuntary servitude, or knowingly benefiting financially or receives anything of value for any act described in the statute [1]. The act of "advertising" was added into the law on April 6, 2020, as part of Act 1(2020) – also known as Pennsylvania's Buyer Beware Act [2].
Meanwhile, section 3012(b) sets forth the means by which a trafficker may subject an individual to involuntary servitude. The extensive list of means includes: causing or threatening to cause serious harm to any individual, physically restraining or threatening to physically restrain another individual, kidnapping or attempting to kidnap any individual, abusing or threatening to abuse the legal process, taking or retaining the individual's personal property or real property as a means of coercion, engaging in unlawful conduct with respect to documents, extortion, fraud, criminal coercion, duress, debt coercion, facilitating or controlling the individual's access to a controlled substance or, using any scheme or plan intended to cause the individual to believe that, if the individual does not perform the labor, services, acts or performances, that individual or another individual will suffer serious harm or physical restraint [3]. Prosecutors charging traffickers can and should use both sections 3011 and 3012 to solidify the extent of the crime and ensure traffickers face the necessary charges. Both sections of the statute work together as legislative tools to empower prosecutors to hold traffickers and sex buyers accountable – one defines the acts and the other defines the means, but a prosecutor needs to establish both to obtain a conviction, unless the victim is a child, and the means are not an element of the crime.
It is not enough to prove an act by a means; to be the crime of trafficking in individuals, this conduct must have been done for the purpose of involuntary servitude. Therefore, section 3012(a) defines involuntary servitude. According to section 3012(a), this purpose is fulfilled where a "person knowingly, through any of the means described in subsection (b), subjects an individual to labor servitude or sexual servitude [4]." Sexual servitude is defined as: "Any sex act or performance involving a sex act for which anything of value is directly or indirectly given, promised to or received by any individual or which is performed or provided by any individual, and is induced or obtained from: (1) A minor. (2) Any other individual by any of the means set forth in § 3012(b) (relating to involuntary servitude)" [5].
Under Pennsylvania law, when a victim is a minor, the means set forth in section 3012(b) are not an element of the crime. Rather, when a victim is a minor section 3011(b) is used to charge traffickers. In relevant part, section 3011(b) provides that a person commits the crime of trafficking in minors if the person "entices, solicits, . . . [or] obtains . . . an individual" resulting in "any sex act . . . for which anything of value is directly or indirectly given, promised to or received by any individual . . . and is induced or obtained from . . . [a] minor [6]."
Even though a prosecutor no longer must prove the means set forth in section 3012(b) when the victim is a minor, a prosecutor still must prove that the defendant engaged in at least one of the acts defined in section 3011(a) for the purpose of a commercial sex act. Although the means set forth in section 3012(b) are not a required part of a criminal case, minor victims still experience various scenarios outlined in section 3012(b) that are analogous to the federal criminal elements of force, fraud, and coercion. Section 3011(a) ensures that minor victims can obtain justice and prosecutors can more readily seek convictions against individuals who sexually exploit children.
As of right now section 3011, Trafficking in Individuals, and section 3012, Involuntary Servitude, are commonly used by prosecutors when charging individuals. However, section 3013, Patronizing A Victim of Sexual Servitude, is not utilized as commonly by prosecutors because section 3013 is a redundant portion of Chapter 30. Prior to the implementation of the Buyer Beware Act in April 2020, the mens rea knowledge requirement made it difficult for prosecutors to convict offenders of this crime because it required an awareness that the individual was a sex trafficking victim [7]. Additionally nearly identical criminal conduct outlined in section 3013 is already addressed in sections 3011 and 3012. As a result, few cases have been prosecuted under section 3013 since its enactment in 2014. In fact, prosecutors for the Commonwealth only convicted 3 people of Patronizing a Victim of Sexual Servitude under section 3013, only once was it the lead charge. There are currently 3 cases ongoing. (See 4.1 for Criminal Law Statistics).
Chapter 30 is intended to target those who traffic persons, third-party facilitators who profit from trafficking, and, in certain circumstances, people who purchase sex, the very demand that drives the multi-billion-dollar market for human trafficking [8]. Since the law was enacted in 2014, prosecutors for the Commonwealth have successfully prosecuted offenses under section 3011 and section 3012 resulting in 60 convictions. (See 4.1 for Criminal Law Statistics).
Prevention of Human Trafficking Through Public Awareness
The second goal of Chapter 30 is prevention through raising public awareness about human trafficking and the efforts being made to combat it in Pennsylvania [9]. Although the Commonwealth has yet to commit substantial funding to a statewide public awareness campaign, the Pennsylvania Alliance Against Trafficking in Humans (PAATH), which represents over twenty anti-trafficking governmental and non-governmental organizations, has taken on this initiative. schools, universities, places of worship, social services, and law enforcement agencies.
This year, the CSE Institute engaged in educational workshops and several lecture series to help educate and combat recent dangerous narratives surrounding the decriminalization of "sex work" in the Commonwealth of Pennsylvania. (See 6.3 for further discussion of the "sex work" narrative). Across the country, there is a growing push to decriminalize the entire sex trade—including sex buyers and those that profit from the exploitation of others [10]. This led to a collaboration with Lauren Hersh, National Director of World Without Exploitation, during WorldWE's monthly Speaker Series.
In addition to educating about the dangers of a total decriminalization approach to the sex trade, the CSE Institute detailed the efforts and struggles anti-trafficking organizations are facing with the onslaught of misinformation that arises from conspiracy theories. Unfortunately, the ease at which misinformation is shared on social media platforms has created a domino-effect of far-fetched sex trafficking conspiracy theories, which appear legitimate to those unfamiliar with nuances of this crime. For example, recently QAnon generated a large conspiracy theory regarding an online shopping platform Wayfair – claiming that the company was trafficking children under the guise of overpriced furniture [11]. In light of conspiracies like this, the CSE Institute is one of the many anti-human trafficking organizations conducting research, educating and training individuals and groups, and advocating for survivors to dispel misinformation. (See 6.1 for further discussion). In fact, the CSE Institute had the privilege of engaging in a social media campaign with Rebecca Bender to spread information regarding commercial sexual exploitation and combat QAnon theories.
Working alongside survivors and other anti-trafficking organizations to combat human trafficking is an important part of the CSE Institute's work in Pennsylvania and beyond, and we look forward to collaborating in the future to strengthen this interdisciplinary approach. If you would like to have the CSE Institute train your community, please contact us.
Protecting Victims and Empowering Survivors
Finally, Chapter 30 also provides victims and survivors of human trafficking with protections within the context of the criminal justice system. For example, the "rape shield" provision set forth in section 3018 prohibits evidence of specific instances of a victim's past sexual conduct – as well as evidence on opinions or reputations from the victim's past sexual conduct – from entering into evidence at trial [12].
Exploiting an individual for a commercial sex act, regardless of the individual's sexual history, is a crime. However, there are instances where this kind of evidence may help to prove the required "purpose" element to prosecute human trafficking. Therefore, law enforcement and prosecutors have an obligation to communicate honestly with victims about what may occur throughout the trial, as there remains the potential for the victim's past sexual conduct to still be referenced for this narrow purpose.
Chapter 30 currently recognizes that, in many cases, individuals arrested and convicted of prostitution are not committing a crime – but rather, a crime is being committed against them. Prostituted persons are victims of commercial sexual exploitation. Under Pennsylvania law, any individual charged with prostitution may assert an affirmative defense at trial claiming that they engaged in prostitution under duress, compulsion or coercion [13]. The availability of this affirmative defense is in response to the understanding that victims of commercial sexual exploitation are vulnerable to unjust criminalization. Chapter 30 also empowers trafficking survivors by creating a civil cause of action. Section 3051 provides survivors with a mechanism to sue individuals who participated, facilitated, or otherwise knowingly benefited financially from their own victimization through trafficking [14].
Finally, trafficking survivors who have been criminalized for conduct related to their sex trafficking victimization can also file a petition for vacatur to remove parts of their criminal record [15]. This remedy is an important provision of Pennsylvania's anti-trafficking statute because it acknowledges the stigma associated with criminal histories and empowers survivors to move forward with their lives beyond their victimization.
Read more here.