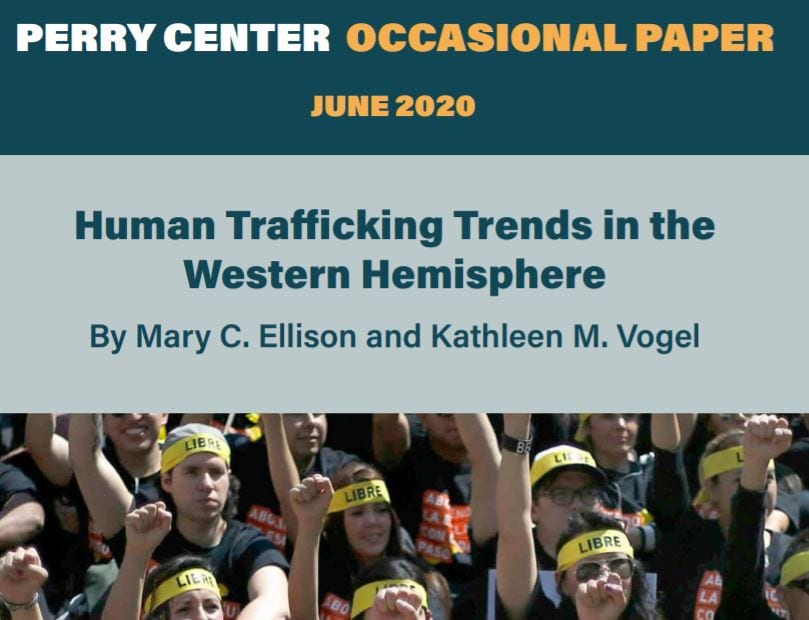 Human Trafficking Trends in the Western Hemisphere
Trafficking Profile
We see evidence of domestic and foreign sex and labor trafficking victims in Western Hemisphere countries. Some key trafficking trends across the region include: an increase in Venezuelan victims and concerns with other vulnerable migrants, internally displaced persons, indigenous peoples, and lesbian, gay, bisexual, transgender, and intersex (LGBTI) populations. There are also special challenges of child domestic servitude in Haiti (restavek) and Paraguay (criadazgo), and increased risk of trafficking in border areas (e.g., Central American countries; the southern and northern borders of Mexico; the Dominican Republic/Haiti border; the tri-border area between Argentina, Brazil, and Paraguay; the Darién Gap between the Panamanian and Colombian borders; and migrants along Peru's southern border) due to lack of regulatory and security gaps and insufficient transnational cooperation. Illegal armed groups are involved in the trafficking of children in the Andean Republics. Over the past five years, more cases of forced labor and forced criminality, as well as child sex trafficking in resort and tourist areas by U.S. and European perpetrators have been reported in the Western Hemisphere. Traffickers are using social media recruitment and multiple-destinations across the region to move victims; there remain continuing problems with complicity of government officials.
Western Hemisphere countries by the Tiers
According to the U.S. Trafficking in Persons report, tier rankings in the Western Hemisphere have generally moved in a positive direction over the past sixteen years, with more countries ranked Tier 1 or 2, nearly the same number of countries ranked Tier 2 Watch List, and fewer countries ranked Tier 3.
• Since 2003, the number of Tier 1 countries in the Western Hemisphere has increased from one to seven. Seven countries—Argentina, The Bahamas, Canada, Colombia, Chile, Guyana, and the United States—are now Tier 1 compared to four countries in 2013, two countries in 2008, and one country in 2003.
Since 2003, the number of Tier 2 countries the Western Hemisphere has increased from 10 to 21. Twenty one countries—Antigua and Barbuda, Aruba, Brazil, Costa Rica, the Dominican Republic, Ecuador, El Salvador, Guatemala, Haiti, Honduras, Jamaica, Mexico, Panama, Peru, Paraguay, St. Lucia, St. Vincent and the Grenadines, Sint Maarten, Suriname, Trinidad and Tobago, and Uruguay— compared to 18 countries in 2013, 13 countries in 2008, and 10 countries in 2003.
Since 2008, the number of Tier 2 Watch List countries in the Western Hemisphere has remained the same at five. As of 2019, five countries—Barbados, Belize, Bolivia, Curacao, and Nicaragua—were Tier 2 Watch List compared to six countries in 2013 and five countries in 2008. The Tier 2 Watch List did not exist in 2003.
Since 2003, the number of Tier 3 countries in the Western Hemisphere has decreased from five to two. As of 2019, two countries—Cuba and Venezuela—were Tier 3 compared to zero countries in 2013, one country in 2008, and five countries in 2003.
Read full report here.