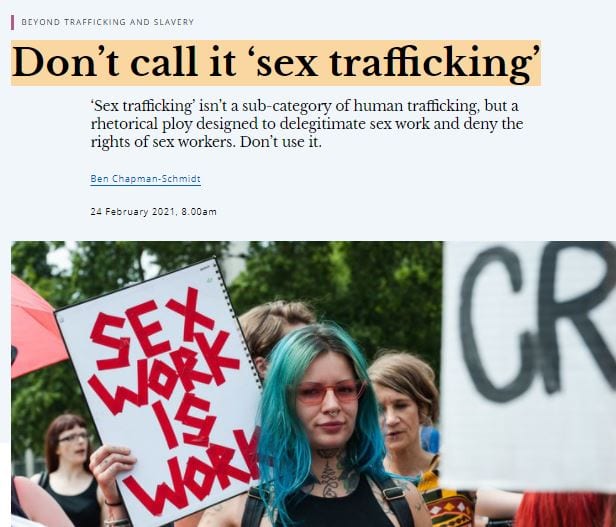 Don't call it 'sex trafficking'
Over the past three decades, we have seen an increase in awareness of and measures to address human trafficking. We have also seen increasing discussions of and legislation aimed at something called 'sex trafficking'. These terms are often used interchangeably, particularly when discussing human beings trafficked for sexual exploitation.
This needs to stop. These two terms have different meanings, both linguistically and legally, and using 'sex trafficking' instead of 'human trafficking' is causing real-world harm to vulnerable populations. To understand why, we need to first look at what 'sex trafficking' means, and what the consequences of the proliferation of this term have been.
What is 'sex trafficking'?
What do drug traffickers do?
This is not a trick question: drug traffickers are involved in the business of illegally buying, transporting and selling – in other words, 'trafficking' – pharmaceutical compounds. Similarly, human traffickers are, according to UN protocol on trafficking, involved in the buying, transporting and selling of human beings, through the use of force or coercion.
So then, what do sex traffickers do?
Following the pattern above, they should be in the business of illegally buying, transporting and selling sex acts. That is not, however, how many people, including many journalists, activists and researchers, would answer the question. Instead, they would suggest that sex traffickers are in the business of buying and selling people for the purpose of forcing or coercing them into sexual labour – the 'modern day slavery' we hear about on the news.
Read full article here.