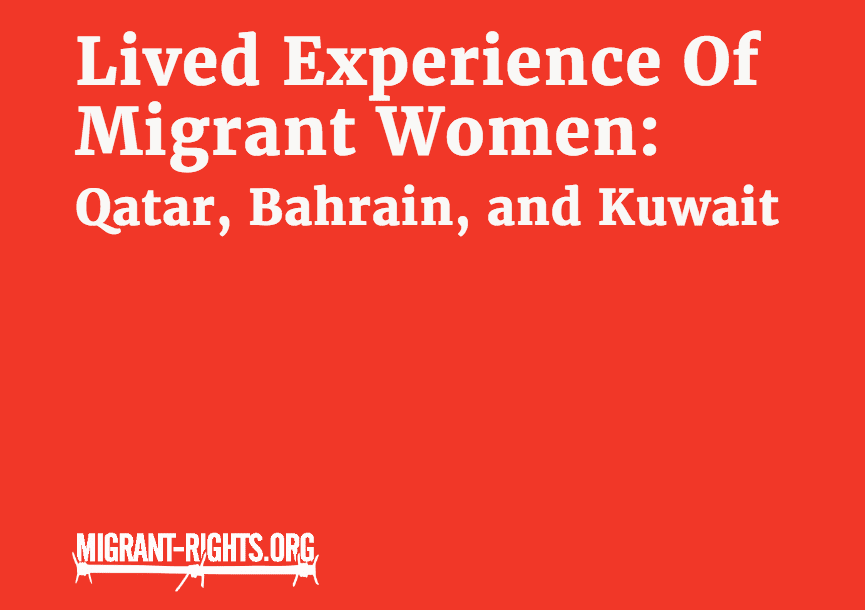 Lived Experience of Migrant Women: Qatar, Bahrain, and Kuwait
Anti-Trafficking Measures Across the Gulf states, trafficking initiatives have largely focused on cross-border sex trafficking. There is now a growing recognition of trafficking as it pertains to labor exploitation and to domestic workers specifically, in part due to reputational pressure from the United States' "Trafficking in Persons" (TIP) report. However, forced labor and exploitative working conditions generally are still not treated as forced labour or trafficking cases but rather as immigration, labor law, or domestic worker law violations.30The use of "trafficking" nomenclature as it pertains to issues of forced labor and migrants specifically is disputed among advocates and practitioners; this is largely due to conflicts over the politics of the anti-trafficking agenda. In this paper, we consider the recognized conditions of trafficking to be useful for understanding the severity of the situation low-income migrant women face, whereby their passports are withheld, their mobility is severely restricted, and they can be coerced into doing work they would otherwise choose not to do. Furthermore, cross-border trafficking of women for the purposes of domestic or sex work is a significant issue. Women may be trafficked through intermediary countries because of a deployment ban from their country or to subvert recruitment regulations, among other reasons.31In Qatar, the 2011 anti-trafficking law criminalized sex and labor trafficking and prescribed penalties of up to seven years imprisonment and a fine of up to QR250,000 ($68,680) for offenses involving adult male victims as well as up to 15 years imprisonment and a fine of up to QR300,000 ($82,420) if the offense involved an adult female or child victim.
Recruitment agencies face up to five years imprisonment and a fine of up to QR200,000 ($54,950). However, the government did not report prosecuting any Qatari employers or recruitment agencies for forced labor in 2017 nor report on any identification or support of victims of trafficking. Qatar re-ported the investigation of 149 potential trafficking cases but did not provide details as to the nature of the cases. According to the 2018 TIP report, authorities did not regularly categorize forced labor or exploitative working conditions of domestic workers as human trafficking but rather as criminal assaults, immigration or labor law violations.32Kuwait's 2013 anti-trafficking law criminalizes sex and labor trafficking and prescribes penalties ranging from 15 years to life imprisonment. In 2017, the public prosecutor's office created a specialized unit to investigate forced labor and trafficking cases. Authorities charged five defendants (in ten cases) with forced labor and seventeen defendants (in seven cases) with sex trafficking. Six sex traffickers were convicted, and the remaining cases were still pending by the close of the TIP reporting period.33Bahrain is the only Gulf country ranked Tier 1 in the US TIP report, meaning it maintains the mini-mum standards for the elimination of trafficking. Bahrain was upgraded to Tier 1 in 2018 largely due to the Flexi-Permit initiative, as well as increased trafficking convictions, a new victim's fund, and an improved National Referral Mechanism. The country's 2008 anti-trafficking law criminalizes sex and labor trafficking, with penalties ranging from three to sixteen years of imprisonment, a fine of between BD2,000 – 10,000 ($5,310-$26,530), and the cost of repatriation. However, Bahrain continues to treat indicators of forced labor, such as passport confiscation and unpaid wages, administratively as labor law violations rather than investigating them as potential trafficking cases.34The LMRA's Expat Protection Unit has digitized its National Referral Mechanism (NRM) procedure used to identify and support victims of trafficking, but the procedure is geared primarily towards victims of sex trafficking. Last year, Bahrain referred only one forced labur case for prosecution.35 Additionally, the unit only provides meaningful recourse to migrant domestic workers referred by embassies or police.
Read the full report here.