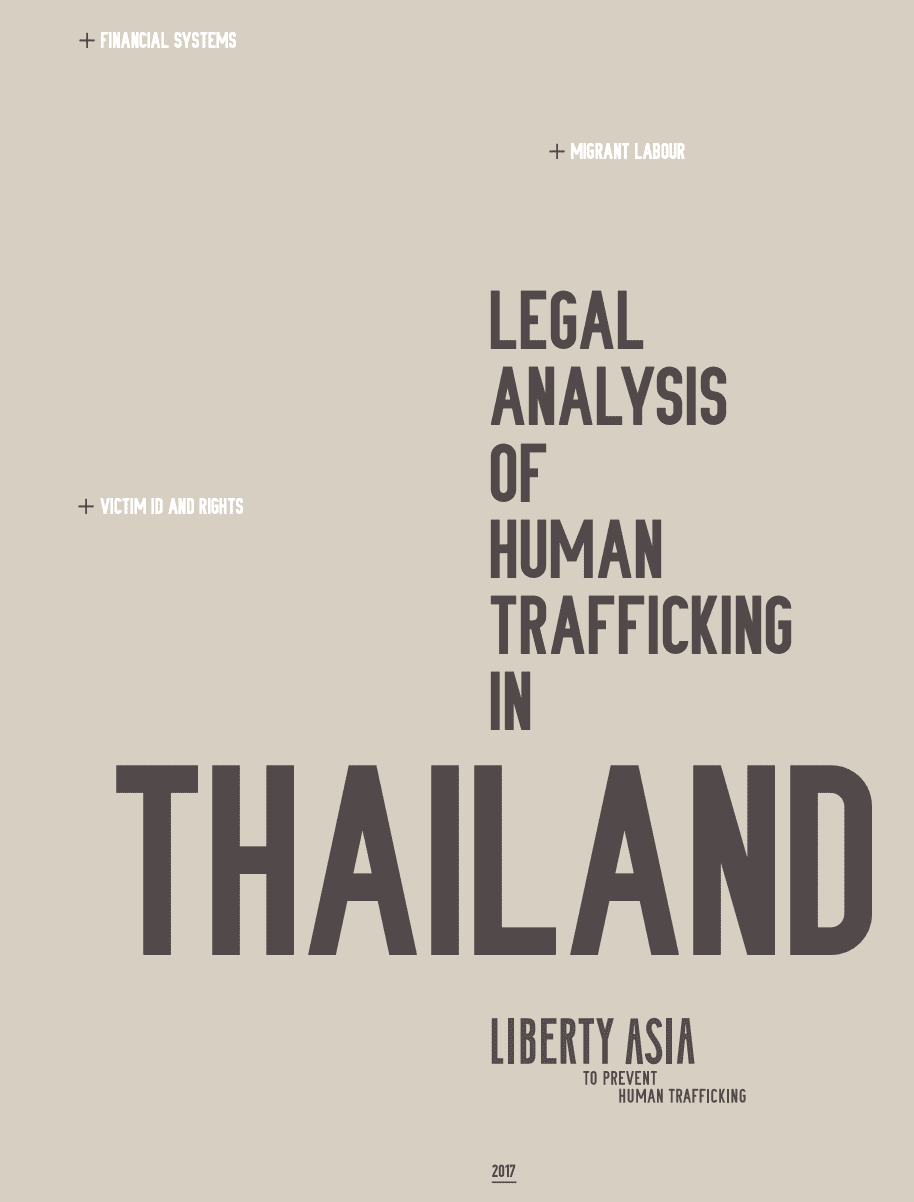 Legal Analysis of Human Trafficking in Thailand
Executive Summary
Thailand's anti-human trafficking legislative framework gives an insight into how the future of human trafficking might look in Thailand. A range of laws are in place, and recent amendments to the key piece of anti-human trafficking legislation are signs of further progress and the more rigorous approach the Thai government has recently taken in relation to human trafficking. By way of example:- – penalties are now heavier; – protection for whistleblowers has been introduced; and – definitions of "exploitation," "forced labor or services" and the means to commit the crime of human trafficking have been amended to closely mirror the Palermo Protocol definitions and in line with international standards.
Despite the progress being made in the legislative framework, the lack of systematic implementation hinders the laws from being translated into reality. For example, the level of protection afforded to victims and in particular those that serve as witnesses through laws is not delivered effectively and consistently.
There have also typically been significant issues in relation to the enforcement of anti-human trafficking laws in Thailand. Various reasons have been given for this, including corruption, limited understanding of the laws by those responsible for enforcing them, restrictive policies that serve to curb the breadth of protection offered by the legal framework, lack of training in recognising and identifying victims of trafficking, victim-focused services not being available in the languages of victims and the slow pace at which the justice system moves, both in getting matters to trial, and then finalising the judgment. One of the effects of these laws being poorly enforced and misunderstood is that victims of trafficking are often classified as illegal aliens, and deported as such, without any compensation. Likewise, whilst corporations can be liable for human trafficking offences, there has been only one conviction of a company under the Prevention and Suppression of Human Trafficking Act.
Despite these issues, there is reason to be optimistic that the laws will be more effectively enforced in the future. For example, recent implementation by the Thai government have indicated a more victim-focused approach to victim identification, involving the multidisciplinary teams ("MDTs"), and industry-specific measures, such as in the fishing industry, where new laws require fishing vessels to be fitted with Vessel Monitoring System (VMS). New initiatives such as the Human Trafficking Case Division of the Criminal Court and judicial guidelines requiring human trafficking cases to be dealt with swiftly are further steps in the right direction, as is the new Human Trafficking Criminal Procedure Act, which is intended to aid courts to streamline prosecution practices in human trafficking cases. However, as with many of the new measures, the effectiveness of these initiatives is thus far untested and enforcing all new laws and policies remain a challenge.
Human trafficking has been a highly-publicised issue in South-East Asia over the past two years. There has been significant media coverage of the number of persons from Myanmar (including many Rohingya persons) in particular who are seeking to relocate by paying traffickers to take them by boat to Thailand or to destinations such as Malaysia via Thailand. Having previously taken little action against such movements of people, Thailand's recent attempts to more effectively enforce its human trafficking legislation have led to traffickers abandoning boats (and the persons on them) at sea. This has led to calls for greater regional cooperation to find an appropriate solution, however to date there has been little progress in achieving such an outcome.
Since the new "predicate offence" relating to trafficking in persons has now been included in the anti-money laundering legislation, the Anti-Money Laundering Office ("AMLO") has made some significant asset seizures in suspected cases of money laundering in connection with trafficking in persons. In one major case, the Secretary of the AMLO issued an order impounding 121 items valued at approximately THB32 million, in connection with an investigation into trafficking of Rohingya persons from Myanmar to Malaysia via Thailand.2 This also led to an arrest of 9 persons involved in the human trafficking operation. The financial investigations, if conducted in parallel with criminal case, can advance the fight against the crime of human trafficking and the order by the Royal Thai Police to make it compulsory to refer all human trafficking cases to the AMLO for parallel financial investigations is a move in the right direction. However, this is one of the areas in which Thailand continues to face significant hurdles due to the predominance of the cash economy, the lack of trained anti-money laundering staff in Thailand, and the high costs associated with installing and maintaining sophisticated anti-money laundering systems.
The fight against corruption has become another focus area for the current Thai government. Recognising allegations that corruption is pervasive at all levels of officialdom, and that corruption is one of the most significant barriers to reducing the incidence of human trafficking, new measures are being taken to identify and eradicate corrupt conduct. These include significant amendments to the primary anti-corruption legislation, implementing the new Corruption Criminal Procedure Act, increased funding of the National Anti-Corruption Commission, the introduction of strict liability for corporations who benefit from bribes involving a "related person", and the implementation of hotlines and email addresses for the reporting of suspected corrupt conduct. However, whether such measures will be successful remains to be seen, and will require a substantial shift in the approach taken to enforcement to date.
Read more here.