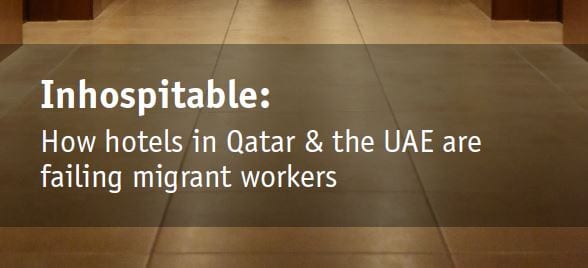 Inhospitable: How hotels in Qatar & the UAE are failing migrant workers
Gulf countries working to diversify their economies are investing in hospitality, with the 2020 World Expo in Dubai and 2022 FIFA World Cup in Qatar driving much of the regional sector's growth. Migrant labour will be the backbone of hotels' efforts to accommodate the influx of people visiting the region. Managed well, this can bring shared prosperity to the Gulf States, and to migrant workers and their families. Hotel companies have made strides in integrating human rights into their global corporate governance: 76% (13/17) of companies we surveyed have a public commitment to human rights and 71% (12/17) have labour rights specific supply chain standards.
According to the International Labour Organisation, hotel companies recognize that migrant workers are vital to their operations and will continue to be for the foreseeable future. Yet, our research finds companies are failing to adequately protect migrant workers' rights. The gaps between companies' human rights policies and practice can be attributed to the hotel industry's fragmented business model, where responsibility for workers' rights is often lost among hotel companies, third-party property owners, and suppliers. Despite an awareness by companies of these risks, there has been little serious action to address them. Without clear standards and accountability mechanisms that cut across business relationships at the operational level, hotels expose workers to a high risk of abuse. This risk is amplified in the Gulf, where migrants face restrictions on their freedom of movement and ability to organise.
The Business & Human Rights Resource Centre (BHRRC) invited 17 hotel companies, representing 68 hotel brands with more than 200 properties across Dubai, United Arab Emirates and Qatar, to participate in a survey on their approach to safeguarding migrant workers' rights in these countries. Seven of the 17 companies responded: Four Seasons, Hilton, Hyatt, InterContinental Hotel Group (IHG), Marriott, Radisson, and Whitbread. This briefing analyses their responses, along with all 17 companies' publicly available human rights and labour rights policies, and compares it to testimony from migrants working in the hotel sector in Qatar and the UAE. It reveals a stark contrast between hotel chains' public commitments and policies and how these are enforced on the ground.
Read full report here.