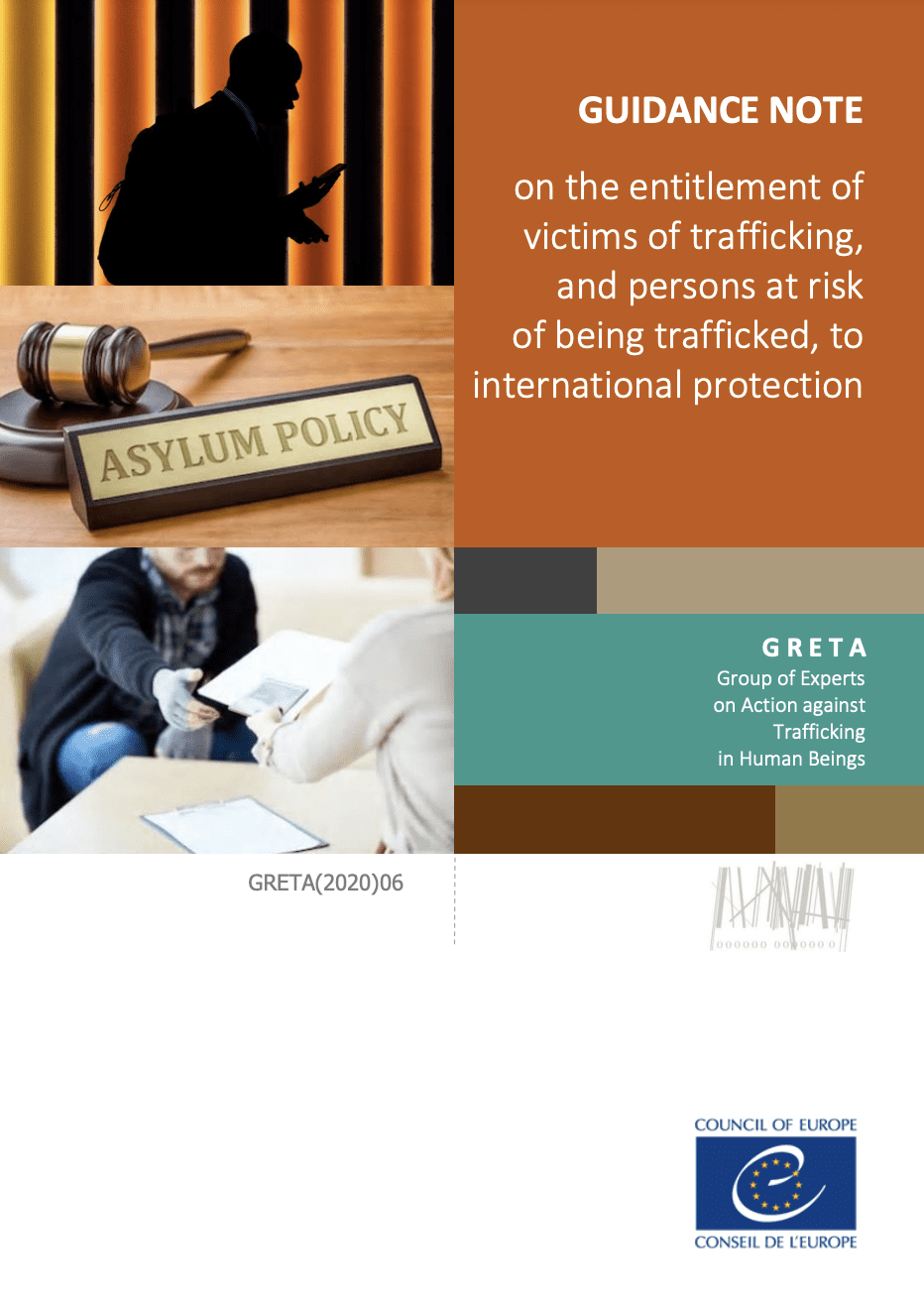 Guidance note on the entitlement of victims of trafficking, and persons at risk of being trafficked, to international protection
Introduction
1. GRETA has adopted this guidance note to further strengthen the implementation of the obligation to provide international protection to victims of trafficking. The guidance note highlights the criteria that may entitle victims of trafficking, as well as those at risk of being trafficked, to international protection. including complementary protection. It further aims to provide guidance for relevant authorities, agencies and organisations in their dealings with trafficked people and those at risk of being trafficked, with the objective that no such person should be compelled to return to their own country if such return would threaten their lives or freedom and jeopardise their rights, in particular the right not to be subjected to slavery, forced labour or servitude and the right not to be subjected to torture, inhuman or degrading treatment.
2. People who have been trafficked, or who are at risk of being trafficked in the future, may have an entitlement to international protection in a State of which they are not a citizen or permanent resident. The entitlement to international protection arises because of a serious risk to the life or fundamental rights of any person who is outside the State of their citizenship or country of former habitual residence, or any State where they possess the rights and obligations attached to the possession of nationality of that State, should that person be compelled to return to that State.
3. A person who has been trafficked to another country may be at risk in their own country, should they be compelled to return there. Apart from their own country, within the Dublin Regulation1 , this risk could be also established in the country where a trafficked person first applied for asylum. Such risk could be that of re-trafficking, retribution by the traffickers (for example, if the person has escaped from the traffickers and/or assisted the authorities in the prosecution of traffickers), lack of assistance or adequate care, or ostracism by the trafficked person's family or community, to the extent that their ability to re-integrate is fatally compromised.
4. A person who has been trafficked within their own country may also be entitled to international protection, should that person have escaped from their situation of exploitation to another country, on the basis that their life or fundamental rights would be at risk should they be compelled to return to their country of origin. In such situations, the past persecution, violence and exploitation suffered by the person is relevant to assessment of future risk.
Read more here.