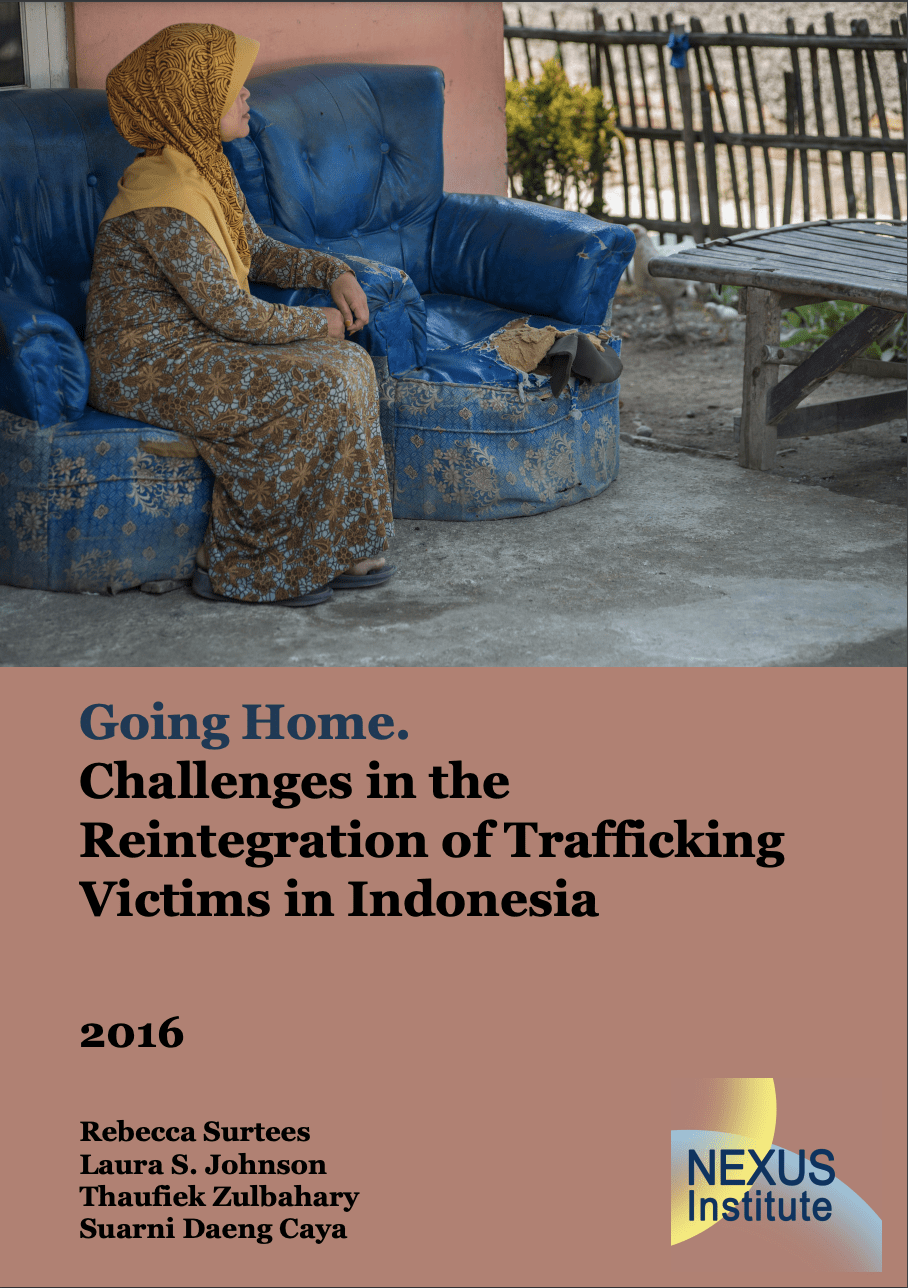 Going Home. Challenges in the Reintegration of Trafficking Victims in Indonesia
Executive Summary
1. Introduction
This study explores the provision of reintegration assistance for trafficked persons in Indonesia, both in law and in practice. Overall, there is a range of laws, policies and programs currently in place in Indonesia aimed at supporting the reintegration of trafficked persons. This includes efforts and initiatives by various government ministries and departments (national, provincial and district levels), non-governmental organizations (NGOs) and international organizations (IOs). These initiatives and interventions afford often-critical support and services to many trafficked persons toward their recovery and reintegration after trafficking exploitation.
Nonetheless, within Indonesia, many trafficking victims do not receive the assistance and support that they need to recover from their trafficking experiences and reintegrate into their families and communities. And those that do receive assistance do not always receive assistance that is suited to their needs or adequately supports their efforts to reintegrate. This is because there are some critical challenges in the current response in Indonesia, including that many trafficked persons are unidentified; reintegration is not clearly defined or understood; most assistance is "one-off" support; assistance programs are short-term; victims face barriers in accessing available services; lack of information about reintegration assistance; lack of assistance for trafficked men; lack of case management and tailored reintegration support; and an uneven provision of assistance due to decentralization and the geographic distribution of services.
This paper is intended as a starting point in better understanding how reintegration of trafficked persons currently takes place in Indonesia, including what is working well and what constitute constraints and obstacles for trafficked persons to the reintegration process. A better understanding of these issues and constraints is important in the design and implementation of an enhanced reintegration response by the Indonesian government and civil society organizations. This paper is part of a research series produced in the context of the NEXUS Institute's longitudinal research project, Protecting the Unassisted and Underserved. Evidence-Based Research on Assistance and Reintegration in Indonesia, which aims to enhance the evidence base about successful reintegration of trafficked persons in Indonesia. The project is generously funded by the United States Department of State Office to Combat and Monitor Trafficking in Persons (J/TIP).
2. Research methodology
2.1 Data collection and research process
This research is based on four main types of data – 1) in-depth, repeat interviews conducted with Indonesian trafficking victims, 2) interviews and interactions with trafficked persons' family members, 3) interviews with 123 anti-trafficking professionals and service providers in Indonesia and 4) a literature review.
Interviews with trafficked persons. We conducted interviews with 75 trafficking victims between October 2014 and August 2015, both male (n=29) and female trafficking victims (n=46). Research was primarily conducted in Jakarta and seven districts in West Java (Bandung, Bogor, Cianjur, Cirebon, Indramayu, Karawang and Sukabumi). However, we also conducted select interviews in Central Java and South Sulawesi as a means of capturing specific trafficking experiences and diversifying the sample. The research team generally spent two of four weeks each month doing community-based fieldwork including participant observation.
Interviews with trafficked persons' family members. Interviews were conducted with family members of some respondents– including spouses, parents, siblings, grandparents and children. Interviews focused on issues related to their loved one's trafficking/migration and reintegration including their life and relationship before migration/trafficking, how they had experienced and coped with their loved one's absence while trafficked and their experiences over the course their loved one's return and reintegration.
Interviews with key informants. We conducted interviews with 123 key informants between October 2013 and August 2015. Interviews were conducted with government officials at the national, provincial and district level as well as village chiefs and community leaders within villages and communities. Interviews were also conducted with staff from NGOs and IOs working to assist trafficked persons and migrant workers – at a national, provincial and district level as well as within communities.
Literature review. This study benefits from a review of existing literature on human trafficking in Indonesia and on reintegration and assistance to trafficking victims. It also draws on laws, policies and regulations that relate to assistance to trafficked persons, migrant workers and Indonesian citizens generally. There has been very limited research on trafficking in Indonesia, with some aspects particularly under explored (i.e. trafficking in men and trafficking for labor). Moreover, there are no studies specifically on trafficking victims' experiences of reintegration.
2.2 About the respondents
Trafficked persons interviewed for the study were both male (n=29) and female (n=46). They were trafficked for sexual exploitation (n=15), as well as for different forms of labor exploitation (n=60), including construction (n=2), domestic work (n=31), fishing (n=15), factory work (n=4), work on plantations (n=6) and other forms of labor (n=2). Trafficked persons were trafficked within Indonesia (n=14) as well as abroad (n=58). Three individuals (n=3) were trafficked first within Indonesia and subsequently abroad. Trafficking within Indonesia was largely rural-urban migration within a province but it also sometimes involved trafficking in other provinces of the country. Those trafficked abroad were exploited in 17 different destination countries. Many were trafficked in the Middle East (n=22) – Bahrain, Jordan, Oman, Qatar, Saudi Arabia, Syria, UAE – and in Asia (n=23) – Brunei, Malaysia, Singapore, Taiwan (Province of China). Some (n=15) were trafficked in less common destinations such as Argentina, Ghana, Mauritius, South Africa, Trinidad and Tobago and Uruguay.
In-depth interviews were conducted with two main categories of respondents – 1) trafficked persons who have been assisted (e.g. assisted within the anti-trafficking framework or through non-trafficking assistance including those who have been fully assisted, partially assisted and under-assisted by government and NGO actors) and 2) unassisted trafficking victims, which may include those who were never identified as trafficked and so not assisted and/or those who have been identified but not assisted (e.g. they have not accepted assistance, were not offered assistance, do not need assistance and/or have declined assistance).
2.3 Data analysis
Data was analyzed following the principles of thematic analysis identifying key themes and patterns as well as variety within the dataset. The research team worked collaboratively in the identification of critical themes and issues faced in the reintegration process. Analysis was contemporaneous with data collection, which allowed the team to follow up on issues and themes that arose during on-going fieldwork.
2.4 Ethical issues and considerations
Because trafficked persons interviewed for this study included those who had not been identified and assisted, there were practical ethical obstacles in the research process. The research team worked together to identify possible entry points for interviews, especially when interviewing unassisted victims, and regularly discussed how this could best be done. We approached interviews carefully and cautiously, in close cooperation with local antitrafficking organizations or community leaders and members. Particular attention was paid to respecting the privacy, confidentiality and safety of research respondents as well as the research team. Conducting research in communities was undertaken with the utmost attention to these concerns and in close cooperation with community members. Where risks or concerns were identified, interviews did not take place. Respondents were, under no circumstances, persuaded or pressured to participate in the study and they were given time before the interview to decide whether they agreed or not. Because compensation can potentially create a pressure to participate in research in ways that may compromise informed consent, compensation per se was not provided as part of the study. However, respondents were reimbursed for meals, transportation and provided with a small gift in recognition of their contribution to the project.
Prior to commencing the research, the research team compiled and validated a comprehensive listing of referral services available to trafficking victims. This referral sheet was updated every two months over the course of the project as we became aware of new services or needed to access specific types of referrals for respondents. At the end of each interview, the researcher gave this information to the respondent and spent time to discuss possible assistance options and how to access them.
Read more here.