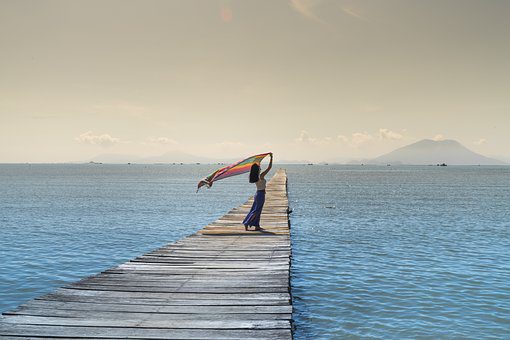 Women on the Front Lines of Change: Empowerment in the Face of Climate and Displacement
In the wake of extreme weather and other climate change disruptions, women are disproportionately at risk of violence and displacement. At the same time, in their roles as providers, caretakers, and leaders, women around the world are already helping communities on the front lines of climate change adapt to changing realities. As more people migrate to find better lives, the work and leadership of women will be more important than ever to helping vulnerable communities cope with the effects of climate change.
OVERVIEW
"It is often expected that women care more, and therefore women are going to volunteer, and be the saviors" in times of crisis, said Eleanor Blomstrom, the Program Director and Head of Office for the Women's Environment & Development Organization (WEDO), at a Wilson Center event on climate displacement and the changing role of women. A panel of experts discussed the impacts of climate change that not only force women to move, but also put them disproportionately at risk.  By integrating gender dimensions of climate-related displacement into research, policy, and programs, we can gain a better understanding of the challenges that women face and support women's efforts to be changemakers for their communities as they adapt to climate threats. "All issues are women's issues," said Blomstrom.
The Gender Dimensions of Climate-Related Displacement
"The vulnerability of women and girls is not because of their nature," but because of the structural inequalities that deny them agency and expose them to violence, said Verona Collantes, an intergovernmental specialist with UN Women. "Gender inequalities persist"—through the roles and responsibilities assigned to women, the opportunities not afforded to them, and their lack of access to political power, education, land, or even basic finances, she said.
For migrant and displaced women in developing countries, these vulnerabilities are further exacerbated by climate-related events. For example, "natural disasters increase women's vulnerability to sexual exploitation and human trafficking," said Justine Calma, an environmental justice reporter and fellow at Grist. "Climate change is making it easier for human traffickers to operate" in spaces where there is a breakdown of infrastructure and a chaotic movement of people, leading to the creation of new hot spots for trafficking, she said. "Human trafficking thrives where people are desperate and displaced."
In 2013, when Typhoon Haiyan displaced four million people in the Philippines—most of them poor women—girls as young as 13 were sexually exploited through prostitution, rape, and assault; sold for food and scarce aid supplies; and trafficked into forced labor and the sex trade. The typhoon especially devastated the livelihoods of poor, coastal communities, so some young girls were sold by their families out of poverty and desperation, said Calma. "Increased desperation may push affected populations into the hands of criminal actors and even into colluding with them as seen in instances of men selling their wives or other female relatives, or parents selling their children," she said.
Some of these crimes took place in the Tacloban Astrodome evacuation center, where they had taken shelter. Based on this experience, a new evacuation shelter was designed to prevent these abuses, using clear sightlines, ample lighting, and secure facilities to reduce gender-based violence and exploitation, said Calma.
"Women and men on the move are subjected to different challenges and needs," said Collantes, so it is important to look at climate-related displacement from a gender perspective. "Women face human rights violations…not just during migration but also at their destination," where they lack access to education, housing, employment, adequate health and reproductive services, and other resources, she said.  As women of color, and often poor or uneducated, "migrant women and girls are subject to all these intersectional forms of discrimination," she said.
Combatting climate change may require implementing projects that empower women or enhance women's leadership and participation, rather than mitigate climate change itself, said Collantes. Mainstreaming gender into climate plans, policies, and programs provides a way to assess the implications of implementation on both women and men, "in all areas and at all levels and in all types of action," she said.
Understanding Climate Displacement
"Migration was understood to be one of the greatest effects of climate change as early as 1990," said Maxine Burkett, a law professor at the University of Hawai'i and Wilson Center Global Fellow. However, not only do we lack a clear legal definition for climate-related migration, but we also have no clear sense of how many people could be affected. "So much of the impacts of migration are not seen, or are in the shadows of a…disaster," she said.
WEDO's recent project on the interlinkages between gender, climate change, and displacement sought to fill this gap by evaluating the driving factors for migration in the dry corridor of Central America. WEDO found that there are a number of challenges that make it more difficult for women to manage situations of high climate risk, contributing to their displacement. "The structural discrimination that women often face is impacting how they migrate—or even if they migrate," said Blomstrom,
"There are times when you just can't adapt, and staying would risk lives," said Blomstrom. In some communities in Nicaragua, for example, women do not hold titles to land and subsistence farming is the main economic activity. "The only choice when there's not enough food is to be hungry, to cope…or to migrate," she said.
However, calling migration "climate adaptation" raises other issues, by "allowing migration to be normalized to a point where it justifies the kinds of movements that may be less voluntary," said Burkett. Cyclical migration is another phenomenon to watch: During last year's hurricane season, Hurricane Katrina survivors that moved to Texas were displaced by Hurricane Harvey, and "migration from Puerto Rico [is] going to Florida and New York, which are also very vulnerable to climate change," said Calma.
Stay, or Go? A More Just Migration
To fill this gap, women in some threatened communities are leading the way. Burkett cited the efforts of Ursula Rakova, who spearheaded a movement to relocate her community from its disappearing atolls on the Carteret Islands, ahead of any disaster.
But for other Pacific Islanders, whose homes are becoming uninhabitable, "the just response is perhaps having an eye towards migration, but also being able to stay grounded in their community, and their cultures, and with the bones of their ancestors," said Burkett.
Burkett urged the audience to engage women in vulnerable communities and help build their capacity "to respond to future disasters…avoid displacement in the first place…and create situations where migration is no longer necessary," and thus enable them to migrate with dignity.
"When you engage with women, they may start as volunteers, but they don't stop there," said Collantes. "When you achieve gender equality, you also achieve the other goals of the SDGs."