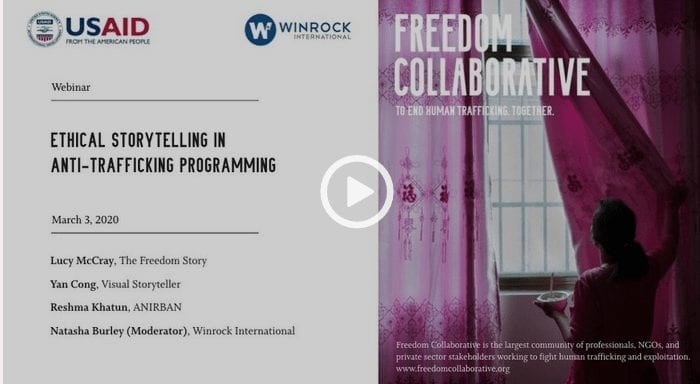 Ethical Storytelling in Anti-Trafficking Programming
Through our webinars, we aim to provide a platform for dialogue and learning on anti-trafficking programming. In partnership with the USAID Asia Counter Trafficking in Persons (CTIP) project, we explore themes such as practical implementation challenges of organizations, innovations in anti-trafficking interventions, and learnings on models that can be adopted or replicated. In this webinar on Ethical Storytelling, panelists share their own perspectives on ethical practices and lessons learned that could enable anti-trafficking organizations, researchers, journalists, and practitioners to tell a story that resonates with their intended audiences while doing justice to the people in the center of these narratives. During the session, you'll hear from a survivor that leads a survivor support group in Bangladeshi communities, an organization that started a movement for a new standard of storytelling, and a photographer that incorporates ethics in the many decisions that an artist must make in documenting sensitive issues. You will: – Learn about the importance of deep consent, how to navigate competing priorities between client-facing and donor-facing storytellers, and how nuanced stories of small and big successes can help to build more realistic donor expectations. – Explore the story of one Cambodian woman who migrated to China for marriage and the process of telling a story that humanizes the Cambodian woman as well as the Chinese man in a brokered marriage. – Be reminded to rethink survivor protection issues at the community level and ensure we are not sharing personally identifiable information of survivors. As practitioners, the best interest of our beneficiaries must always be the priority, and organizational concerns must come after that. By the end of the webinar we hope that participants have an understanding of some guiding principles to champion ethical storytelling in their own work, the practical steps they can take and resources that exist to continue learning.
Listen to the webinar here.