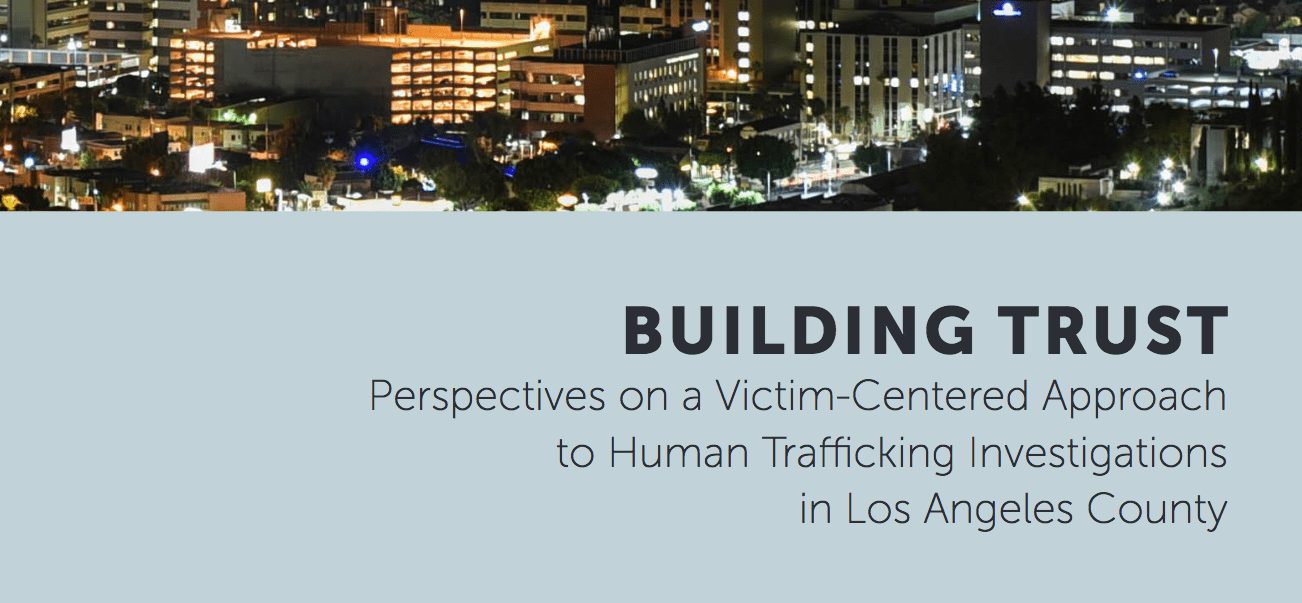 Perspectives on a Victim-Centered Approach to Human Trafficking Investigations in Los Angeles County
This report provides findings of a study of the Human Trafficking Bureau (Bureau) of the Los Angeles Sheriff 's Department, which is a member of the Los Angeles Regional Human Trafficking Task Force (Task Force). The primary objective of the study was to document the strengths and challenges the Bureau and other members of the Task Force encountered as they apply a victim-centered approach to investigations of human trafficking cases in their first year of operations (November 2015 to December 2016). Such an approach prioritizes the needs of victims and works to minimize re-traumatization.
Established in September 2015 through a grant from the U.S. Department of Justice, the Task Force is a multi-agency partnership between federal, state, and local law enforcement and social service agencies mandated to "prosecute traffickers and buyers who target them, and provide services designed to restore the victims to lives free from the trauma bonds they've been forced to endure."3 The Bureau, which had been established earlier by Los Angeles Country Sheriff Jim McDonnell, was assigned to lead the Task Force in combating human trafficking—defined as the recruiting, smuggling, trans-porting, harboring, buying, or selling a person for exploitation—in the county.
From the onset, the Bureau and the Task Force embraced a novel approach to human trafficking investigations by physically co-locating investigators, prosecutors, and representatives of service provider organizations in the Bureau's headquarters in Monterey Park.5 Using an open-floor plan, the Bureau houses representatives from the Task Force, including the Coalition to Abolish Slavery and Trafficking (CAST); the FBI; District Attorney's Office; Los Angeles County Probation Department; Department of Children and Family Services; and Department of Homeland Security.6 The Bureau maintains an investigative unit called the Detective Information Research Center (DIRC), which provides backup research for investigators. The Bureau also maintains a separate unit called the Sexual Assault Felony Enforcement Team (SAFE), which conducts cyber investigations of crimes against children (ICAC), including child pornography, sextortion, enticement, and crimes committed by California State sex registrants. The Bureau's human trafficking teams have access to a "soft room" for interviewing and offering services to trafficking victims.