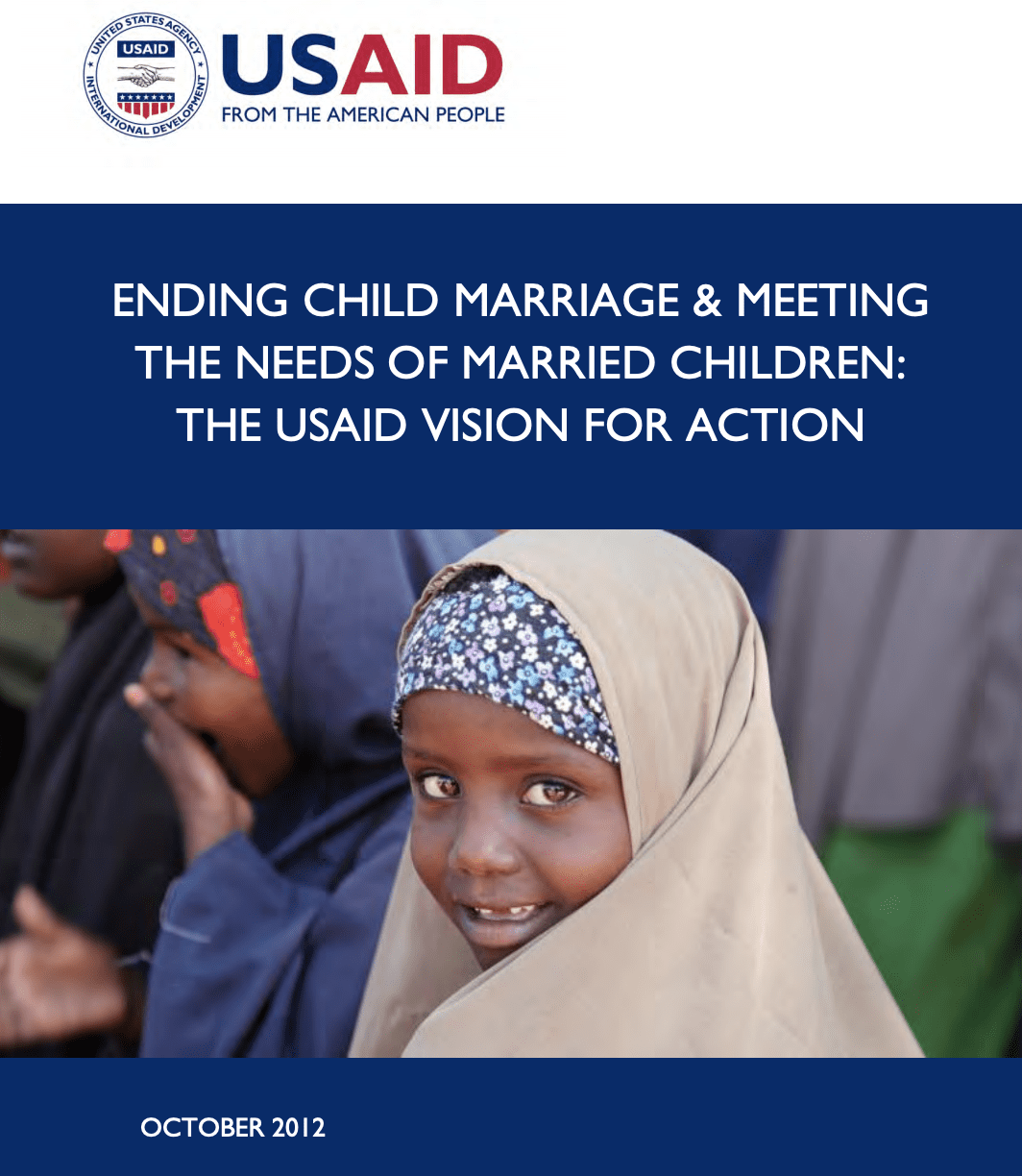 Ending Child Marriage & Meeting the Needs of Married Children: The USAID Vision for Action
Vision
Child marriage is a human rights violation and a practice that undermines efforts to promote sustainable development. In the last decade, child marriage has affected 58 million girls, many of whom were married against their will and in violation of international laws and conventions.1 Early marriage stifles boys' and girls' abilities to succeed and grow into empowered men and women able to better themselves, their families, and their communities.
The United States Agency for International Development (USAID) seeks to ensure that children are not robbed of their human rights and can live to their full potential. In line with USAID's Implementation Plan of the U.S. Strategy to Prevent and Respond to GenderBased Violence Globally, development efforts to combat child marriage should take place in regions, countries, and communities where interventions to prevent and respond to child marriage are most needed and most likely to achieve results. USAID must also address the needs of the more than 50 million girls and boys who are already married and have limited access to education, reproductive and other health services and economic opportunities.
Recognizing that efforts to end child marriage require a collaborative approach, USAID is working in partnership with international organizations and the private sector while concurrently supporting the voices of change agents at the national, local, and community levels seeking to change attitudes and motivations that perpetuate the practice of child marriage. USAID's efforts to end child marriage advance efforts to end gender-based violence while strengthening the Agency's commitment to children in adversity, gender equality, female empowerment, and youth development.
Statement of the Problem
Child marriage is defined by UNICEF as "a formal marriage or informal union before age 18" and occurs throughout the world. Being forced into marriage before one is able to give consent violates the basic human rights of boys and girls. Estimates reveal that 1 in 3 girls in the developing world are married before the age of 18. On average globally, only 5% of males marry before their 19th birthday.  The proportion of young women aged 15-19 married to young men aged 15-19 in 2003 was 72 to 1 in Mali.
An estimated 10 million girls are married every year before they reach the age of 18. In the developing world, 1 in 7 girls is married before her 15th birthday, with some child brides as young as eight or nine. Regionally, 41% of girls under 18 are married in West and Central Africa, 29% in Latin America and the Caribbean, and 15% in the Middle East and North Africa.8 Approximately two in five adolescent girls in South Asia are married. An estimated 2.2 million women and girls in Europe and Eurasia were married before the age of 18. Furthermore, orphans and young girls without involved caregivers are particularly vulnerable to early marriage. Studies show that 1 in 9 girls, or 15 million, were forced into marriage between the ages of 10 and 14.
The right to free and full consent to a marriage is recognized in numerous international conventions and declarations including the Universal Declaration of Human Rights, the Convention on Consent to Marriage, and the Convention on the Rights of the Child, with the understanding that consent cannot be "free and full" when one of the parties is not mature enough to make an informed decision about a life partner. Despite efforts in these and other conventions to discourage child marriage, national legal frameworks sometimes violate international norms by treating females and males differently. For example, in Pakistan, where it is estimated that one-third of all marriages fall under the category of child marriage,15 the legal age of marriage for boys is 18 but 16 for girls. Cultural and socioeconomic conditions, poverty, and lack of access to education also influence whether a girl is married early; child marriage is most common in the world's poorest countries and among the poorest households, with girls living in poor households twice as likely to marry before the age of 18 as girls from wealthier families.
The consequences of child marriage are severe. National and international indicators on maternal health, education, food security, poverty eradication, HIV/AIDS, and gender equality are all negatively correlated with high child marriage rates. Child brides are under great pressure to prove their fertility, which often results in pregnancies when their bodies are not yet ready, resulting in greater maternal and newborn morbidity. Married girls under 15 are five times more likely to die in childbirth than married women in their 20s. They are also more likely to experience complications of childbirth including obstetric fistula and hemorrhaging. Child brides are also at greater risk for contracting HIV and other sexually transmitted diseases due to their inability to reject unsafe sexual practices.
Research indicates a causal link between early marriage and domestic work, as household poverty often necessitates children being overworked at home, which can encourage young girls to marry early to escape harsh conditions. Girls are often forced to terminate their education; this, along with limited mobility, limited access to social networks, the burden of household responsibilities, and the obligation to care for other children in the household prevent girls from reaping the benefits of good education and economic programs. Once out of school, early marriage and pregnancy are often the only pathways forward for girls, thus perpetuating the cycle of poverty.
Child marriage also has a complex relationship to human trafficking. Trafficking and forced marriage intersect when marriage is used both in conjunction with force, fraud, coercion, or abuse of power, and as a means to subject wives to conditions of slavery, often in the form of domestic or sexual servitude. Children are trafficked for the purpose of forced marriage, fueling a lucrative trade in girls in some regions. Early marriage also increases the vulnerability of children to being trafficked or re-trafficked. In some cases, girls and boys in child marriages are forced into prostitution or exploitative labor situations by their spouse or spouse's family, while in other cases children may become easy prey for traffickers when they attempt to flee their marital home as a result of abuse.
Ending child marriage is not only the right thing to do; it can also pay enormous dividends for development. Delaying marriage and childbearing can improve the health of a mother and her child. For one, the risk of malnutrition in children born to mothers over the age of 18 is smaller. Improved nutrition in infants leads to increased schooling and cognitive ability, which contributes to an increase in lifetime savings. Increasing the age of first marriage reduces girls' risk for physical, sexual, psychological, and economic abuse. Delaying marriage can also increase girls' and women's decision-making power. Keeping girls in school and delaying marriage increases incomes for individuals and advances economic development for nations. A single year of primary school increases women's wages later in life from 10% to 20%, while the boost from female secondary education is 15% to 25%. The families of girls who have married later also benefit from their added income and are more likely to invest in their families and children. When girls stay in school, communities and families reap health benefits, such as decreased risk of HIV and reduced infant mortality. In one study, women in 32 countries who remained in school after primary school were five times more likely to know basic facts about HIV than illiterate women.
Read more here.