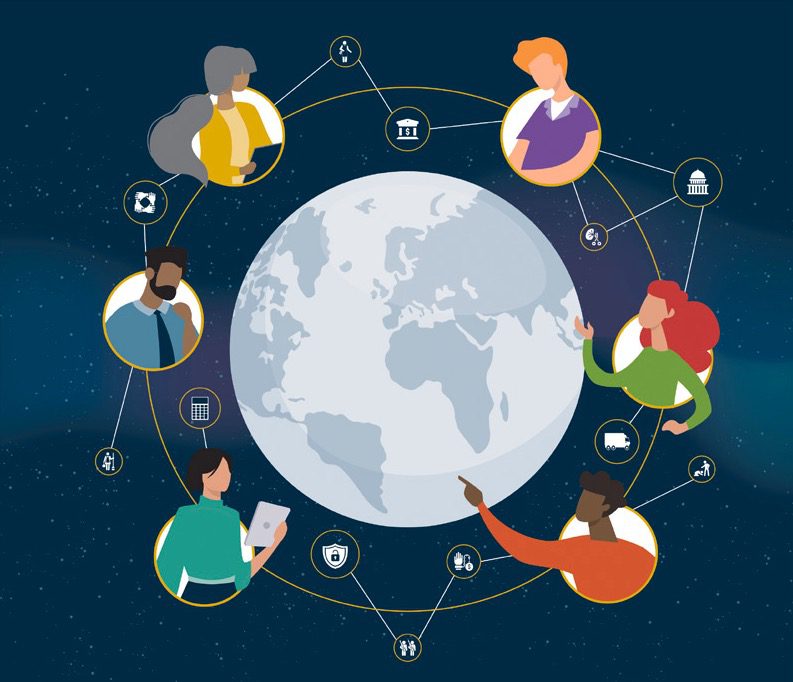 Compendium on Promising Practices on Public-Private Partnerships to prevent and counter trafficking in persons
Introduction
Trafficking in persons is a serious crime and a violation of human rights that severely impacts the lives of its victims and undermines the security and well-being of societies as a whole. As the 2020 UNODC Global Report on Trafficking in Personsi confirms, trafficking in persons is widespread around the world. Whilst the crime is mostly registered as a domestic phenomenon, it also has a transnational nature, where countries can be a country of origin, transit or destination, and sometimes all three at once. Given its magnitude, quantification of the crime can be difficult, particularly given that it also affects most industries and sectors and is connected to other forms of organised crime. For this reason, solutions to address the crime can neither be isolated nor merely involving governments. The complexity of trafficking in persons requires a holistic, coordinated and multi-stakeholder effort that spans geographies and sectors. Public agencies' interventions require a multi- agency approach, but in addition the private sector must actively engage in this fight.
Business leaders and private sector entities have the potential to support enhanced strategic responses to trafficking in persons, both at the national level and internationally. While the public sector leads crime prevention and criminal justice efforts, private sector enterprises can leverage their resources and networks to build sustainable and responsible businesses, raise awareness among employees, partners and clients in their companies, and contribute tools, critical data and instruments to help governments tackle the crime. Civil society and academia can also further complement those efforts by providing unique on-the-ground perspectives, highlighting the needs of trafficking victims, as well as developing rigorous research on the matter.
Examples of how public-private partnerships can be effective in sustaining these efforts are multi- pronged. For instance, private sector companies have at their disposal a wide range of technological tools that can be used to support governments' anti-trafficking efforts. Private companies have the capacity to identify and address cases of trafficking and exploitation in their supply chain. In that regard, the public sector might acquire new skills and additional knowledge on sustainable procurement processes, how companies identify and manage risks and the multiple forms that trafficking can take. Finally, public-private partnerships can significantly facilitate investigations to trace the financial gains or organised criminal activities such as those involving trafficking in persons.
The United Nations Office on Drugs and Crime (UNODC) is the guardian of the United Nations Convention against Transnational Organized Crime (UNTOC) and its supplementing Protocol to Prevent, Suppress and Punish Trafficking in Persons, Especially Women and Children (Trafficking in Persons Protocol), and Protocol against the Smuggling of Migrants by Land, Sea and Air (Smuggling of Migrants Protocol). Through a series of Resolutions issued by the General Assembly, the ECOSOC/Crime Prevention and Criminal Justice Commission, the Security Council and the UNTOC Conference of the Parties (COP), UNODC has been mandated to provide technical assistance to member States upon request following the ratification and implementation of the UNTOC and its Protocols.
As outlined in Article 32 of the Convention, the UNTOC COP was established to improve the capacity of States Parties to combat transnational organised crime and to promote and review the implementation of the Convention. Mechanisms for achieving these objectives include cooperating with relevant
international and regional non-governmental organisations. Pursuit of these objectives include cooperation with relevant non-governmental stakeholders. At its ninth session held in Vienna from 15 to 19 October 2018, the UNTOC COP adopted resolution 9/1, entitled 'Establishment of the Mechanism for the Review of the Implementation of the United Nations Convention against Transnational Organized Crime and the Protocols thereto'. In Operational Paragraph 53, member States made a commitment to promoting fruitful engagement with relevant stakeholders, including non-governmental organisations, the private sector and academia, in countering organised crime.
In addition, the UNTOC COP, at its tenth session, adopted resolution 10/3 on the 'Effective implementation of the Protocol to Prevent, Suppress and Punish Trafficking in Persons, Especially Women and Children, supplementing the United Nations Convention against Transnational Organized Crime'.ii This resolution emphasised the significance of PPPs in combatting the crime.
There are also numerous recommendations by the Working Groupsiii of the UNTOC COP and resolutions of the Commission on Crime Prevention and Criminal Justiceiv, which focus on strengthening partnerships with the private sector in order to effectively combat trafficking for labour exploitation.
In implementing the Trafficking in Persons Protocol, the UNTOC COP's mandate includes efforts to provide guidance, for example through instruments of mechanisms, and promising practices on strengthening Public-Private Partnerships (PPPs) to counter trafficking in persons. This Compendium is a reflection of these efforts and also aims to contribute to fulfilling the four main purposes of the Trafficking in Persons Protocol as identified in its article 2, namely:
(a) to prevent trafficking in persons, paying particular attention to women and children;
(b) to prosecute those responsible for trafficking in persons;
(c) to protect and assist the victims of such trafficking, with full respect for their human rights; and (d) to promote cooperation among States Parties in order to meet those objectives.
TYPES OF HUMAN TRAFFICKING INCLUDE: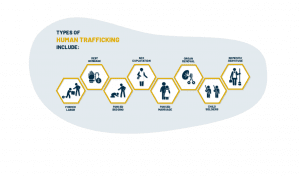 Forced Labor
Debt Bondage
Sex Exploitation
Organ Removal
Domestic Servitude
Forced Begging
Forced Marriage
Child Soldiers
The UNODC 'PPP Project'
In 2020, the UNODC, with support and funding from the Government of Germany, initiated the project
'Public-Private Partnerships: Fostering Engagement with the Private Sector on the Implementation of the UN Convention against Transnational Organized Crime (UNTOC) and its Trafficking in Persons Protocol' ('PPP Project'). This PPP Project aims to improve effective partnership between the public and private sectors with a view to better assisting member States in their implementation of the UNTOC and its Trafficking in Persons Protocol.
The main aim of Phase one of the PPP Project was to improve effective partnerships between the public and the private sectors with a view to assisting Member States in their implementation of the UNTOC and its Trafficking in Persons Protocol. The main outcomes were to organise Regional Expert Group Meetings (REGMs) on fostering cooperation between the Public and Private sector to counter Trafficking in Persons and to create a Compendium of Promising Practices on Public-Private Partnerships (PPPs) to Counter Trafficking in Persons ('the Compendium'). The content of the Compendium would be informed by knowledge exchange and consultation undertaken during four REGMs, each focusing on a selected geographical region, namely Southeast Europe, the Americas, Africa and Asia.
Read full Compendium here.