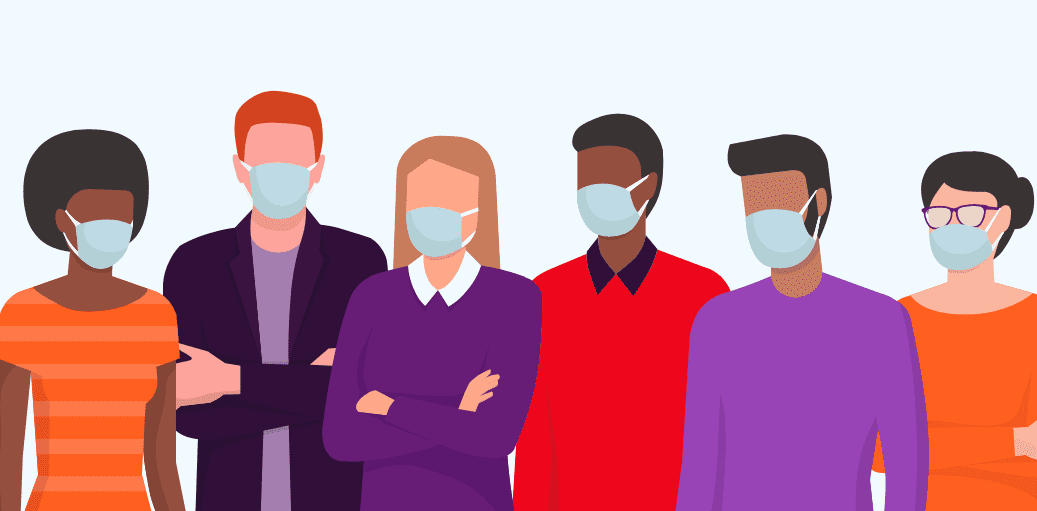 GUIDANCE Addressing Emerging Human Trafficking Trends and Consequences of the COVID-19 Pandemic
EXECUTIVE SUMMARY
"Human trafficking is always invisible. During a pandemic, it is easier to have cases going on that nobody reports." Frontline Stakeholder from Portugal
The COVID-19 pandemic created new risks and challenges to victims of trafficking (VoTs) and survivors of trafficking, as well as having exacerbated the vulnerabilities of at-risk groups to trafficking. To analyze emerging trafficking in human beings (THB) trends and dynamics and to develop a response based on empirical data to address the impact of the COVID-19 pandemic, ODIHR and UN Women conducted a global survey of (1) survivors of trafficking and (2) frontline stakeholders. Based on the survey findings and empirical data collected, a set of policy recommendations were developed.
The survey findings indicate that through the COVID-19 pandemic and afterwards, exacerbation of vulnerability of women and girls to THB for the purposes of sexual exploitation will increase. Online recruitment, grooming and exploitation have been widely used by traffickers during the pandemic. There are also indications that trafficking for the purpose of sexual exploitation online, including the demand for Child Sexual Abuse Material (CSAM) has increased. The majority of anti-trafficking stakeholders and survivors of trafficking reported decreased accessibility of assistance and services for VoTs and survivors of trafficking.
Frontline organizations experienced significant challenges in their activities during the pandemic due to additional barriers in coordination and cooperation with governmental institutions and law enforcement agencies; lack of financial resources; difficulties in reaching vulnerable groups; and suspension or postponement of planned prevention and awareness raising activities. The combination of these factors on the work of front- line anti-trafficking stakeholders negatively impacts prevention, prosecution, and protection efforts to combat trafficking in human beings (CTHB).
Based on the survey findings and research, ODIHR and UN Women have developed policy recommendations to address the trends and consequences of the pandemic on CTHB covering the following areas: 1) strengthen the implementation of international legal frameworks; 2) develop effective implementation of National Referral Mechanism (NRMs) or equivalent systems to address the current THB trends and consequences of the COVID-19 pandemic; 3) develop and/or update of National Strategies and National Action Plans (NAPs) to CTHB to address the THB trends and consequences of the COVID-19 pandemic; 4) strengthen identification of VoTs to address the trends and consequences of the COVID-19 pandemic; 5) make services to VoTs and survivors of trafficking more accessible during and post pandemic; 6) provide access to remedies including justice and information; 7) address specific needs of women and girls; 8) address specific needs of children; 9) support and build capacity for both governmental and nongovernmental frontline stakeholders; 10) strengthen efforts at THB prevention related to the pandemic; and 11) implement measures to reduce THB after the pandemic.
INTRODUCTION
"There is a person being exploited. Someone who did not want to be used, bought or sold. Someone who just needed food, rent, someone who just didn't have anyone else to turn to or another choice. Until we see that person as our friend, neighbor, sister, daughter, etc., it will never stop." Female survivor from the United States.
The results of the ODIHR and UN Women global surveys of survivors of trafficking and frontline organizations and stakeholders of THB trends and dynamics through the COVID-19 pandemic have informed the findings and conclusions of the report and its recommendations.
Countries have made significant strides towards addressing the issue of THB through the "4Ps" framework of prevention, prosecution, protection and partnerships, the development of strong national anti-trafficking legislation, policy and National Referral Mechanisms (NRMs), and regional cooperation efforts to combat THB. In addition, countries have recognized the importance of international instruments, in particular the UN Protocol to Prevent, Suppress and Punish Trafficking in Persons, Especially Women and Children (the Palermo Protocol) (2000) which includes the first internationally agreed definition of the crime of trafficking in persons and provides a framework to effectively prevent and combat THB. Other international and regional instruments, as well as the global commitment for the 2030 Agenda for Sustainable Development through the Sustainable Development Goals 5, 8 and 16, have inspired and impacted the work of many governments globally.
Unfortunately, despite these efforts, this crime persists. Emergency situations, including pandemics, create heightened vulnerability to THB and impact the ability of countries to effectively respond to this crime and protect victims and survivors.
It is estimated that more than 40 million people around the world were victims of forced labour, debt bondage, forced marriage, slavery and slavery-like practices, and trafficking in 2016. Between 2017 and 2018, a total of 74,514 victims of trafficking were detected in over 110 countries. The US department of States reports 105,7876 VoTs were identified worldwide in 2019. THB disproportionately affects women and girls; 72 percent of all victims detected worldwide are female. Moreover, sexual exploitation is the predominant form of trafficking, with women and girls representing 94 per cent of total detected victims. Women and children in situations of armed conflict and individuals forcibly displaced by armed conflict can be especially vulnerable to trafficking for the purpose of sexual exploitation. The nexus between THB, sexual violence and terrorism and other organized criminal activities has also been recognized. At the same time, rates of prosecutions and convictions are extremely low, indicating that traffickers are able to avoid justice and detection by evolving and adapting. Lack of effective response efforts further compounds the issue. THB is considered a low risk, high profit crime. For instance, trafficking for the purposes of sexual exploitation constitutes approximately three-fifths of all detected trafficking cases but generates two-thirds of the global profits from trafficking.
The impacts, consequences and harms of THB are detrimental to survivors and the severity of its impacts are aggravated by gender, age and other specific characteristics of victims. The effective recovery processes of survivors depend on their ability to receive the long-term support that fits their specific needs.
Emerging THB trends and consequences of the COVID-19 pandemic are marked by gender-specific vulnerabilities and are further exacerbated by already existing gender inequalities. Prior to the COVID-19 pandemic, women and girls, especially those from marginalized communities, constituted the majority of detected victims of THB and it is likely that this trend will continue during and in the aftermath.12 Trafficking in women and girls does not happen in isolation. It happens in a continuum of violence. Poverty and the inability to gain access to decent work may push women to seek risky economic opportunities where they are at risk of coercion, abuse and trafficking. Efforts to flee situations of violence and abuse also prompt women and girls to take risks that may lead to them being trafficked. The links between domestic violence and THB have also been documented.The exponential increase in reports of domestic violence during the COVID-19 can continue to be a push factor. The pandemic has particularly affected the vulnerability of children to THB, especially online. Law enforcement agencies in Europe have reported increased online grooming and exploitation of children through the Internet, as well as an exponential growth of child sexual exploitation material shared online.
THB for the purposes of sexual exploitation is highly gendered. Women and girls constitute 94 per cent of all detected victims of THB for the purpose of sexual exploitation. The Palermo Protocol in defining THB states that "[e]xploitation shall include, at a minimum, the exploitation of the prostitution of others or other forms of sexual exploitation," while the Convention on the Elimination of Discrimination against Women (CEDAW) calls on states parties to "take all appropriate measures, including legislation, to suppress all forms of traffic in women and exploitation of prostitution of women." According to CEDAW Art. 6, states parties have the legal obligation to suppress all forms of trafficking in women and girls, and in response, anti-trafficking legal frameworks and policies should exist at the national, regional and international levels. In the CEDAW Committee's view, the crime of trafficking operates due to three principle factors. First, states have not effectively addressed the root causes of women and girls being trafficked. It is precisely the situation of social, economic and political disempowerment and systemic discrimination of women that is exploited by criminals. Second, states have not yet appreciated the link between human trafficking and women's experience of migration. For women migrants, their situation of vulnerability is compounded by the de jure and de facto discrimination faced when moving within and across borders. Women forcibly displaced by conflicts, humanitarian and climate change-related disasters, are placed in aggravated situations of disadvantage, rendering these groups of women with little defense against criminals. Third, perpetrators of the crime of trafficking in women and girls continue to enjoy impunity due to the lack of attention given to combatting existing and emerging forms of exploitation for which women and girls are trafficked.
The CEDAW Committee calls for states to address the demand side for trafficking, thereby rooting out exploitative practices faced by women and girls.
The outbreak of the COVID-19 pandemic has led to the exacerbation of vulnerabilities to THB, further exhibiting that violence against women and girls, including trafficking, sits within a continuum of manifestations of violence based on gendered norms, assumptions and stereotypes around male domination, sexual entitlement, coercion and control. Furthermore, demand must be understood expansively in order to effectively address trafficking for the purpose of sexual exploitation, as any act that fosters any form of exploitation can lead to trafficking.
"As we have continued our work during the COVID-19 pandemic, traffickers have continued as well. Traffickers did not shut down. They continue to harm people, finding ways to innovate and even capitalize on the chaos. The ratio between risk and reward is expanding in their favor. And so, we press on all the more. As the vulnerable become more vulnerable, we remain resolved in our pursuit of freedom for every victim of human trafficking and accountability for every trafficker." John Cotton Richmond serves as the United States Ambassador- at-Large to Monitor and Combat Trafficking in Persons
The Ebola pandemic demonstrated that multiple forms of violence are exacerbated within crisis contexts, including THB, child marriage, and sexual exploitation and abuse. The COVID-19 pandemic follows the same trends by increasing vulnerability of at-risk groups to
THB and impacting the ability of countries to address the crime of THB.  The COVID-19 pandemic poses significant concerns for the effective response to THB, from identification of VoTs, survivor's access to assistance and services, protections, redress, reintegration/social inclusion and overall prevention efforts. Although many governments have prioritized resources for COVID-19 related measures, it is essential that NRMs and equivalent systems continue to function effectively. In line with governments' commitment to a victim-centered, human rights-based, trauma-informed and gender and age-sensitive approach, it is of vital importance that victims and survivors of THB are provided with access to all human rights protections guaranteed to them by national and international obligations.
In response to the COVID-19 pandemic, United Nations Secretary General Antonio Guterres has launched "a Call to Action to put human dignity and the promise of the Universal Declaration of Human Rights at the core of our work." He has also called for a "cease- fire at home." Furthermore, with regard to emergency situations, the United Nations General Assembly called upon governments and the international community "… to address the heightened vulnerability of women and girls to trafficking and exploitation, and associated gender-based violence."
"… Survivors are suffering – mental health is suffering – we are having flashbacks of being trapped, of nearly dying, suffocating, of not having food, etc. We need to know that we won't lose our homes, will have food and will not have to choose between life and income. Do I really have to die? Do I have to feel like I'm being suffocated every time I go out or have to stay in a tiny apartment?" Female survivor from the U.S.
According to the World Bank, approximately 40 to 60 million people will be pushed into extreme poverty due to the pandemic. Furthermore, a preliminary assessment by several UN agencies indicated that the COVID-19 pandemic could contribute between 83 and 132 million people to the total number of undernourished globally in 2020. People working in the informal economy are even more at-risk, which may result in different forms of exploitation. The pandemic has decreased the transfer of remittances by 20 per cent, further exacerbating the vulnerabilities of at-risk groups dependent on these funds for survival. Moreover, it has had a detrimental impact on the access to employment and rights of migrant workers, especially young women. As many countries have partially or fully closed their borders, these travel restrictions may also lead many migrants or asylum-seekers to look for alternative, more dangerous migration routes, making them vulnerable to THB in transit and destination countries.
"[Victims are] being forced to interact with others who may be infected, as traffickers find new ways to exploit victims." Female survivor from the United Kingdom
According to survey respondents, the emergency measures during the COVID-19 pandemic in many countries presented a number of increased risks for VoTs, including intensification of control, violence and isolation by their exploiters and less access to assistance including medical services, employment opportunities, access to psychological services and legal assistance. During lockdown, anti-trafficking organizations said that more women came forward seeking help in leaving their traffickers.There are concerns that VoTs will not seek medical assistance for COVID-19 due to fear of administrative detention deriving from their irregular migration status. VoTs in immigration detention or other detention settings may not be identified due to lack of access for NGOs that conduct monitoring. Other, identified VoTs were sometimes left in limbo and unable to return to their countries of origin due to border closures, lack of documentation and resources for return or difficult co-ordination between the countries' authorities. Some survivors of trafficking reported an increase in domestic violence, economic insecurity, and fear of traffickers released from prison due to COVID-19. Furthermore, many VoTs, who are desperate to "repay" their growing debts to traffickers, continue to be charged by their traffickers for rent and food during the pandemic, they are being forced to engage in high-risk activities, such as exploitative informal labor, prostitution or the production of pornography online. This can likewise impact children of VoTs and their other family members, as usurious money-lending and debt bondage will also become a force-multiplier for sourcing child labour for bondage and trafficking from desperate families in rural locations.
Read full report with all citations here.