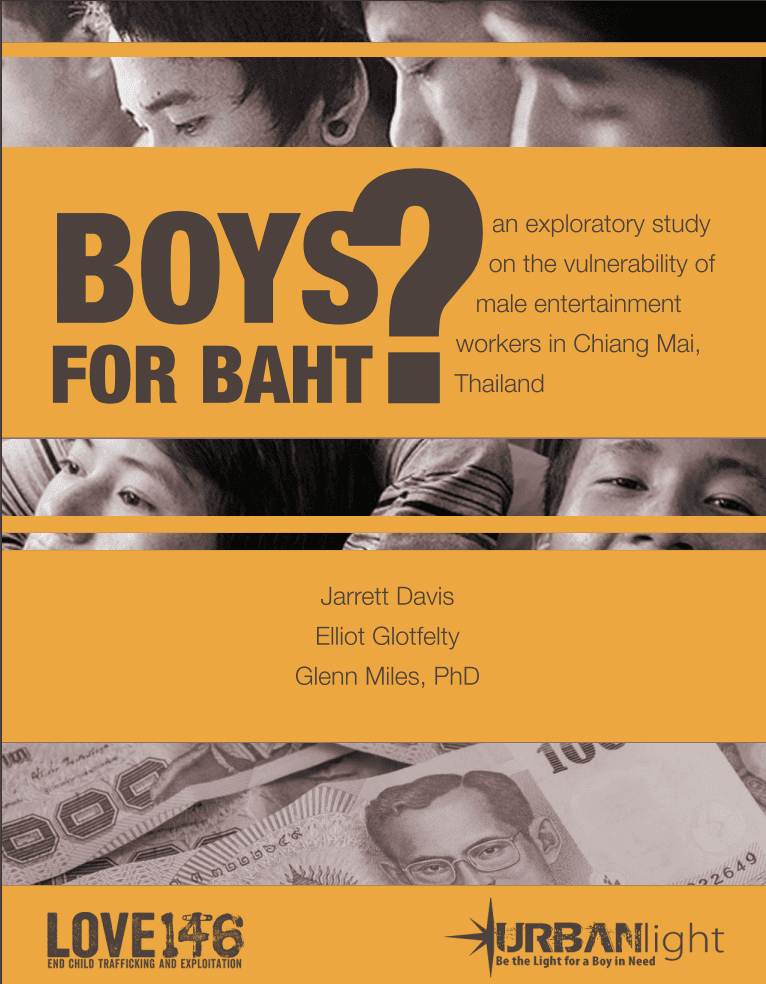 Boys for Baht? A Baseline Study on the Vulnerability of Male Entertainment Workers in Chiang Mai, Thailand
Introduction
The global reality of sexual exploitation and trafficking knows no gender. Internationally, it is said that 1 in 6 boys are sexually abused before reaching adulthood and in some nations the exploitation and abuse of boys far outweighs that of girls. Yet, the sexual exploitation of men and boys is often little understood and commonly goes ignored. Social and cultural norms often assume men and boys to be inherently strong and/or invulnerable to sexual exploitation; however, research in this area continues to show these assumptions to be false. Because of this lack of awareness, the efforts of the organizations and individuals who work to provide for the needs of male victims are often sparse and under-supported.
This is the fifth study in a series of research that explores the little-known lives and experiences, vulnerabilities and resiliencies of sexually exploited young men in Southeast Asia. It is a part of a small, collaborative movement among interested organizations who have both recognized and acted upon the neglect of boys and men in discussions of sexual abuse and exploitation. The studies have utilized both quantitative and qualitative research methodologies, merging careful fieldwork and one-on-one structured interviews to provide a better understanding of the lives of young men and boys within the sex trade industry as an information resource for service providers and future researchers in this area.
Love146 has made addressing the exploitation of boys a key objective in its work, and often does this by partnering with key organizations that are pioneering such endeavors. We believe that Urban Light is one of these organizations. Urban Light is a grassroots organization that has been working since 2009 to rebuild, restore, and empower the lives of boys living on the streets and/or working in the red light districts in Chiang Mai, Thailand by providing education, health services, housing and emergency care. An important part of the work done by Urban Light is advocacy, drawing support and raising awareness among NGO community, governments and donors around the world. Love146 is a long-term partner with Urban Light, and has additionally partnered with them in the development and administration of this study and worked with them in the creation of this final report, which you hold in your hands.
Executive Summary
The sexual exploitation of women and girls in Southeast Asia continues to be the subject of much research and remains a central concern among NGO's and Anti-Trafficking in Persons organizations. As these concerns remain central, sexual exploitation and violence against men and boys is little acknowledged, much less understood. Among the studies that have been conducted on males, most have primarily focused on sexual health, seeing males as agents of their own lives and careers, and largely ignored holistic needs and vulnerabilities. This study attempts to take a holistic approach to understanding the needs and vulnerabilities of young males working in the entertainment industry in Chiang Mai, Thailand.
This study aims to provide a baseline of information about the young males providing sexual services in the Chiang Mai area. It serves to uncover some of the present needs, vulnerabilities, and potential resiliencies of these young males in order for NGOs and social service providers to better understand them and provide adequate services. In order to accomplish this, structured interviews were conducted with young men from three areas in Chiang Mai that are known to be key to the male entertainment industry. The data sampling for this study employed purposive and snowballing sampling methodologies in the recruitment of participants. In addition, Love146/Urban Light researchers worked with practitioners from Urban Light to identify key vulnerability groups and potential respondents for the study.
Structured interviews were conducted with males working in various sectors of the male entertainment industry including: male masseurs, males working in show bars, males working in KTV bars, and freelance sex-workers within bars. Vulnerabilities of these young males and were assessed, focusing on a number of key areas including: stigma and discrimination, financial security, sexual health and history, experiences of violence, substance abuse, and existential well-being. Additionally, a qualitative assessment of the broader male sex industry was completed looking at demand, recruitment, and trans-border migration issues, which served as a background to supplements quantitative data gathered from structured interviews.
The research uncovered significant numbers of trans-border migrants from Burma, as well as the high numbers of respondents migrating from tribal areas in northern Thailand. Within the working environments the young males in this study, the research finds a high dependency on tips as the sole source of income, which seems to drive entertainment workers into a higher frequency of sex work. Violence and sexual abuse was found to be common among some groups. One in four respondents reported instances of being forced to have sex against his wishes and up to 72% of those working within bar based establishments report the same. Substance abuse was found to be a significant issue among many respondents working within bars—particularly among those working as freelancers.
The study recommends increased recognition from government, UN agencies, and donors that sexual exploitation of males does exist and may be an increasing issue. It recommends the development of greater assistance programs to young males and their families in securing alternative employment, aid in obtaining ID cards and proper citizenship, in the creation of deeper research – particularly qualitative – on younger boys living off of the streets and engaging in survival sex.
Read more here.