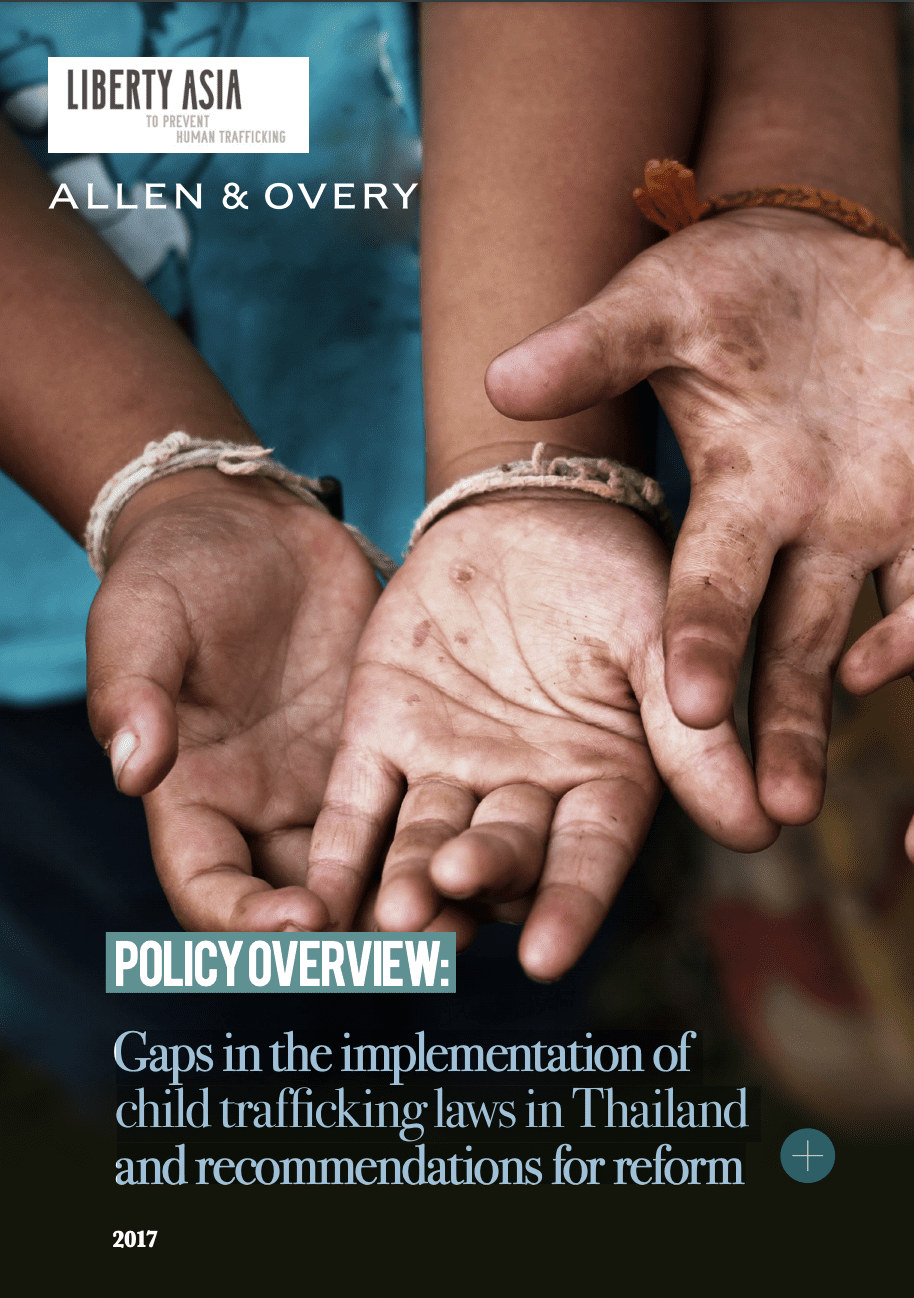 Gaps in the implementation of child trafficking laws in Thailand and recommendations for reform
The U.S. Trafficking in Persons Report 2016 describes Thailand as "a source, destination, and transit country for men, women, and children subjected to forced labour and sex trafficking". Thai victims of trafficking and some of the estimated three to four million migrant workers are forced, coerced, or defrauded into labour or sex trafficking. Often, migrant workers are placed in jobs by illegal brokers, for minimal wages, and many migrant workers end up being trapped in debt bondage. Sex trafficking is also a significant problem and some of the worst cases of child trafficking see children from Thailand, Burma, Laos, and Cambodia routinely become victims of sex trafficking in brothels, massage parlours, bars, karaoke lounges, hotel rooms, and private residences.
Children are particularly vulnerable to trafficking and may be trafficked into, around or out of Thailand with or without their parents' knowledge, and sometimes even with their parents' consent and participation. The plight of migrant children is magnified as they are tied to the status of their parents, and the situation is even more challenging for unaccompanied alien children ("UAC") who are often undocumented.
In recent years, the Thai Government has made significant efforts to reform its anti-trafficking laws to improve the legal identification process and protection available for all victims of trafficking. In particular, the Thai Government has made attempts to adopt international standards regarding the protection available for children. A welfare framework has also been developed to provide additional support for child trafficking victims.
However, as the Legal Report will demonstrate, issues still remain. Among other things, antitrafficking laws often clash with immigration enforcement policies and when that happens, the best interests of child victims are not sufficiently and systematically protected. More can be done by Thailand to implement international standards within its existing framework in order to bridge the gap between anti-trafficking legislation and the practical application of anti-trafficking rules and procedures, taking into account the best interests of child victims.