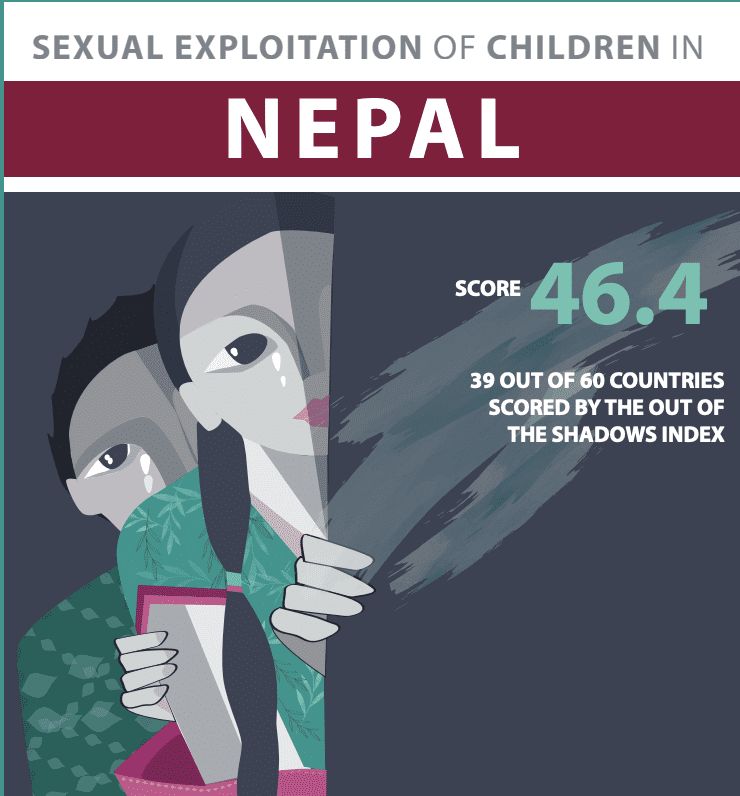 Sexual Exploitation of Children in Nepal
Nepal ranked 39 out of the 60 countries scored by the Out of the Shadows Index on the country's response to child sexual exploitation and abuse, with a score of 46.4. Within the region of South Asia, Nepal was ranked ahead of Bangladesh (35.3) and Pakistan (28.6), but behind India (58.2) and Sri Lanka (51.5).
Nepal's position on the lower end of the Index's ranking, is partially explained by an uncoordinated national policy framework on child sexual abuse and exploitation that includes loopholes and inconsistencies which hamper efforts to tackle this crime. There is also a lack of hard data on the prevalence of sexual exploitation of children in the country. However, Nepal has made some progress in recent years. For example, the Government has undertaken a number of preventive measures and awareness activities to address the sexual exploitation of children (SEC), in particular through trafficking and online.
DEFINING SEXUAL EXPLOITATION OF CHILDREN
A child is a victim of sexual exploitation when they take part in a sexual activity in exchange for something that either they or third parties receive. Different forms of SEC include exploitation of children in prostitution, online child sexual exploitation, sale and trafficking of children for sexual purposes, sexual exploitation of children in the context of travel and tourism and some forms of child, early and forced marriage.
Read the full report here.