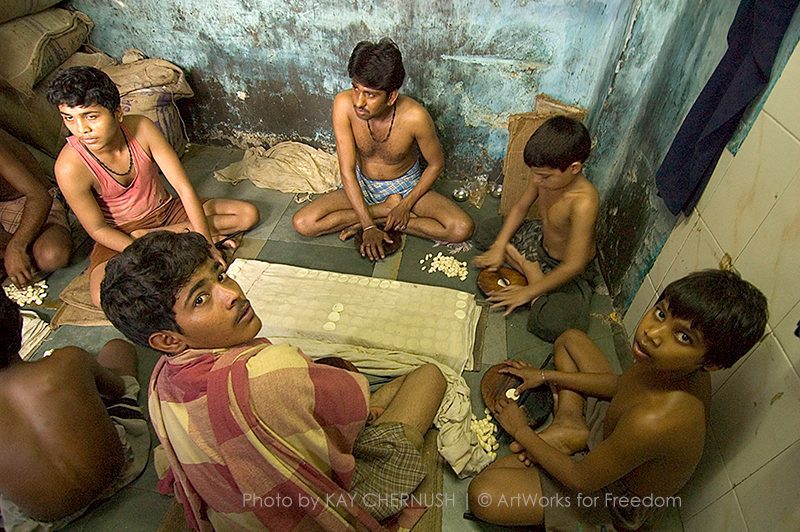 Kay Chernush: Advocate, Artist and Inspiration
The fight against human trafficking lost a fierce and visionary ally recently with the passing of Kay Chernush. Kay had an incredible career as a photographer, traveling around the world capturing images that "make visible the poetry and drama in banal" and throwing her creative voice behind the call to end modern slavery through her photographs and the founding of Artworks for Freedom. But for me, as the Program Director of Human Trafficking Search, her loss had a more personal meaning.
I had the delight and privilege to meet Kay last summer on a zoom call, and that one hour interaction left me feeling connected to a key figure in the sector and like I had a new friend, who shared my passion and creative drive to tell the stories of those who need their voices amplified. When I met Kay, I was brand new at Human Trafficking Search and this zoom meeting was my first with a contact outside the organization. I had been given an e-introduction to her with the idea that there might be ways Human Trafficking Search and Artworks for Freedom could work together to cross promote each other's work. I knew she had been a successful photographer and that she had achieved a level of storytelling with her images capable of moving the needle on multiple human rights issues, particularly human trafficking. What I didn't know was that she was a kindred spirit.
Almost immediately we started talking about our mutual love of travel, making friends in remote parts of the world and trying to capture the small voices asking for help and change that were uncovered through the journey. I have been on location working with photographers in Africa, Asia and the Pacific doing story capturing in previous roles, and talking with Kay, I imagined a world where the two of us took our passion and jumped on a plane to head out and to tell the world about child labor at cobalt mines in the DRC or the sex trafficking of young girls out of Vietnam to China. I knew it was just a fantasy, but I also knew in an alternate universe we could do just that. I could have talked to her the entire hour about an assignment she had done for the U.S. State Department that brought her up close and personal to human trafficking and modern slavery. Work which led to her working with individual survivors and anti-trafficking organizations in cities around the world, and eventually to her launching Artworks for Freedom. 
During this call we talked about another organization she had connections to, The Mekong Club and the good they were doing working with companies and their employees to provide practical tools, strategic thinking and a forum for them to join together and stop slavery in their supply chains. Kay provided me with a virtual introduction to their CEO Matt Friedman which led to my second zoom meeting in my new role, and another strong partnership with a like minded leader. Thanks to Kay my community was growing. From that call, I continued to connect with Kay about ongoing work both our organizations were doing and even volunteered my time outside my role at HTS to help with updates to the Artworks for Freedom website, that's the kind of commitment Kay inspired in others.
Kay provided support to Human Trafficking Search and the cause to end modern slavery on many occasions and across many channels over the years. Through use of her photographs on our website, writing articles for our database and providing guest bloggers from Artworks for Freedom to share across our platforms. To me, that phone call embodies what I will remember Kay for, even for the brief time I knew her. Connection, support, storytelling, passion, community building and friendship. Thank you Kay, the world is a better place because you cared.
By: Rebekah Enoch, Program Director for Human Trafficking Search