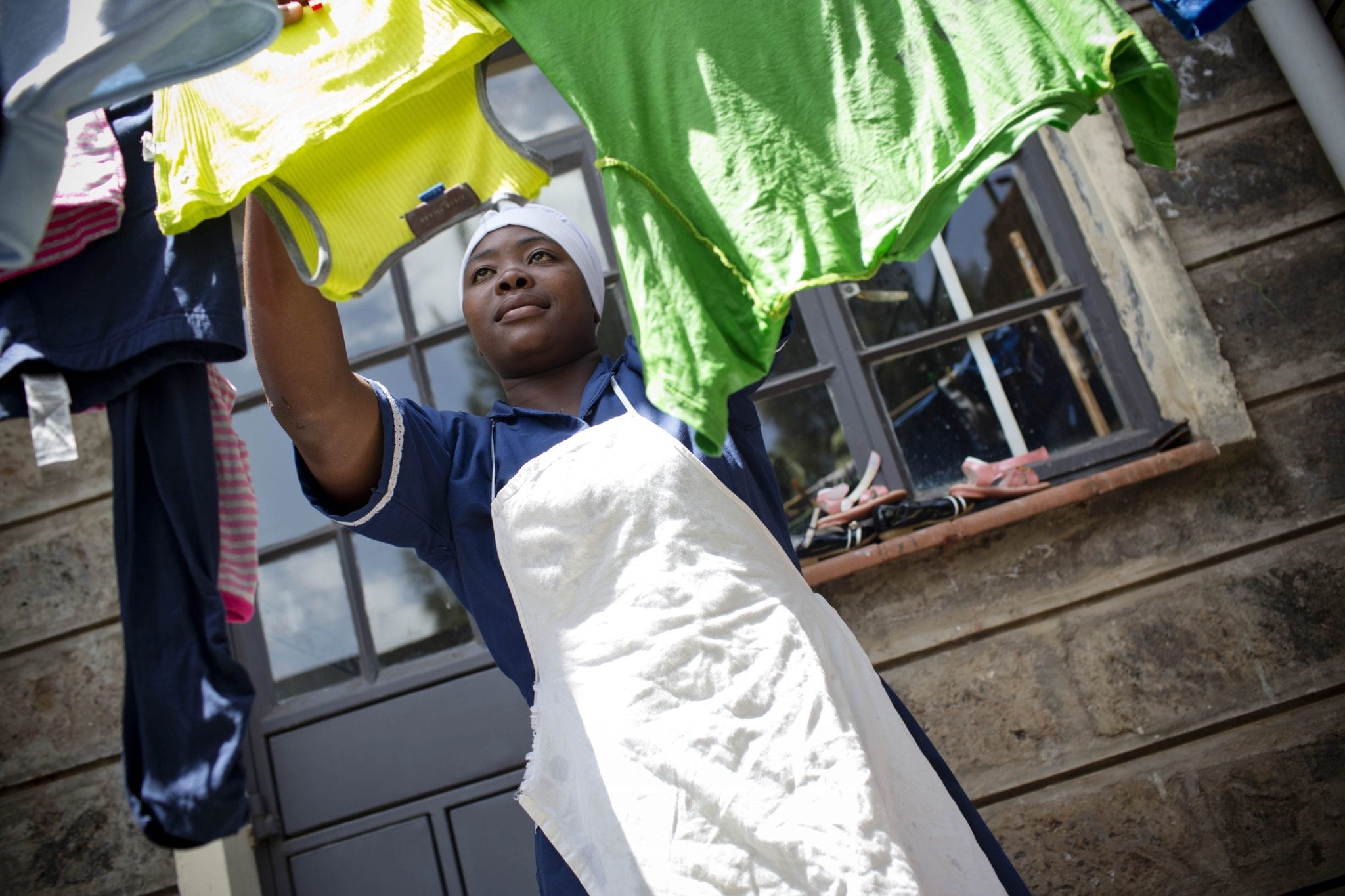 Domestic Workers, Forced Labor, and the Locked Doors of Covid-19
In October 2019,  BBC News Arabic conducted an undercover investigation in the Middle East. Two reporters, posing as a husband and wife, made a horrifying discovery: thousands of domestic workers for sale as chattel on internet apps. This booming on-line black market for young women thrived in Kuwait and Saudi Arabia, where employers advertised on apps including 4Sale, Instagram, Haraj, Google, and Facebook. Investigators met a 16-year girl from the West African country of Guinea offered for sale by her employers in Kuwait for $3,800.
Urmila Bhoola, then the UN special rapporteur on contemporary forms of slavery, called this online slave market the "quintessential example of modern slavery." Employers offering to sell domestic workers suggested to the undercover investigators that they withhold the women's passports. The restrictive kafala (sponsorship) system, which requires workers to receive permission from their employer to change jobs or leave the country,  already chained the women to their employers. But the sellers suggested that the potential purchasers do even more to restrict the women's freedom.
Fast-forward to May 2020. The world is caught in the throes of a pandemic. Unemployment is soaring. Domestic violence has surged. But few have asked a fundamental question: where are the migrant domestic workers? The answer is clear: locked in the homes of their employers, unable to leave.
In Kuwait, the BBC reports that nine out of every ten homes has a domestic worker. Lebanon, currently facing an economic crisis, as well as the public health crisis, is home to 250,000 migrant domestic workers. Saudi Arabia has 3.7 million migrant domestic workers. Many domestic workers faced abuse and forced labor even before the global pandemic. But, as Amnesty International pointed out recently, with schools shuttered and entire households restricted from venturing outdoors, "the already-excessive work load of many domestic workers is likely to increase." Economic pressures in the Gulf have raised fears that non-payment of wages – already a frequent rights violation – will become even more rampant.
Reports from non-governmental organizations on the ground show that these fears are justified. This is Lebanon, a non-governmental organization that supports domestic workers abused in Lebanon, has posted testimonies on the group's FaceBook page.  The organization's founder, Dipendra Uprety, told The New Arab, "The men are in the house all day now…Imagine being locked up with your abuser. It is bad enough if you have an abusive spouse, but when the abuser is your employer and you are outside your own country with no network and nowhere to go for help, the situation is much, much worse."
As the world responds to the global shock of the COVID-19 pandemic, lockdown means that work has moved indoors, into homes, behind locked doors. For domestic workers, this means living in an unregulated workplace 24 hours each day, seven days a week. These domestic workers provide indispensable services. But many face discrimination, violence, and forced labor. Rothna Begum, a senior researcher at Human Rights Watch, has raised the alarm that the global health crisis will only exacerbate these abuses.
In the worst cases, domestic workers return home in body bags. Al Jazeera reports that the death of a Ghanaian domestic worker in Lebanon is currently under investigation. In December 2019, employers in Kuwait allegedly murdered a Filipina domestic worker. An autopsy found that she had been beaten to death.
The pandemic has robbed many domestic workers worldwide of their livelihoods. It has robbed others of their freedom. Airport closures prevent migrant female domestic workers from returning home to their own families.  The lockdown means that the embassies and shelters that might have helped them in the past remain closed.
I am a prosecutor from Uganda, studying in the United States as a Hubert Humphrey Fellow. According to press reports, more than 140,000 Ugandan women and girls work as domestic workers in Dubai, United Arab Emirates, Oman, Saudi Arabia, and Qatar, among other countries.  As an advocate for trafficking victims, I fear for these women and girls. Some are as young as 14. I have seen young Ugandan domestic workers return from forced labor abroad. In some cases, they have faced sexual servitude in their employers' homes. The perpetrators almost never face prosecution, despite our best efforts. With the global pandemic curtailing criminal justice responses, I fear that impunity will only increase.
Those of us who fight for the rights of trafficked domestic workers can never acquiesce to this abuse. We must prevent human trafficking before it happens. We must deter those employers who would hold migrant domestic workers in forced labor. And we must regulate the labor recruiters in Africa and the Middle East who profit from this criminal misery.
For those domestic workers currently trapped in homes in the Middle East, it is time for governments to act. In a recent article published in Al Jazeera, Human Rights Watch demanded that governments convey a "zero-tolerance message to employers about labor abuses like unpaid wages or physical or verbal abuse, along with reminders of the penalties they can face." But, as a prosecutor, I demand that the perpetrators actually face those penalties. Community advocates can join this fight: demand that governments enforce labor laws and prosecute forced labor cases around the globe. These women, locked in and abused during lockdown, deserve no less.
Daisy Nabasitu is a prosecutor in Uganda. As a Hubert Humphrey fellow in the United States, she has served as a legal fellow at the Human Trafficking Legal Center in Washington, DC. As a fellow, she conducted research on forced labor and domestic workers around the globe.
Photo credit: Solidarity Center/Kate Holt