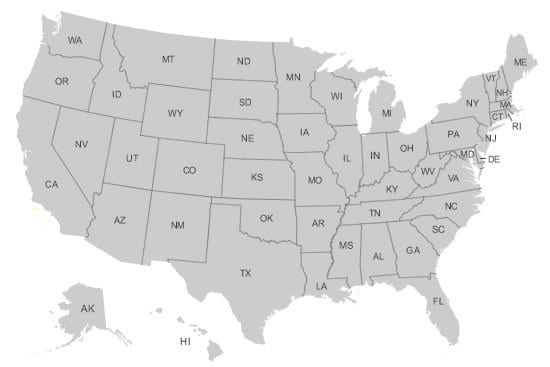 Rating State Efforts to Combat Child Sex Trafficking – A Review of the 2017 Protected Innocence Challenge 
Shared Hope International's Protected Innocence Challenge recently released its 2017 Report and Report Cards, grading each state and the District of Columbia on their efforts to combat child sex trafficking. To determine a state's grade, the Challenge analyzes a state's legislation against 41 key components in the following six categories: (1) criminalization of domestic minor sex trafficking; (2) criminal provisions addressing demand; (3) criminal provisions for traffickers; (4) criminal provisions for facilitators; (5) protective provisions for child victims; and, (6) criminal justice tools for investigation and prosecution. In the review each state receives a full analysis and policy recommendations to help improve its framework to prevent and eliminate domestic minor sex trafficking. The Protected Innocence Challenge has produced this analysis yearly since 2011 with substantial results.
How effectively does your state address child sex trafficking?
The highest score a state can achieve is 102.5. An 'A' grade is given to states that score between 90 and 102.5 points; a 'B' to those who score between 80 and 89; a 'C' for 70 to 79 points; a 'D' for 60 to 69 points; and, a F is given to states that score 59 points or less.
In 2017, Tennessee was the highest rated state, receiving a score 96.5. It was joined by seven other states with A grades: Louisiana, Washington, Florida, Texas, Kansas, Montana, and Oklahoma.
27 states received a B grade, led by Wisconsin with a mark of 89.5, and followed by: Minnesota, Michigan, Colorado, Mississippi, Georgia, Kentucky, Utah, Arkansas, Nebraska, Missouri, Nevada, Oregon, North Carolina, Iowa, Alabama, Arizona, Delaware, New Jersey, New Hampshire, Illinois, Massachusetts, Pennsylvania, West Virginia, Indiana, Connecticut, and Maryland.
Rhode Island, North Dakota, California, Hawaii, Ohio, Alaska, Idaho, District of Columbia, Virginia, South Carolina, and Wyoming received a C grade.
Five states – New Mexico, Vermont, South Dakota, New York, and Maine – received a D. Maine had 2017's worst score, a 60.
For more information on each state's score and individual recommendations for improvement, view their full Report Card.
Making Progress Against Child Sex Trafficking
Great strides have been made to combat child sex trafficking since the Protected Innocence Challenge begun their Report Cards in 2011.
Since 2011, the national average has improved by 23 points, from an F at 59.1 points, to a B at 82. In 2011, 23 states and the District of Columbia received a F grade. In 2017, no F grades were assigned. Further, Kansas and Montana improved four grade levels, from an F to an A. Michigan is the most improved state with an additional 44 points, followed by West Virginia with a 43.5 point improvement, Kansas with 41.5 points, Wyoming with 41 points, and Massachusetts with an improvement of 37 points.
While most, 46 states and DC, have improved their grade, Illinois, Missouri, New York, and Vermont have not. Illinois, 80 points, and Missouri, 82 points, were assigned B's in 2011; today, they remain in the B rating with scores of 82 and 85.5 respectively. New York, 61.5 in 2011, and Vermont, 64.5 in 2011, continue to hold D ratings, with slight improvements in 2017 to scores of 66 and 69.5, respectively. Notably, during this period Illinois, Missouri, and New York decreased protective provisions for child victims, a disheartening development in the face of national progress.
The Protected Innocence Challenge Report Cards are a great resource for legislators, anti-trafficking practitioners, researchers, and educators alike. These efforts highlight the magnitude of child sex trafficking in the United States and serve as a call to action by identifying gaps in legislation and recommendations for improvement.
Join the anti-trafficking movement: spread the word and encourage your state to #raisethegrade!