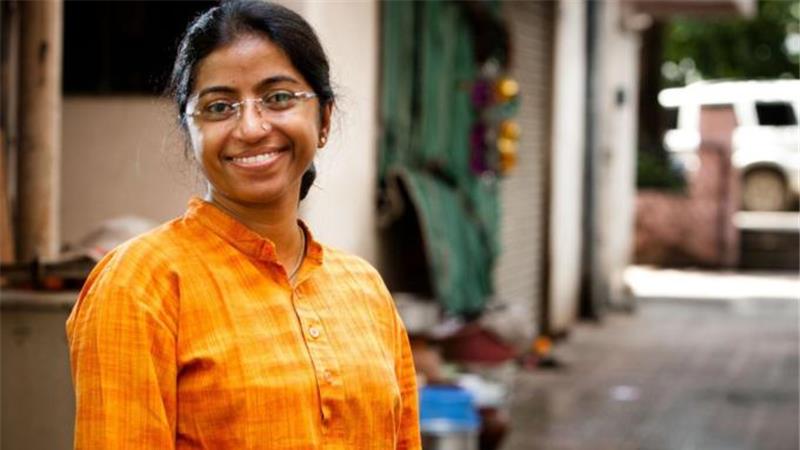 Prajwala: An Eternal Flame
Every year in India, over 200,000 women and children are inducted into the flesh trade. Of these, approximately one-third are under 18 years old. Sex trafficking is not only a severe violation of human rights but also results in adverse physical, psychological and moral consequences for the victims. The rescued girls are invariably penniless, mentally broken and suffering from serious or life-threatening illnesses such as HIV/AIDS. For children, these extremely traumatic experiences in their formative years not only stifle their healthy development, but also leave permanent scars in their lives.
Sunitha Krishnan – Anti-Trafficking Crusader
Prajwala is a non-governmental organization based in Hyderabad, India, dedicated to eradicating the criminal enterprise of commercial sexual exploitation. Co-founded in 1996 by Sunitha Krishnan—an anti-trafficking crusader who herself is a survivor of sexual violence—Prajwala started as a small school in an evacuated brothel for children whose mothers were involved in the sex trade. In just two decades, Prajwala's grassroots initiatives to prevent inter-generational prostitution have evolved into a strategic, multi-dimensional approach to fight sex trafficking, consisting of prevention, rescue and restoration, rehabilitation, reintegration, and advocacy.
Today, Prajwala is recognized as having the most powerful interventions to combat sexual slavery in India. Through its network of learning centers that provide quality schooling to at-risk youth,  Prajwala has prevented 7,500 children from entering the flesh trade. Mass sensitization campaigns—which aim to increase public awareness about trafficking as well as diminish the demand for prostitution—have reached over 2 million people directly, motivating them to become more active and vigilant in their communities. Rescue and recovery teams that coordinate with the police to infiltrate exploitative venues have rescued 17,500 victims of sex trafficking till date.
In the care of social workers, medical staff and peer counselors, over 12,000 child and adult victims—many of whom are HIV positive—have been rehabilitated in Prajwala's therapeutic shelter homes. Prajwala's economic empowerment units, which tap the innate potential and strengths of survivors in ventures aimed at their reintegration into mainstream society as equals, are considered best practice models in India. Despite ongoing threats from traffickers, social stigmatization, and daunting physical, psychological and financial challenges, over 6,500 survivors have received entrepreneurial capacity building and gained access to viable employment opportunities.
Prajwala has succeeded not only in helping victims break the walls of learnt helplessness, but also in convincing the Indian government to implement anti-trafficking policies and legislation nationwide. Through targeted lobbying efforts, Prajwala has helped establish victim and witness protection protocols, one-stop crisis cells, mandatory police academy trainings, survivor housing and compensation schemes, emergency shelters, and increased punitive measures against sex offenders and traffickers across India. After conducting workshops for thousands of senior police officers, judges, prosecutors and Child Welfare Committee members, Prajwala has aided in the conviction of 316 traffickers.
For pioneering Prajwala's achievements, Sunitha Krishnan has received over 50 international accolades and awards, including the 2009 Trafficking in Persons (TIP) Report Heroes from the US Department of State, the 2014 Mother Teresa Awards for Social Justice, and India's fourth highest civilian award, the Padma Shri in 2016. Not only has Prajwala created award-winning documentaries and a feature film to increase awareness, but the organization recently completed a joint project with the U.S. Consulate General Hyderabad called Swaraksha: a 4-month community awakening caravan to counter trafficking that reached 1 million people.
To learn more, please visit Prajwala's website and follow on social media (Facebook, Twitter, & Blogspot). You can also subscribe to Prajwala's monthly e-newsletter, share the Men Against Demand campaign, watch Sunitha Krishnan's TED talk, and donate online via Ek Disha or Global Giving. Contributing what you can to help rebuild the lives of victims will reverberate far into the future, helping to promote a trafficking-free society where no human being is treated as a commodity, where perpetrators are convicted and detained, and where former victims thrive with dignity.
Photos Courtesy of Prajwala
Anna Wolf is a licensed therapist and yoga instructor in Silver Spring, MD who enjoys photography, wilderness exploration and the healing arts. She worked for Prajwala in India from 2012-2014 as an Anti-Trafficking Resource Cell Coordinator, and continues to volunteer through Friends of Prajwala in the USA.