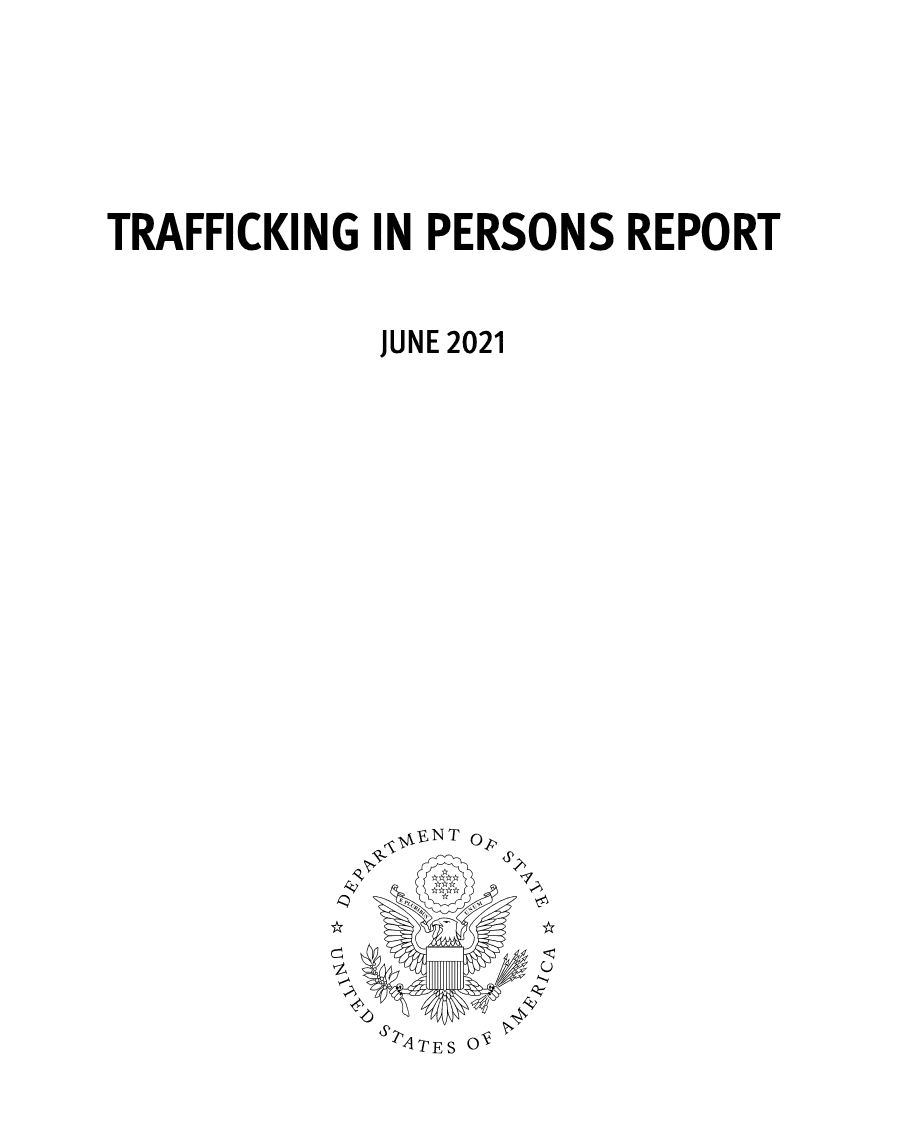 2021 Trafficking in Persons Report
HUMAN TRAFFICKING IN THE CONTEXT OF A GLOBAL PANDEMIC
The COVID-19 pandemic is a health crisis with unprecedented repercussions for human rights and economic development globally, including in human trafficking. COVID-19 generated conditions that increased the number of people who experienced vulnerabilities to human trafficking and interrupted existing and planned anti-trafficking interventions. Governments across the world diverted resources toward the pandemic, often at the expense of anti-trafficking efforts, resulting in decreased protection measures and service provision for victims, reduction of preventative efforts, and hindrances to investigations and prosecutions of traffickers. At the same time, human traffickers quickly adapted to capitalize on the vulnerabilities exposed and exacerbated by the pandemic.
Despite the significant disruptions to efforts to combat this crime, the anti-trafficking community found ways to adapt and forged new relationships to overcome the challenges. Some governments and organizations conducted in-depth assessments to identify the changing trends. Others leveraged technology to drive innovative solutions. Many aligned policies and practices to current realities. Nonetheless, the challenges uncovered by COVID-19 are monumental and may be long lasting, requiring sustained collaboration among governments, civil society organizations, private sector leaders, survivor leaders, and other anti-trafficking actors to adjust and respond aptly to overcome these challenges. As a result, this year's TIP Report introduction highlights human trafficking issues related to COVID-19, with special focus on how anti-trafficking stakeholders adapted in rapidly changing environments. It reflects on the lessons learned from practitioners and offers considerations to rebuild momentum through coordinated anti-trafficking strategies. The introduction also illustrates collaborative ways to reimagine anti-trafficking efforts with an emphasis on preparedness to prevent compounding effects of future crises on trafficking victims and vulnerable individuals, as well as efforts to combat the most recent emerging human trafficking trends.
CHANGING HUMAN TRAFFICKING TRENDS AMID THE COVID-19 PANDEMIC
A Growing Number of People Experiencing Economic and Social Vulnerabilities
The economic and social distress generated by the pandemic and related mitigation efforts exacerbated risks for vulnerable and marginalized populations. These included women and children, people affected by travel restrictions and stay-at-home orders, communities in areas of food insecurity, and survivors of trafficking, as well as persons directly and indirectly affected by the disruption of economic activities and reduced livelihood options. Due to school closures, some children lacked access to education, shelter, and/ or food. Survivors of trafficking faced an increased risk of potential re-victimization due to financial and emotional hardships during the crisis. A survey by the Office of Security and Co-operation in Europe's OSCE Office for Democratic Institutions and Human Rights (ODIHR) and UN Women highlights that almost 70 percent of trafficking survivors from 35 countries reported that their financial well-being was heavily impacted by COVID-19, and more than two-thirds attributed a decline in their mental health to government-imposed lockdowns triggering memories of exploitative situations. Many survivors had to close shops or leave jobs due to lockdowns and some were pressured by former traffickers when other employment options dried up. Some survivors had to sell their cell phones to purchase food, further isolating them from potential assistance from case workers. Additionally, COVID-19 mitigation efforts, such as stay-at-home orders and travel limitations, increased rates of gender-based violence and substance abuse, both of which put individuals at a higher risk of human traffickers exploiting them. Individuals in underserved communities faced barriers to accessing healthcare, while foreigners were stigmatized as carriers and spreaders of the virus, placing them at higher risk for exploitation and violence. Substantial changes in financial situations, such as the reduction of wages and work hours, closure of workplaces, rising unemployment, and reduced remittances, coupled with the rise in costs of living and disruptions to social safety networks, created newly precarious situations for those not previously vulnerable and even more precarious situations for those who were already at risk of exploitation.
Low-wage and migrant workers and those in the informal economy faced riskier employment conditions, including restricted movement, minimal oversight mechanisms, withheld wages, and increasing debts—all indicators or flags for human trafficking. During stay-at-home orders, workers who lived at their worksites became particularly vulnerable to sex trafficking and forced labor while being restricted in their ability to seek assistance or leave their situation of exploitation. With minimal oversight mechanisms, many of these worksites remained unmonitored, resulting in fewer opportunities for victim identification. In the Gulf States, an IST Research survey of 6,000 migrant workers concluded employers were 36 percent more likely to confine migrant domestic workers to their workplace and were 240 percent more likely to force those workers to work on rest days than any other migrant workers. In the same survey, more than 50 percent of migrant workers reported bearing new debts because of the pandemic. According to UNODC, migrant workers whose plans were disrupted by COVID-19 travel restrictions, either to travel home or to the workplace, were likely to have already paid recruitment fees or travel costs, placing them at risk of debt bondage. Similarly, a study by the Government of the Philippines also found many overseas Filipino workers were stranded with their savings exhausted during 2020. Sinking demand also led major global retailers to cancel orders and, in many cases, refuse to pay for products their supplier factories had already produced. Pennsylvania State University's Center for Global Worker Rights and the Worker Rights Consortium reported that this resulted in shutdowns of thousands of factories in producing countries that sent home millions of factory workers, often without legally mandated pay.
Read more here.