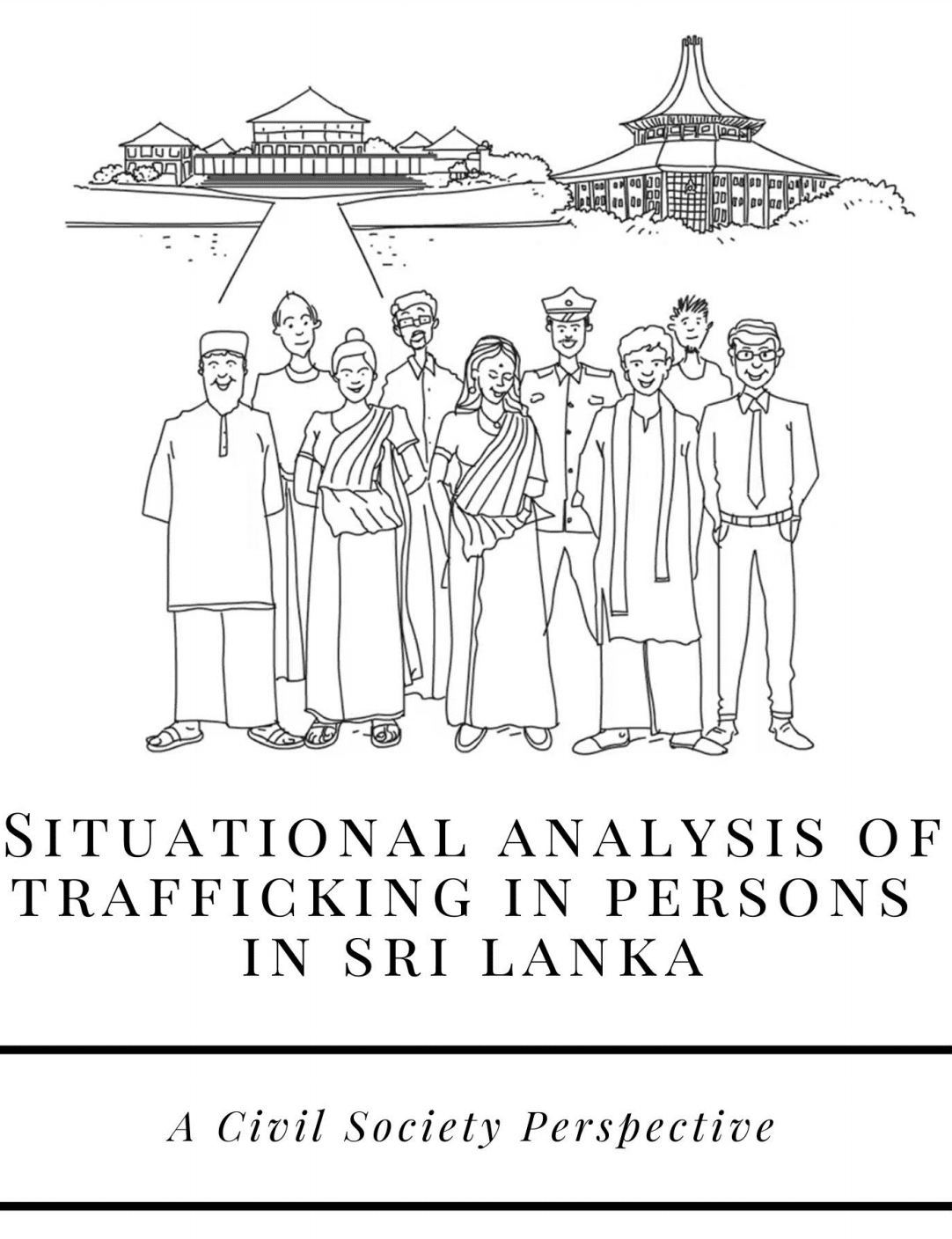 Situational Analysis of Trafficking in Persons in Sri Lanka
1. Introduction
Trafficking in Persons (TIP) or human trafficking for purposes of forced labour, sexual exploitation, slavery, removal of organs etc undermines basic human rights and dignity of persons. It has inarguably become a complex, constantly evolving phenomenon requiring concerted, multipronged counter-efforts by both international and national actors.
Sri Lanka too has not escaped the malaise of TIP. Sri Lanka is a country of origin and to a lesser extent a transit and a destination country for victims of trafficking. While many counter-trafficking initiatives have been launched in Sri Lanka by both state and non-state actors, challenges exist in combatting human trafficking such as, low levels of awareness and reporting of TIP cases; limited capacity of the criminal justice system to identify, investigate, prosecute and adjudicate trafficking in persons; and the near absence of sustained cooperation between state and nonstate stakeholders in providing protection and assistance to victims of TIP.
Further, there is no independent reporting of the ground realities of TIP within the country in order to understand the dynamics of TIP in Sri Lanka and to comprehensively assess the countertrafficking efforts carried out by different organizations. The only reports available are the United States Department of State(USDOS) TIP Report and the United Nations Office on Drugs and Crime (UNODC) Global Report on Trafficking in Persons, both of the reports to which the government of Sri Lanka provides information. The information provided by the National Anti-Human Trafficking Taskforce (NAHTTF) to either the USDOS TIP Report or the UNODC Global TIP Report does not contain information on the counter-trafficking efforts of Civil Society Organizations (CSOs) as the NAHTTF does not formally engage with CSOs to seek their input for these Reports.
Against the above backdrop, this report aims to document the contribution made by CSOs to the counter-trafficking landscape in Sri Lanka, especially during a time such as the present when increased donor aid is channeled through international organizations to CSOs to engage in counter-TIP activities.
1.1 Purpose and objectives of the Report
The purpose of this report is to address the long standing lacuna of comprehensive reporting within the counter-trafficking landscape of Sri Lanka, especially documenting the contribution of CSOs. Towards this end, therefore, the objectives of this Report are:
To analyze the situation of Trafficking in Persons (TIP)in Sri Lanka;
To evaluate counter-trafficking efforts of CSOs; and
To provide strategies for CSOs to effectively combat TIP in Sri Lanka; through evidence-based research.
1.2 Why is this Report important?
In a pioneering move, this Report captures the TIP context in Sri Lanka independent to other predetermined reporting formats of different international actors. As currently there is no evidence of national level information available on data and interventions carried out by CSOs and other non-state stakeholders to counter TIP, this Situation Analysis is a coordinated national report predominantly capturing the CSO interventions while taking into consideration the contribution of other stakeholders where appropriate. This Report is expected to improve data dissemination and reporting; initiate and increase victim identification; advocate and lobby for effective policy interventions and improved guidelines; and improve effective and efficient service provisions to victims of TIP and investigations and prosecutions that lead to convictions.
1.3 Assessment framework and Methodology
The assessment framework for this report was developed to comprehensively capture the current status of counter-trafficking efforts of CSOs and related data in Sri Lanka (See Annexure 1 for a list of participating Organizations). Primarily, the report employed three qualitative research tools: a comprehensive desk review, Key Informant Interviews(KII), and Focus Group Discussions (FGDs). Interview guidelines were developed in consultation with the Foundation prior to conducting the KIIs and FGDs. Drawing information through a range of tools served the purposes of triangulation of sources and comparison of information for the precision identification of issues.
The comprehensive desk review provided the foundation for the Situation Analysis and the opportunity to gather information for further verification through FGDs and KIIs. The primary and secondary information gathered through the desk review shed light on the situation of TIP in Sri Lanka; counter-trafficking efforts carried out by non-state actors; and the efficacy of those strategies.
In addition, a total of three (03) FGDs were conducted with 15 CSOs and development partners engaged in counter-trafficking activities. Two of the FGDs were conducted in Sinhala and Tamil inviting the participants to choose their preferred language. The third FGD was conducted in English for development partners. The outcome of the FGDs culminated in a comprehensive understanding of the counter-trafficking work of CSOs, challenges, and good practices
Five (05) KIIs with donor agencies; experts on counter-trafficking; and key government officials identified in consultation with the Foundation were employed as a primary research instrument. These interviews enabled the consultant to verify and supplement information gathered through the desk review and FGDs as well as identify further issues pertaining to the situation of TIP in Sri Lanka; counter-trafficking efforts funded and carried out by non-state actors and the efficacy of those strategies; views of state actors on the work of CSOs and the efficacy of those strategies; and means and methods to overcome the challenges and shortcomings of the strategies.
The information collected through the FGDs and KIIs have been synthesized for the purposes of the report and have not been attributed to individual respondents.
Read more here.