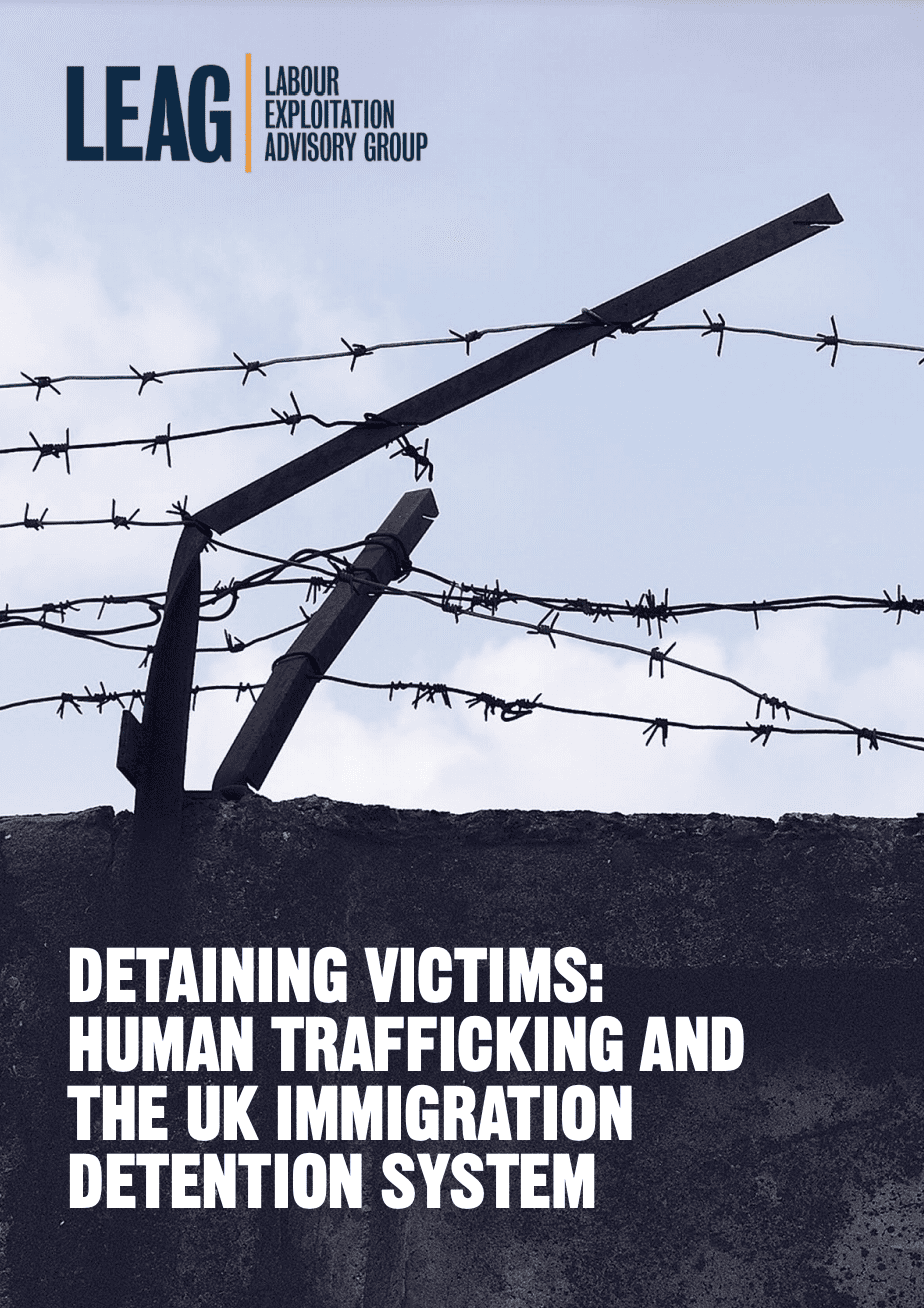 Detaining Victims: Human Trafficking & the UK Immigration Detention System
Executive Summary
This report describes the issues experienced by victims of human trafficking while in immigration detention in the UK who have been supported by members of the Labour Exploitation Advisory Group (LEAG).
It explores the main barriers to identification of victims of human trafficking prior to and while in detention, as well as the impact of detention on National Referral Mechanism (NRM) decision-making and on victims' physical and mental well-being. It sets out recommendations on how to make improvements in all four of these areas.
LEAG believes no vulnerable person, including victims of human trafficking, should be detained. Studies have demonstrated that a high proportion of immigration detainees are diagnosed with depression, post-traumatic stress disorder (PTSD), anxiety, and suffer from self-harm and suicidal ideation, with those who have experienced trauma being at greater risk of developing mental health problems while in detention. It is, therefore, extremely concerning that in 2018 the Home Office maintained detention in 77.6% of cases where someone was identifed as vulnerable.
LEAG members have identifed numerous examples of detained victims of human trafcking, including victims who have been detained after receiving positive reasonable grounds decisions under the UK's framework for identifying and supporting victims ('the National Referral Mechanism'). This report fnds that the Home Office is failing to protect victims of human trafficking from further harm prior to and while in immigration detention. LEAG believes that these failings demonstrate that the UK is in breach of various international responsibilities, including the responsibility to support victims in their physical, psychological and social recovery under Article 12 of the Council of Europe Convention on Action against Trafficking in Human Beings. LEAG shares the view that victims of human trafcking are being treated frst as immigration ofenders and secondly as victims, which is leading to long-term and severe consequences to their health and the outcomes of their victim status under the National Referral Mechanism.
Read more here.