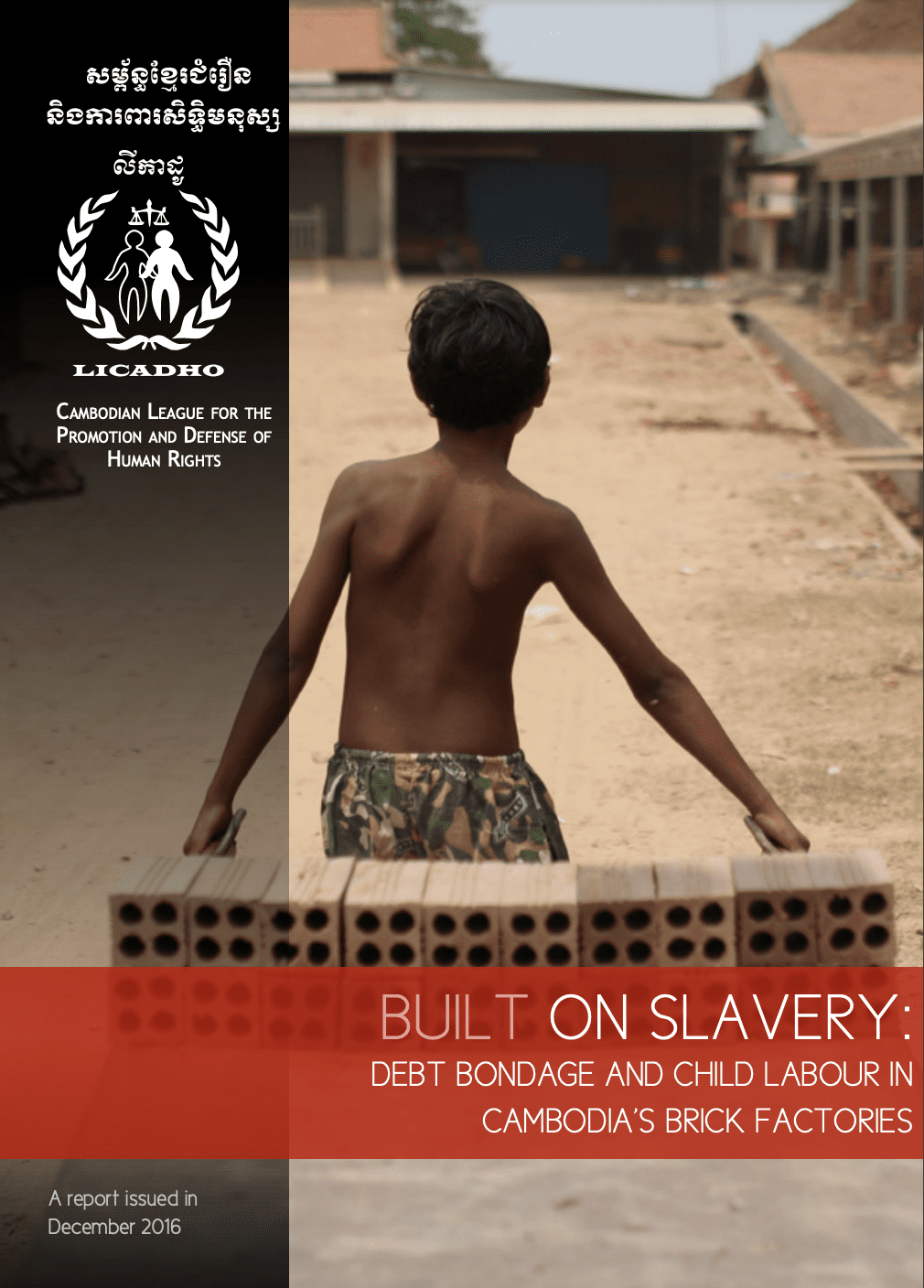 Built on Slavery: Debt Bondage and Child Labour in Cambodia's Brick Factories
For twenty years Cambodia has undergone a period of rapid economic growth and as a consequence is now experiencing a boom in construction. The largest cities, Phnom Penh, Sihanoukville and Siem Reap, have expanded outwards and upwards with the construction of office blocks, factories, condominiums, housing estates, hotels and shopping malls.1 These projects require bricks in large quantities and there is a thriving domestic brick production industry supplying them. That industry relies on a workforce of modern-day slaves – multigenerational families of adults and children, trapped in debt bondage.
Debt bondage and child labour are unlawful under Cambodian legislation as well as several international treaties that Cambodia is party to, and yet the practices are flourishing in Cambodia's brick factories. This report is based on research carried out in brick factories north of Phnom Penh and in Tbong Khmum province. It reveals that debt bondage is widely used by factory owners as a way of guaranteeing themselves a long-term, cheap and compliant workforce. Because of the low rates of pay and a system of payment by piece, children are often drawn into factory work alongside their parents. Conditions in factories are hazardous and worker accommodation is rudimentary and unsanitary. Accidents occur regularly, with some resulting in serious injury, limb loss and even death.
The majority of factories visited for this report are in easy reach of the capital Phnom Penh and are clearly visible from the country's major highways. In all cases, offices of the local police and commune authorities are located nearby. The exploitative practices of the factory owners and the conditions in the factories were not difficult to uncover and are already well-known to those responsible for enforcing the law. And yet the factories continue to operate without hindrance. Government apathy and lack of will on the part of law enforcement agencies, corruption, and the desperation of Cambodia's poorest for any kind of livelihood mean that the law is not enforced and the factory owners face no sanctions.
The Cambodian government has a duty to end debt bondage and child labour and it is within its power to do so. There are immediate and longer-term steps it can take, with the help of the purchasers of bricks and other interested parties, to achieve this goal and the report ends by making a number of recommendations that if followed will enable the government to eliminate these harmful and exploitative practices.
Read more here.