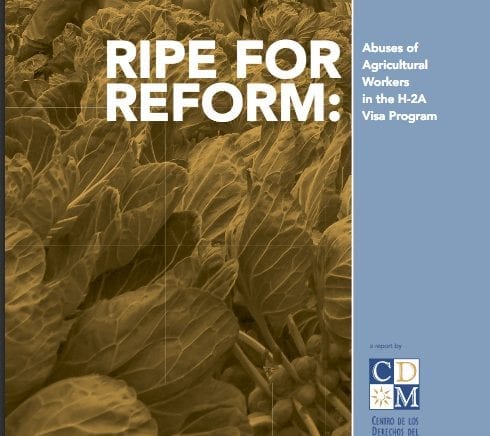 Ripe for Reform: Abuse of Agricultural Workers in the H-2A Visa Program
"Win-win" is a phrase sometimes used to describe the H-2A guestworker program, a program that allows agricultural employers to bring workers from other countries—primarily Mexico—to the U.S. to work on their farms. Workers have the chance to earn more money than they would be able to earn in their home countries, and growers get the workers they need to grow their crops. What's not to like in such a program? As it turns out, quite a lot.From September 2019 to January 2020, Centro de los Derechos del Migrante, Inc. (Center for Migrants' Rights, or "CDM") traveled across Mexico to interview 100 individuals who had worked as H-2A workers in the U.S. within the past four years. These in-depth interviews revealed a dark side to the H-2A program. The program is rife with systemic violations of workers' legal rights. These surveys reveal that H-2A workers often arrive at their workplaces in debt, having paid significant recruitment fees and/or travel costs for the opportunity to work in the U.S. Many find that when they arrive in the U.S. conditions are far different from those promised. Even workers who described a generally positive experience with their employer labored in a workplace with at least one serious legal violation. Indeed, our data show that every worker interviewed, even those most satisfied with their experience, suffered at least one serious legal violation of their rights. And 94% of those surveyed experienced three or more serious legal violations. Serious legal violation was defined as violation of legal rights with a substantial impact on the wages or working conditions of the worker. Wage violations had to be more than technical, de minimis violations of wage and hour protections to be considered serious legal violations.1The power imbalance between employers and workers in the H-2A guestworker program is profoundly skewed in favor of the employer. Because H-2A visas are tied to a single employer, employees can only work for one petitioning employer who holds all the bargaining power. The employer decides which workers get to come to the U.S., whether a worker may remain in the U.S., and often, whether the worker will have the opportunity to return to the U.S. in future years. When H-2A workers lose their jobs, they typically also lose their housing, their right to remain in the U.S. and the opportunity to be recruited in future seasons. Because workers are legally tied to the petitioning employer, they often have little choice but to remain in abusive working conditions.When workers lose their jobs mid-season, it is practically impossible for workers to find another, certified H-2A employer before they are legally required to leave the U.S. Workers who leave the U.S. mid-season often return home to face insurmountable debt. Indeed, surveyed workers described the lack of economic opportunity in their home communities as the primary impetus pushing them to find a job in the U.S. In interviews, many workers also described the emotional difficulty of living apart from spouses and young children, often for many months, year after year.
Read the full report here.