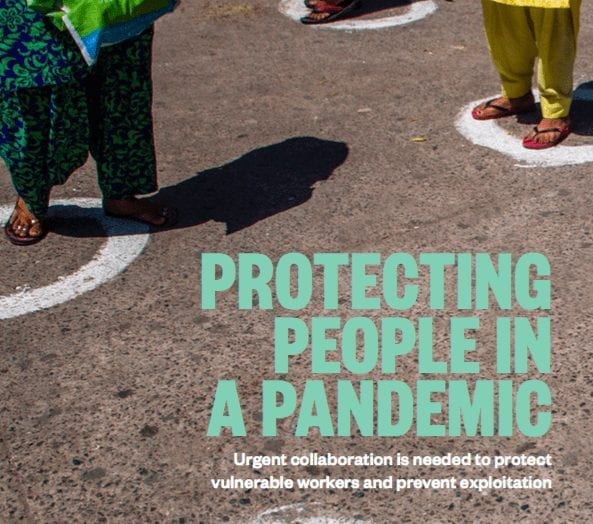 Protecting People in a Pandemic
In responding to COVID-19 many have adopted the rallying cry of "we are all in this together". But the stark reality is that we are not. Millions of vulnerable workers do not have access to COVID-19 testing, health care, sick leave or the physical or financial ability to isolate. Many have lost jobs and are stranded overseas, unable to support themselves or return home due to lockdowns and travel restrictions. The combination of these health, safety and economic risks creates the perfect storm for exploitation, forced labor and other forms of modern slavery to flourish.
Walk Free calls on business and government leaders to act urgently and collaboratively to address risks to vulnerable workers and protect lives. Whether that is migrant workers stranded, without means to support themselves, or crews on vessels prevented from accessing basic supplies in port – we must put human rights and human lives first.
We know that COVID-19 does not discriminate and yet governments continue to exclude vulnerable workers – including migrant workers, undocumented workers and those in the 'informal' economy – from accessing support. Many are expected to continue working through the pandemic and are yet excluded from access to health care, protective equipment, government COVID-19 relief packages and other social protections. As a result, many vulnerable workers cannot comply with social distancing and isolation measures, or are unable to access testing or health care when ill, thereby increasing the risk of COVID-19 transmission across the entire population. These gaps in protection are, therefore, directly in convict with government efforts to " flatten the curve" and urgent business and government action is required to address them. As the UN Migration Network succinctly puts it, "COVID-19 does not discriminate, and nor should our response, if it is to succeed."
Read the full report here.