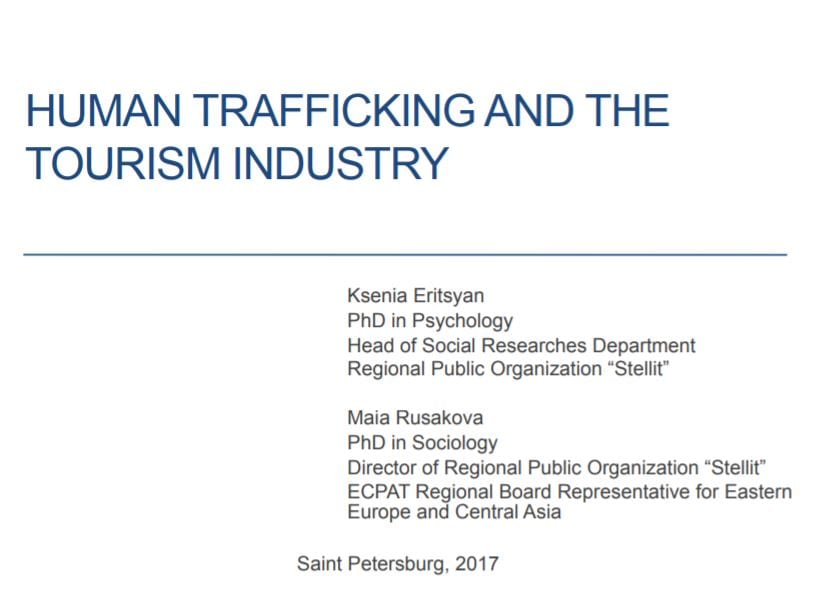 Human Trafficking and the Tourism Industry
Regional Public Organization — "Stellit"
Stellit is scientific-based and research organization that works in the following areas:
Social researches (children in orphanages, child well-being, commercial sexual exploitation of children).
Prevention programs for youth (especially for orphanageleavers) on the issues of healthy lifestyle, alcohol and drug use prevention and other forms of risky behavior.
Providing trainings for stakeholders (specialists of governmental institutions, NGOs and private companies).
ECPAT International
ECPAT (End Child Prostitution, Child Pornography and Trafficking of Children for Sexual Purposes) is an international network of civil society organizations.
The main goal: to end the sexual exploitation of children around the world by informing travellers, tourism stakeholders, media and the general public on this crime and its consequences.
ECPAT has 97 members in 88 countries.
Definitions
Child means every human being below the age of eighteen years unless under the law applicable to the child, majority is attained earlier. (Convention on the rights of the child)
Child trafficking is the recruitment and/or transport transfer, harbouring, and receipt of a child by others with the intent of exploiting the child through various means, like prostitution, begging, child labour, etc.
Sexual abuse and exploitation of children includes:

The inducement or coercion of a child to engage in any unlawful or psychologically harmful sexual activity;
The use of children in commercial sexual exploitation;
The use of children in audio or visual images of child sexual abuse;
Child prostitution, sexual slavery, sexual exploitation in travel and tourism, trafficking (within and between countries) and sale of children for sexual purposes and forced marriage.(CRC Committee, General Comment No. 13)

Sexual exploitation of children in travel and tourism – acts of sexual exploitation embedded in a context of travel, tourism, or both.
Read report here.